MORE Power celebrates third year of serving Iloilo City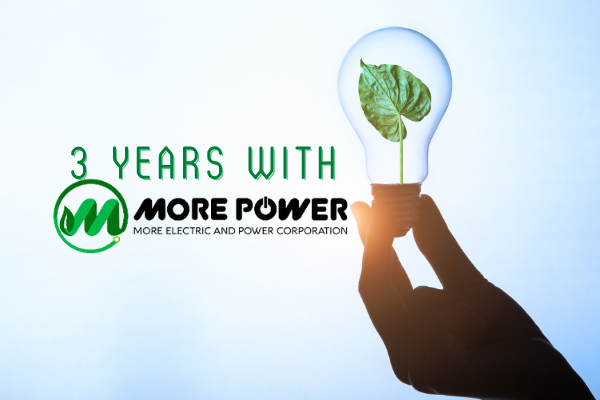 MORE Power Iloilo celebrates third year of serving Iloilo City with fulfilled promises.

Aside from focusing on power distribution, MORE Power Iloilo stepped up and helped the community.

The DU's future plans include going green.
It has been three years since More Electric and Power Corporation (MORE Power) started serving this city. It was February 14, 2019 when President Rodrigo Roa Duterte signed the Republic Act 11212 or "AN ACT GRANTING MORE ELECTRIC AND POWER CORPORATION A FRANCHISE TO ESTABLISH, OPERATE, AND MAINTAIN, FOR COMMERCIAL PURPOSES AND IN THE PUBLIC INTEREST, A DISTRIBUTION SYSTEM FOR THE CONVEYANCE OF ELECTRIC POWER TO THE END USERS IN THE CITY OF ILOILO, PROVINCE OF ILOILO, AND ENSURING THE CONTINUOUS AND UNINTERRUPTED SUPPLY OF ELECTRICITY IN THE FRANCHISE AREA" – the Franchise Law of MORE Power which will last for 25 years or until the year 2044.
Since then, MORE Power's vowed to ensure the quality, reliability, security, and affordability of the supply of electric power to the electricity consumers of the City of Iloilo. For the last three years, did MORE Power fulfill its promise?
Power rate reduction
Low electricity rate for Iloilo City is one of the most significant promise by MORE Power when it vied for a franchise to serve Iloilo City as a power distribution utility. May of 2021 when MORE Power revealed that Iloilo City will experience a reduction of power rates with the previous month's rates going down across different consumer categories.
Read also: Low Electricity Rates for Iloilo City delivered by MORE Power
Expanded payment options
Majority of MORE Power's service in Iloilo City is in the middle of pandemic. When people's movement are restricted, they have opened portals where consumers can conveniently pay their bills with the lesser fear of contacting COVID-19 virus. Payment options were not made available in their office but almost everywhere in the city.
For the ultimate list where you can pay your bills, please read: MORE Kolek Centers: Where to pay MORE Power bills?
COVID-19 pandemic
As mentioned, MORE Power Iloilo became the power distribution utility in an unprecedented time. Aside from being just a company delivering electricity, MORE Power stepped out and combated fake information on COVID-19 especially on fake news on vaccines. MORE Power also donated PPEs, testing kits, and other essential goods to the Iloilo City Government as part of COVID-19 response.
Read also: MORE Power Iloilo says no to vaccine 'fake news'
Task Force Kapatid
MORE Power Iloilo is not just ready to serve Iloilo literally. In the last quarter of 2021, when Typhoon Odette hit the Visayas areas, some places had difficulties on restoring the electricity in hard-hit areas. MORE Power joined the "Task Force Kapatid" and worked with distribution and electric cooperatives on Negros Occidental, Cebu and Bohol. Aside from helping fast-track the power restoration in these areas, they also distributed aid to families reeling from the aftermath of Typhoon Odette.
Read also: 'Task Force Kapatid': MORE Power aids power restoration, relief efforts in Negros 
MORE Power goes green
And just recently, in celebration of its third anniversary, More Electric and Power Corporation (MORE Power will launch several environmental initiatives and sustainability efforts for Iloilo City. MORE Power aims to plant 2,000 trees by the end of 2022, adopt a new mangrove planting site in coastal areas in Iloilo and help provide an abundance of quality fishes in the Iloilo River.
Read also: MORE Power goes green in its 3rd anniversary