'Task Force Kapatid': MORE Power aids power restoration, relief efforts in Negros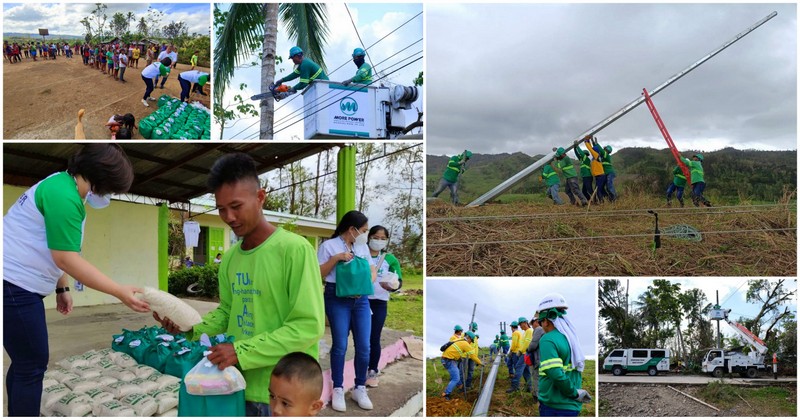 MORE Power joined the "Task Force Kapatid" team which helped restore power in typhoon Odette-ravaged Negros Occidental.

The DU also distributed relief goods to hundreds of families affected by the typhoon.

Negros Occidental dads issued a resolution recognizing and thanking MORE Power for the efforts.
More Electric and Power Corporation (MORE Power) did not just help fast-track the power restoration in Negros Occidental but also distributed aid to families reeling from the aftermath of Typhoon Odette.
MORE Power, together with the Central Negros Electric Cooperative (CENECO) and Negros Occidental Electric Cooperative (NOCECO), prepared relief goods for the typhoon victims.
Their team was dubbed "Task Force Kapatid" by the Department of Energy (DOE), Natural Electrification Administration (NEA), and Philippine Rural Electric Cooperatives Association, Inc. (PHILRECA).
Among the relief goods distributed include 200 sacks of rice, 200 packs of loot bags, 200 packs of toiletries, and seven boxes of gently-used clothing benefitting hundreds of typhoon-stricken families.
Kind-hearted individuals also joined the quick response by sharing cash and donations through the task force.
Meanwhile, as to the rehabilitation works carried out by the task force, lots of jobs have already been accomplished.
The task force has so far replaced primary poles and secondary poles down, realigned leaning pole down, re-erected primary poles, re-tensioned primary and neutral wires and secondary wires, trimmed tree branches, reconductored primary/secondary wires, fixed detached primary wire from insulator, replacement of steel cross arm and pin insulator, energized 25kvA transformer, installation of 50KVA transformer, restored service lines/secondary wires/primary wire, and energized big loads (private customer).
To recall, MORE Power sent a total of 20 personnel to Negros Occidental composed of engineers, line warriors and customer care staff.
Together with personnel of NOCECO and CENECO, even during Christmas Day and New Year's Day, they were out there helping in the rehabilitation works.
In Iloilo City, no trouble was even for a single house on those days.
Negros Occidental SP cites MORE Power
The Sangguniang Panlalawigan of Negros Occidental cited the efforts of MORE Power in helping the neighboring island.
The legislative body has passed Resolution No. 1114-2021, "recognizing the efforts of More Electric and Power Corporation (MORE Power) and thanking them for their contribution and assistance given to the Negros Occidental Electric Cooperative to restore power in areas devastated by Super Typhoon Odette."
Typhoon Odette struck Negros Occidental in the late evening of December 16, 2021 with Storm Signal raised to Signal No.3 and No.4 causing massive damage to property and other infrastructure such as roads, telephone lines, internet connections and power. Power outages lasted for several days, especially in the southern part of the province.