MORE Power goes green in its 3rd anniversary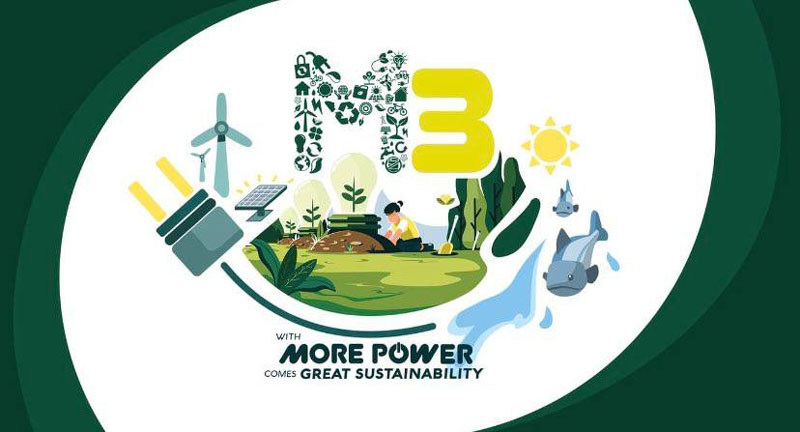 MORE Power Iloilo is celebrating its 3rd anniversary with greening efforts dubbed as #DoMORE Initiatives.

The month-long activities include bloodletting activity, mangrove and tree planting, fingerlings releasing, urban gardening, etc.

The DU is currently sourcing its power requirement from 100% renewable energy.
In celebration of its third anniversary, More Electric and Power Corporation (MORE Power) is launching several environmental initiatives and sustainability efforts for Iloilo City.
MORE Power marked its 3rd anniversary on February 14 with the launch of #DoMORE Initiatives in partnership with the Partners in Power Foundation. It is part of the company's sustainability efforts towards a greener and more livable planet, and to better the lives of everyone.
Anchored on the theme "With MORE Power comes Great Sustainability," the anniversary celebration took off on Monday, February 14 through a mass at Jaro Cathedral.
Other activities set to take place starting today until February 28 include bloodletting activity, mangrove and tree planting, fingerlings releasing, urban gardening, among others.
Specifically, MORE Power aims to plant 2,000 trees by the end of 2022. It is also poised to adopt a new mangrove planting site in coastal areas in Iloilo and help provide an abundance of quality fishes in the Iloilo River.
Also, MORE Power also commits to promoting urban gardening and providing the Ilonggos with cheap and healthy farm produce.
MORE Power is hopeful to sustain all of these projects for the coming years.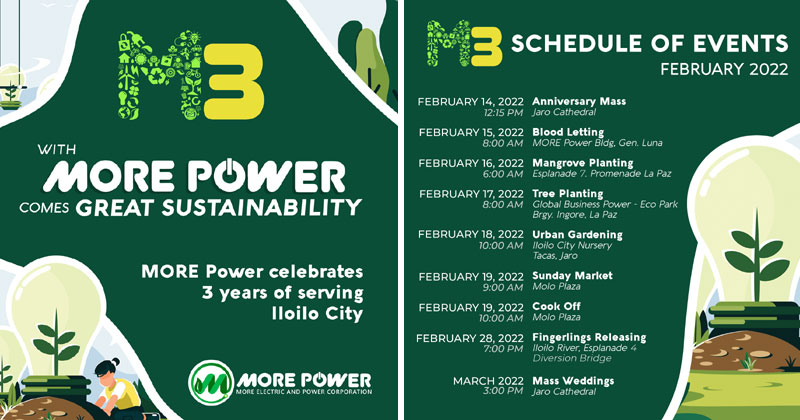 "It has been 3 years since we started serving this wonderful city. During this time, we have helped communities, energized homes, and empowered advocates in the city. And now, we want to celebrate our 3rd anniversary by giving back to our planet," MORE Power said in a statement posted via their Facebook page.
"Our green initiatives and sustainability efforts aim to help our environment: from mangrove and tree planting, to releasing fingerlings, and even urban gardening, we want to play our part in making the planet a better place for the future generation," it added.
MORE Power encourages everyone to join them in achieving the goal, emphasizing that everyone has the power to help the planet and make the future brighter and greener.
In its three years of serving Iloilo City, MORE Power has proven to have striven beyond its responsibilities as an electricity distributor.
Among others, it was able to make it possible for Iloilo City to enjoy the lowest electricity rate in the country. Moreover, it has also started sourcing 100 percent of its electricity from renewable energy.