Iloilo Bike Festival 2021 pedals to new normal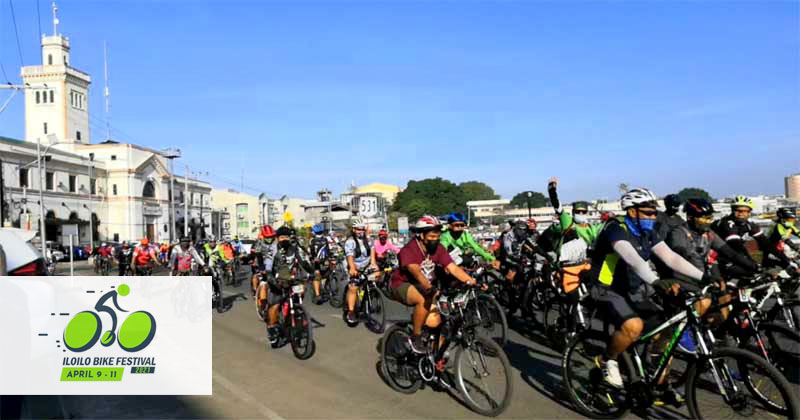 The 7th Iloilo Bike Festival which will promote the city as the Bike Capital of the country is happening on April 9-11, 2021.

Over 5,000 cyclists are expected to participate in the event, including DOT Secretary Berna Romulo-Puyat.
Iloilo Bike Festival 2021, the grandest biking event in the country, kicks off this April 9-11. This event in the Bike Capital of the Philippines pedals to the new normal with a number of activities that will surely amaze guests and enthusiasts.'
Iloilo City Government is expecting 5,000 cyclists who will participate in the 7th iteration of the festival and has vowed that the health and safety protocols will be strictly followed amid the pandemic.
Mayor Jerry P. Treñas stressed the cycling endeavor showcases Iloilo as bike capital in the country. The metropolis hosts protected bike lanes while the province offers various trails and sceneries.
"Let us make it more inclusive by including Iloilo province and island of Guimaras in the promotions," Treñas said.
"We have invited and will be joined by local chief executives of Metro Iloilo and Guimaras and the Governor of Iloilo to better harmonize biking initiatives and bikers' welfare in the new normal," he added.
These are being highlighted through the Metro Iloilo-Guimaras Economic Development Council (MIGEDC) which the city mayor chairs.
Department of Tourism Secretary Bernadette Romulo-Puyat is also expected to participate in the first day activities. "I can't wait…I'm excited," Puyat said, in a Facebook post.
The events are organized by City Government through Meetings, Incentives, Conventions and Exhibitions (MICE) Center and Iloilo Festivals Foundation Inc. in partnership with Megaworld Iloilo Business Park.
The event will bring to everyone's attention the importance of health and wellness, that in spite of Covid-19, the city can only foster economic recovery, safety and security, through a commonality of purpose and respect towards each other.
"Biking brings out in us the recognition that as we carefully pedal into the new and better normal, we should not forget our humanity, that we have to protect our environment, that we have to protect each other, and that this protection is a refinement process of our lifestyle, and beyond," MICE Center Executive Director Salvador Sarabia Jr. said.
The festivities will include Bike Fun Ride; City Tour on Bike; Bike Art; Family Bike Fun Ride; Food Fair and Bicycle Industrial Expo and Exhibition; a symposium on bike industry and its sustainability; and Barkada Team Race.
Sarabia said these are exactly what the Ilonggo community needs in these challenging times.
"Let's fix the problem together. Let's not fix the blame on others who are trying to be brave enough to be the light of hope for others," he said.
MICE Center as one of the prime movers of the festival works together with public and private sectors and stakeholders for a successful hosting. (Iloilo City PIO)