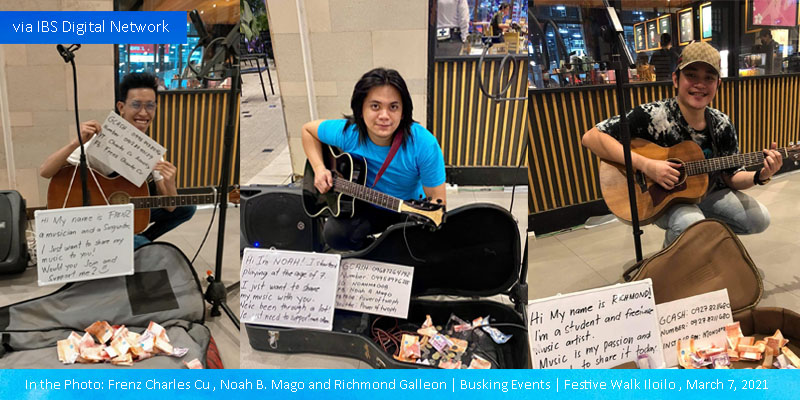 Music is powerful. A melody of a song can change the world and it can bind separate  communities together.
Three young talented musicians were spotted busking the night crowd of Festive Walk last March 7. Their rendition offered heartwarming songs to mall goers.
Busking was a wonderful experience according to Frenz, Noah and Richmond after they showed their love and passion for music inside Iloilo City's grandest mall.
Busking is derived from the Spanish word "buscar" which means "to seek." It describes music playing activity in the street, open spaces, or on a public place for voluntary donation among passersby.
The busking event at Festive Walk Iloilo is a collaborative effort with and initiated by local talents by giving them the space to display their music to gather public appreciation and support for local musicians who experienced displacements because of COVID-19 pandemic.
It intends to promote hope using the power of music and to encourage kindheartedness which is an innate character among Ilonggos. It also aims to help local musicians gradually reset to the new normal and for Iloilo City to reactivate its vibrant music and arts scene.
For local musicians like Frenz, Noah and Richmond, the pandemic seemed like a prolonged nightmare and which devastated the livelihood of local talents because of the lockdown and implementation of health protocols to prevent the spread of the virus.
"But I cherished my first busking experience at the mall for the music that I played entertained passersby," said songwriter-musician Frenz Charles Cu.
Noah B. Mago shared the same feeling with Frenz and he gladly posted the experience on his Facebook account mentioning that it was a happy experience which created a treasured memory as he recalled his musical roots as far back as 7 years old and reflected on a lot that he had went through in life.
In addition, Richmond Galleon, a member of an all-male Ilonggo band called Aces, also performed at the Festive Mall in the same night and the three talented artists shared the power of music to all music loving Ilonggos.
The feel-good busking event is an interesting way for local artists to do a live performance so that the public can imbibe a positive vibe in spite of the ongoing pandemic. It is a valuable contribution by the artists to our city who is making an effort to recover from the impacts of the pandemic.
Although the risk of COVID-19 infection remains, Ilonggos have started to adjust gradually and they are taking careful steps to move forward and to restart livelihood activities.
The arrival of the vaccines in the country and the eventual distribution in Iloilo City reinforced hope, especially with the start of vaccination among health workers at the frontline.
Let's support our local artists with their busking activities. Do you like hearing artists busking and singing music in the streets? Let us know what you think.