You can now pay your MORE Power bill via GCash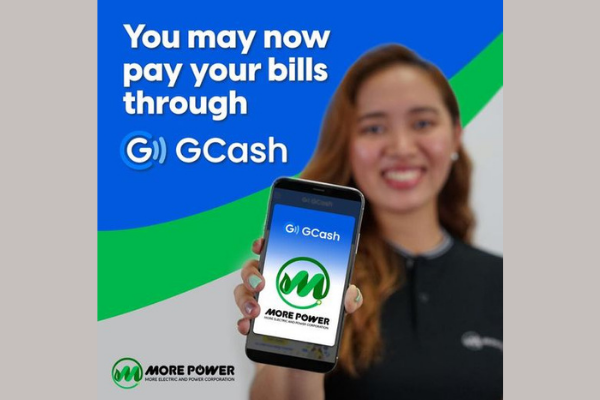 Pay your MORE Power bill at the comfort of your homes.

Bill payment is right at the tip of your fingertips using the GCash and GCredit.

You can simply enter your Customer Account No. through GCash.
Good news, Iloilo City! MORE Iloilo Power subscribers can now pay their bill via GCash. Last August 21, 2021, the official Facebook Page of MORE Power Iloilo has announced that the public power utility company partnered with GCash for a more convenient way to pay monthly electric bills.
GCash is now the country's largest mobile e-wallet service. The application is processing around P300 billion in monthly transactions as more Filipinos turn to cashless options. This e-wallet service provides financial access to Filipinos, especially the unbanked and underbanked segments.
MORE convenience
Majority of the subscribers find this payment option a great addition. Facebook user Robert Alonday commended this additional payment gateway and encouraged other utility companies to provide the same service. Also, Clarissa May Beatingo, Boogz Sweyne Avelino and Rhea Leuterio Celestino are few people in the comment section who are grateful that GCash is finally accepting MORE Power payments.
Also read: Consumers on MORE Power's performance (part 3)
MORE practical
For Clint T. Henarios, using GCash may not be the best option for him because there is a P10.00 transaction fee. He is planning to pay via Metrobank or Security Bank so he will not incur any fees. Michael De La Peña, counters that for unbanked users, paying P10.00 as service fee for GCash is way more practical because they can cut the money for commute or gasoline, skip the lines and simply use their smartphones to complete the payment. Clementyn Nardo agrees that the fee is reasonable because subscribers are using the application.
Also read: 5 steps to manage monthly bills using GCash
Important: Having a GCash account is needed to try this payment option. If you don't have one yet, you can download the application first and register.
This process only takes a few minutes. Here's the step-by-step guide for those who are willing to try.
How to pay in MORE Power Iloilo through GCash (with screenshots)
1. Open the GCash app and enter your 4-digit MPIN.
2. Then click the Pay Bills icon.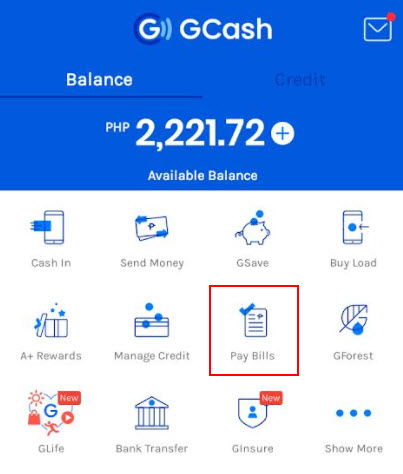 3. Find and select the Electric Utilities. This will lead you to a list of electric utility companies in the Philippines which has GCash as their payment option.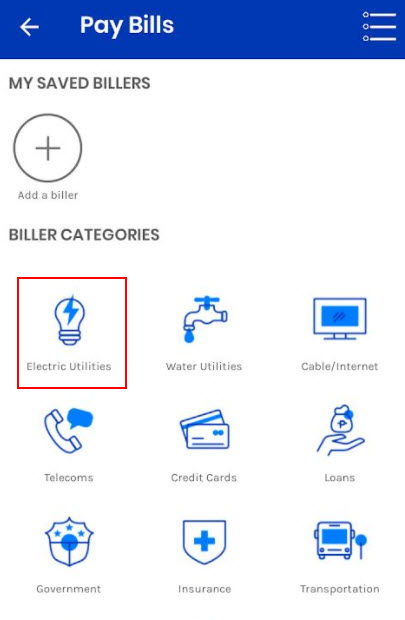 4. Scroll down until you find MORE Power. You can also click the search icon beside it and you can type MORE Power.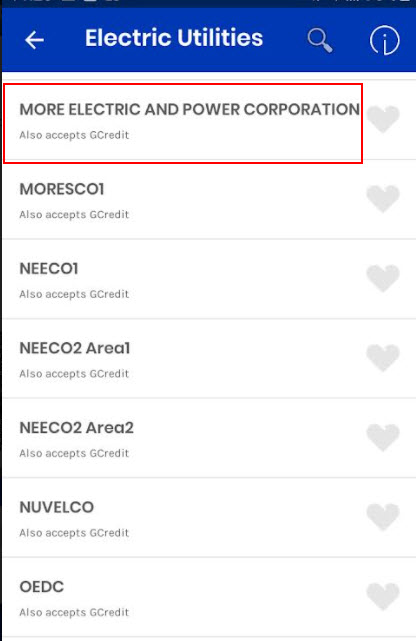 Tip: You can click the heart beside it (it will be added to your favorites) so that you can find it easily the next time you want to pay your MORE Power bill.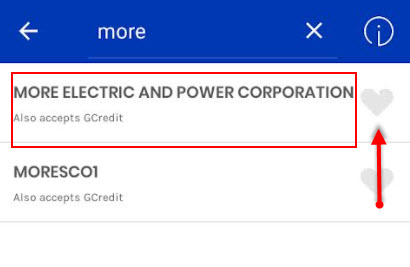 5. After you click MORE Power, you will be lead to a page where you will need to fill out your billing information.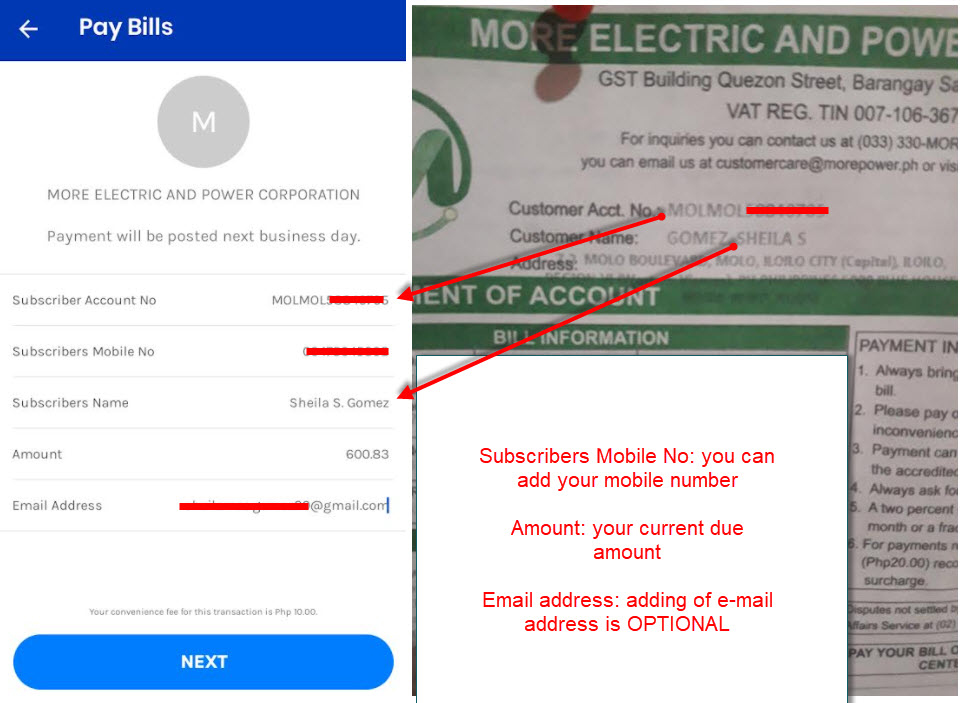 Important: Make sure you enter the correct billing information. From your bill, the Customer Acct. No. is the one you will fill out in the Subscriber Number. You need to include all the letter and numbers in your account.
E-mail address is optional. You can enter your email address to have an official receipt sent to your inbox after your payment.
After you've confirmed that the information you've entered is correct, select Next. For those who have enabled their GCredit feature, you will have the option whether you want to pay using your GCash balance or use GCredit. Just check the GCash if you want to deduct the bill payment in your current balance.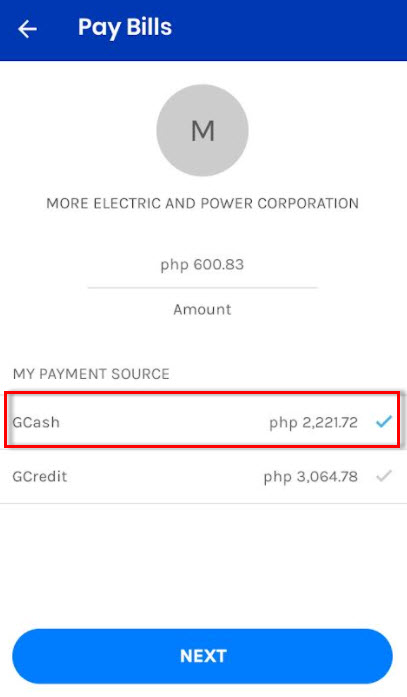 Optional: If you wish to use the GCredit option, just transfer the check in the GCredit.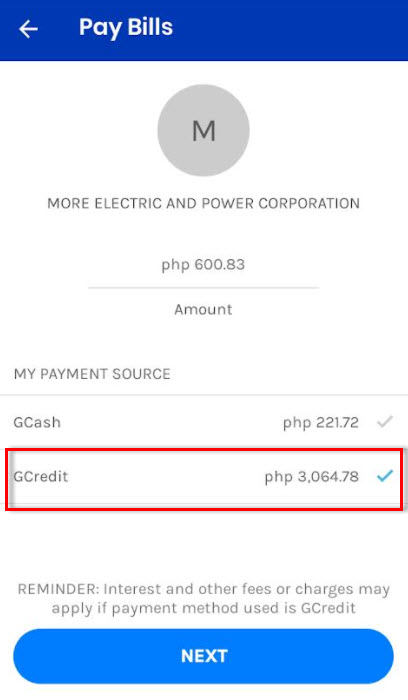 6. Click NEXT to confirm your details before the final submission. If all is good, just click NEXT again.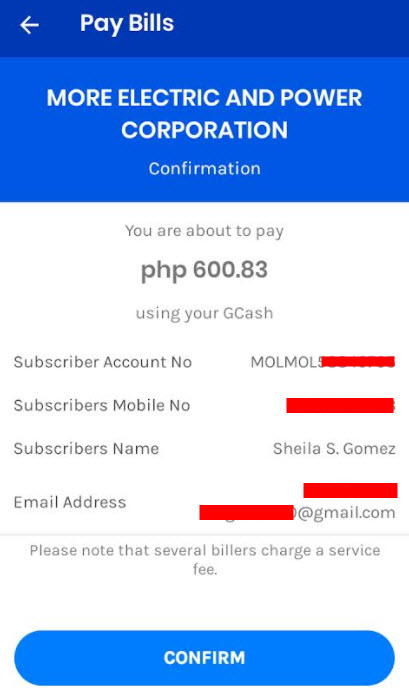 7. The last step is the GCash confirmation message that the payment transaction is a success.
You will also receive a text message and a mail in your GCash app.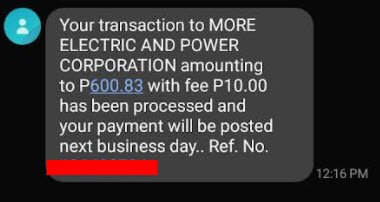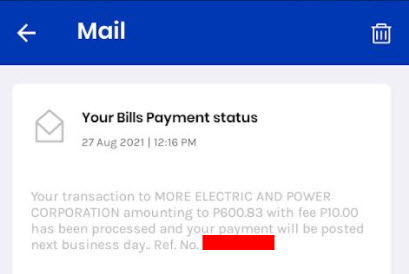 MORE option
The best thing about enabling GCash is GCredit feature is also activated. GCredit is like a loan or a credit card which allows GCash users to temporarily use the amount (credit line) while they don't have the cash yet. Facebook user Bambi Hecita Soluta laud out this option because it is helpful to someone like her who runs out of cash sometimes. She is assured that her line will not be disconnected due to non-payment of the bills.
MORE in the future
The payment options which MORE will enable to continue to provide for the convenience of the consumers do not end in GCash. MORE Power has already utilized a number of bank and non-bank partners. Ilonggos are assured that paying for dues is not only limited over-the-counter.
MORE Power Iloilo listens to their consumers. GCash was once only a request and now it is already active.