MORE Power's 69kV switching station to lower electricity rates in Iloilo City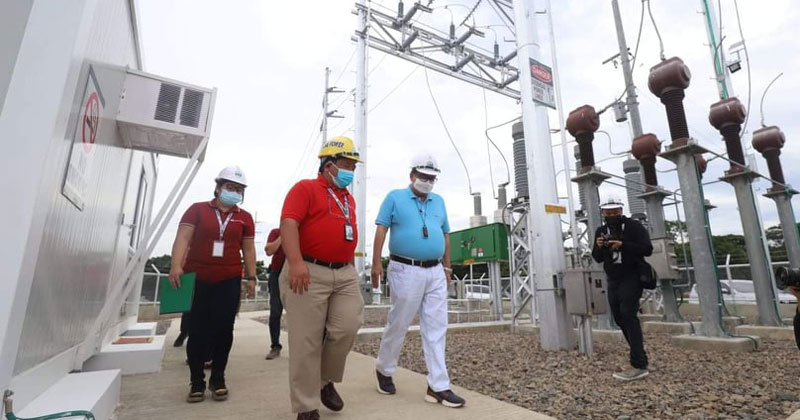 More Power Iloilo inaugurated its 69-kV switching station in Lapaz which will connect all substations to NGCP.

The facility will enable the company to opt for much cheaper power supply from the wholesale market which will lower the electricity rates in Iloilo City.

Iloilo City's power distribution utility is currently offering the cheapest rate among major Visayan cities.
More Electric and Power Corporation (MORE Power), Iloilo City's electricity distribution utility, has completed the construction of its 69-kilovolt (69-kV) switching station Brgy. Banuyao, La Paz. The facility will play an important role in the transmission grid as it will further reduce the power rate for the consumers of Iloilo City.
MORE Power inaugurated the facility on Tuesday, May 18, as part of the modernization program of the company. It will soon be energized and connect all the substations of the distribution utility to the Sta. Barbara substation of the National Grid Corporation of the Philippines (NGCP).
Starting on May 26, MORE Power is going to directly connect 100 percent of the needed power supply for Iloilo City from the Wholesale Electricity Spot Market (WESM), the venue for trading electricity as a commodity.
MORE Power President and Chief Operating Officer Roel Castro said during the inauguration that through this switching station, the DU can now opt for a much cheaper power supply from WESM and Power Sector Assets and Liabilities Management Corporation (PSALM).
"Though prices in the WESM are highly volatile, it is also noteworthy that on the average, WESM prices are relatively low especially during off-peak periods," Castro said. "MORE Power is an active participant in the WESM and very responsive to the movement of spot market prices."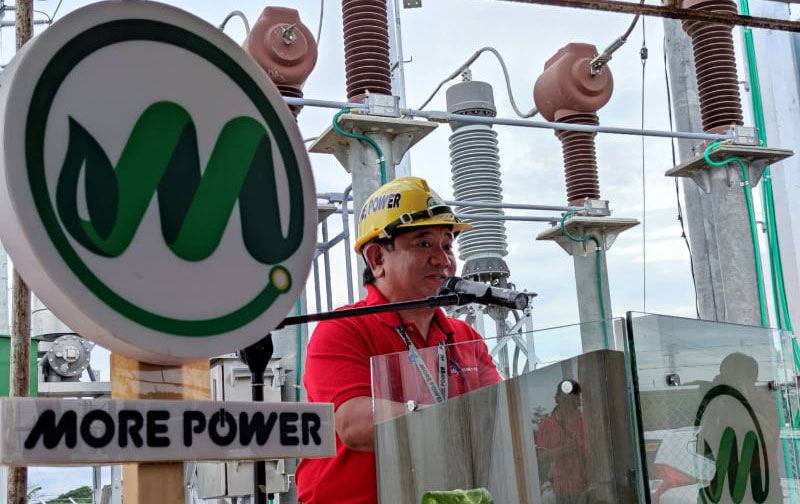 Castro announced that starting January next year, MORE Power will undertake the Competitive Selection Process (CSP) for its long-term power supply requirement to provide more competitive and better electricity rates to the consumers of Iloilo City.
For about a year already, at least 70 percent of the needed generation for Iloilo City is being supplied by Global Business Power, an agreement stipulated in the 1-year emergency contract between MORE and GBP when the former took over the distribution utility in this southern metropolis.
Despite this, MORE Power was able to reduce the power rate for its consumers by buying the remaining 30% from other producers at a cheaper price.
"This switching station will certainly play an important role in strengthening MORE Power's service reliability and in making cheaper rates much more possible for the benefit of all our consumers," Castro further said.
He added that MORE Power will continue to invest in its upgrading program to make sure that the facilities for capacity and reliability will be achieved.
"Little by little we are doing that. We will be expanding most of the areas covered by our existing substations, and we will be building additional substations because we need to synchronize our capacity where we are connected," he said.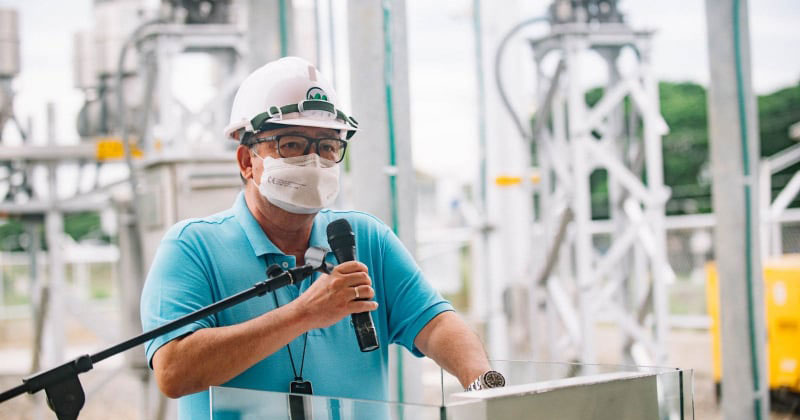 For his part, Mayor Jerry Treñas lauded once again the effort being made by MORE Power to elevate its services and extolled how it has proven to be a reliable partner in the development of Iloilo City "in so many ways".
"More Power is not just a distribution or electric company in Iloilo City, it is a partner of the city government for the development of our beloved city," he said.
Treñas even mentioned that MORE Power played a big part in the LGU's vaccination program by supporting it with the purchase of more vaccines for the residents of Iloilo City.
"All of these developments that MORE Power is bringing into Iloilo will definitely benefit the Ilonggos as well as our investors," he said, emphasizing, "With MORE power here as our partner, we are certain of a stable distribution company that will bring in more investments for Iloilo City and more employment for Ilonggos."
Cheapest rate in major Visayan cities
Iloilo City power consumers are currently enjoying a significant reduction in their monthly electric bills as MORE Power can now be classified as one with the cheapest power rates in major cities of the Visayas.
In a comparative table of power rates covering April this year, MORE Power is clearly way ahead of its league leaving a clear gap between it and its counterparts, Central Negros Electric Cooperative (CENECO) and Visayan Electric Company (VECO) by registering a P10.28 per kWh-rate while the two others, charged P11.11 per kWh and P11.94 per kWh, respectively.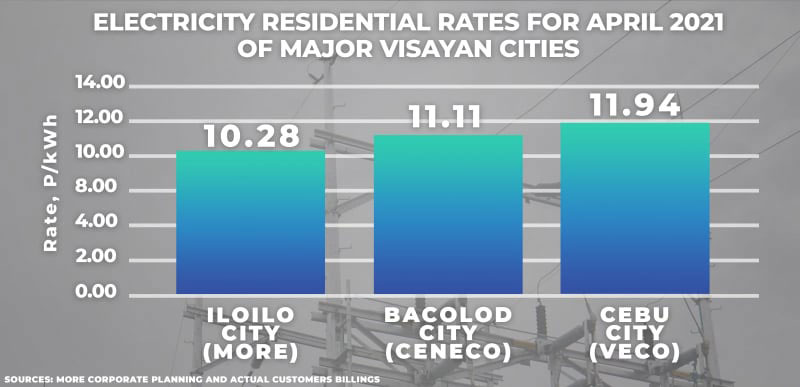 CENECO, which has been operating as a distribution utility since 1976, caters the largest number of consumers in Negros Occidental which includes the cities of Bacolod, Talisay, Silay and Bago and the municipalities of Murcia and Salvador Benedicto.
VECO, for its part, is the second-largest electric utility in the country, which serves the cities of Cebu, Mandaue, Talisay, and Naga and four municipalities of the greater part of Metro Cebu: Liloan, Consolacion, Minglanilla, and San Fernando.
MORE Power, meanwhile, is the youngest of all distribution utilities in the region, having marked its first year of operations only in February this year. In its initial phase of operations, it was able to bring down the average residential rate to P10.15/kWh from the P11.31/kWh-rate of the former distribution utility, or a P1.16/kWh substantial decrease in the average electricity rate for 12 months.