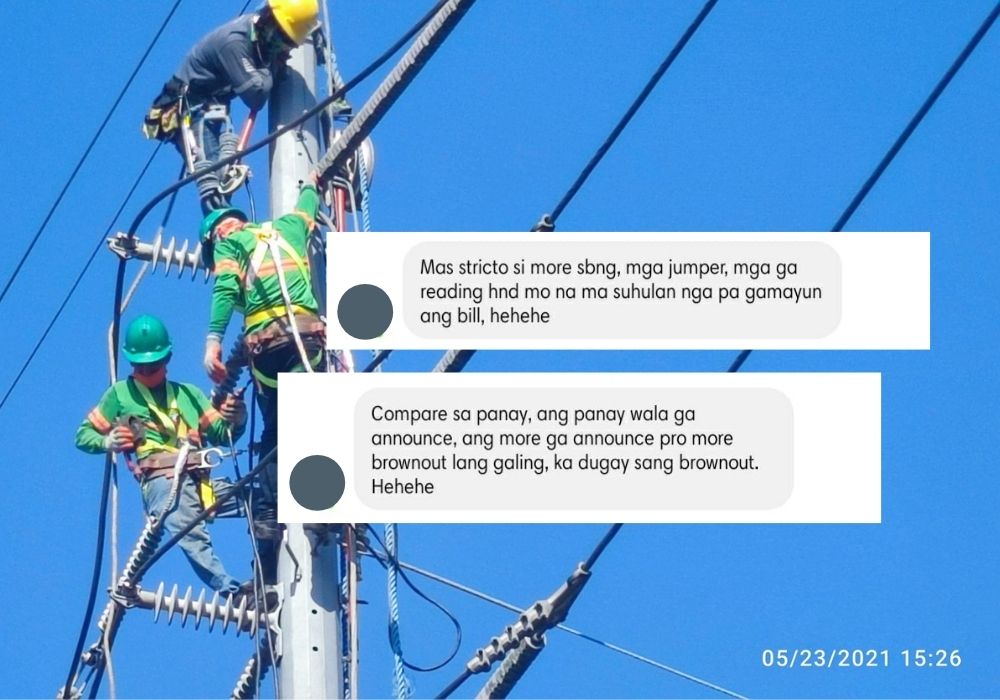 IBS Digital brings to you the voices of Ilonggo consumers from different walks of life in a 3 part series. 

In Part 1, consumers' outlook on brownouts and on MORE Power's performance
MORE Power Iloilo Performance: More Electric and Power Corporation (MORE Power Iloilo) started operations as Iloilo City's power distribution utility in 2020 at the height of the pandemic lockdown.
In February this year, MORE Power celebrated the second year of its franchise issuance while it marked its first year anniversary of operations after it took over the power distribution service from the 98 year old former provider Panay Electric Company (PECO).
IBS Digital made a round up to get the pulse of the Ilonggo consumers from different walks of life by gathering their opinion and thoughts on MORE Power's services one year down the road.
Upgrades is part of MORE Power Iloilo Performance
"Ok lang man, intiendihan ko man ang budlay mag maintenance," said Pretty Alvarado or It's okay, I understand that doing maintenance work is hard.
Pretty is a resident of Jaro and employed in a private business operating in Iloilo City.
Another consumer-resident from Jaro named Mark Ramos also responded to IBS Digital by requesting if he can share insights in local language so that he can express more openly and accurately.
For Mark, "Ga update man ang MORE kung may brownout. Lately, wala patay brownout kay may gina kaayo sila galing nag timing lang sa MECQ, ang tao indi tani mag gwa sa blay; pero naga gwa nalang kay brownout man" or MORE Power is also giving an advisory or update about brownouts. Lately, however, brownouts have become more frequent due to repairs and maintenance. It's bad timing because Iloilo City is under MECQ. So, while residents should be staying at home, brownouts are giving them a reason to go out.
Part 2 here: Consumers on MORE Power's performance (2)
What Mark expressed has been shared by many consumers who brought to social media the discomfort caused by a series of brownouts. A lot of the city residents lamented how they could stay inside their homes when it's hot. Brownouts means no electricity, so no electric fan or aircon.
On the other hand, despite the flood of criticisms received by the utility company, a female consumer have expressed appreciation of MORE Power Iloilo Performance through the releases of service advisories.
Sheila Gomez, a consumer this time from La Paz district, shared to IBS Digital that she found MORE Power's service advisories helpful.
"Na appreciate ko nga gna annouce ang brownouts. Helpful sa akon as a student and WFH kay maka heads-up kmi sa work and school for scheduled b.outs," said Mae over messenger or I appreciated that they announce scheduled brownouts. It's helpful to me as a student and a Work From Home employee. At least I can advise my school or company for power interruptions ahead of time.
Moreover, another consumer named Ed, who wishes to remain anonymous, made a good case by comparing MORE Power with the previous service provider PECO in terms of informing consumers of brownouts.
Ed said: "Compare sa Panay, ang Panay wala ga announce, ang MORE ga announce. Pro MORE brownout lang galing, ka dugay sang brownout."
For Ed, MORE Power Iloilo Performance is better off when it comes to informing consumers of power interruptions than the previous PECO who was not known to post announcements. But "MORE brownouts," he jokingly added, and emphasized the long period of brownouts that are taking place because of maintenance works.
Public info is key in MORE Power Iloilo Performance
MORE Power has been publicly transparent regarding improvement projects and maintenance work by using various media channels to bring timely information to its consumers.
No less than Mr. Roel Z. Castro, the President and Chief Operations Officers (COO) have reached out to consumers and appealed for their understanding regarding ongoing maintenance and improvement works, saying that these are necessary for power facilities were either neglected or were not upgraded by the previous utility.
Take the case of the primary and secondary poles across the city. According to MORE Power, there are 4,300 dilapidated primary and secondary poles and these are being replaced. These facilities needed to be restored to its best standard to ensure public safety and for the safe delivery of electricity to consumers.
Related news: 4 Reasons Of Unscheduled Power Interruptions As Cited By MORE Power
According to Castro, the maintenance works that are being undertaken today will benefit consumers in the long term for it will improve the efficiency, quality of service, and value for money through reduced rates, among many beneficial factors.
MORE Power responsive on consumers sentiments
MORE Power Iloilo also explained the reasons behind the series of power interruptions that were experienced by consumers before Iloilo City was placed under the Modified Enhanced Community Quarantine (MECQ).
The Iloilo City Government through Mayor Jerry P. Treñas requested the Inter-Agency Task Force for the management of Covid-19 to place the city under MECQ because of the rise of Coronavirus infection across the metropolis. The IATF placed Iloilo CITY under MECQ from June 1 until June 15.
An MECQ classification discourages or restrain non-essential movement of residents in order to control the spread of infection and bring down number of cases.
Last part: Consumers on MORE Power's performance (3)
The declaration of MECQ, however, was not anticipated by MORE Power and the utility has calendared maintenance works, including a major technical and systems adjustments as a result of its reconnection to the grid under the National Grid Corp. of the Philippines (NGCP).
Many power consumers dissented the long brownouts over the night and which extended to the day as a result of technical and systems alignments .
The complaints by consumers prompted Mayor Treñas to request MORE Power to defer works that causes power interruptions while the entire city is within the period of MECQ.
The management of MORE Power Iloilo gave an affirmative response on the calls made by the consumers and the City Government.
It right away ordered a suspension of all technical and maintenance works in the calendar.
Power system harmonization is vital to prevent brownout
Yet subsequent short on-and-off brownouts transpired which irritated consumers who were oblivious of what were causing brownouts. Instead, they directed blame to MORE Power.
MORE Power clarified that not all of the brownouts are generated from the system of the DU, especially that its distribution system is no longer isolated. Rather, it is now connected to the power grid operated and managed by NGCP.
As a result, the city's power system is now interconnected with other sectors that compose the power system like the generation and transmission sector in the Visayas power grid. The company expounded that the entire power system was undergoing technical adjustments like a harmonization of systems, and the process affected, not only MORE Power, but all utilities and electric cooperatives that are connected to the NGCP transmission line.
The harmonization of the system is a complicated technical and engineering work yet it must be undertaken to prevent brownouts in the future.
MORE Power Iloilo performance is not defined by brownouts. A company with good business sense, and a highly regulated at that, does not want brownouts deliberately or regularly. "Brownouts is not beneficial to MORE Power," stressed Castro.
MORE Power has allocated around P2-billion in investments for the modernization Iloilo City's power distribution system.
About Post Author