Iloilo Delicacies: List of Ilonggo foods that will make you miss home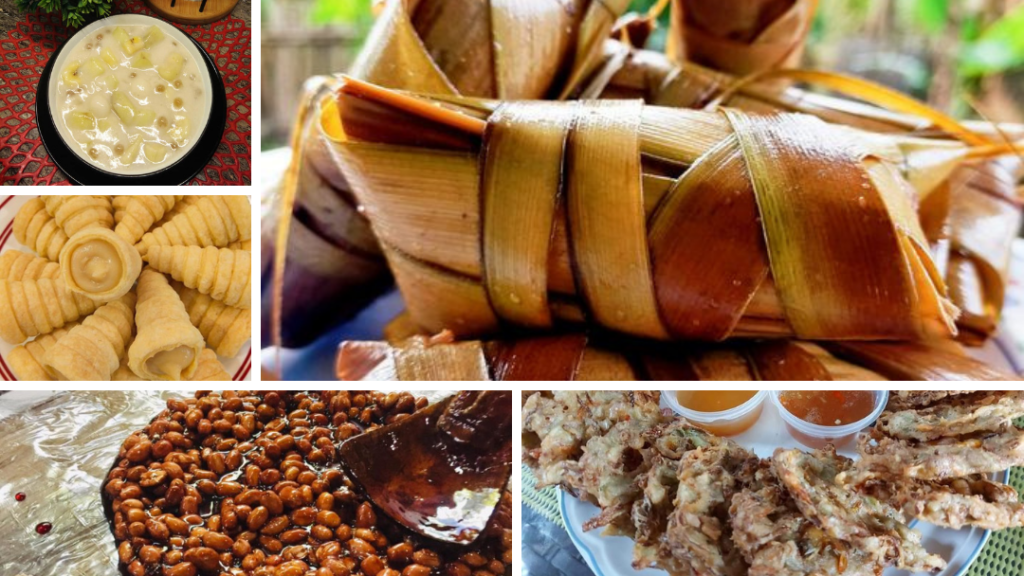 Iloilo is a home to famous and iconic traditional Filipino national and local dishes.

Every province, city or region has local delicacies that tourists must try.

Here's a list of Ilonggo delicacies that will make you miss home.
Iloilo delicacies form part of Ilonggo culture. When it comes to native food, Iloilo can come up with a very long list of native food that we can proudly flex not just with other cities and provinces but even across other nations.
Iloilo Delicacies with glutinous rice (pilit) as main ingredient
The names of Ilonggo foods also vary with how other places would call it. For example, our ibos is their suman; our suman is their biko and our biko is called different else. We also have a distinction between ibos and bot-ong; suman and suman latik. And then there is difference between mwasi/muasi, inday-inday and palutaw.
Ilonggos are fond for creating delicacies out of glutinous rice, coconut milk and muscovado sugar.
Ibos
We call it ibos but some parts of the country call it suman. It is made from glutinous rice (pilit) cooked using coconut milk (gata). Preparation would vary but most would soak the pilit in gata and carefully wrapped them one by one using coconut leaves (lukay). Then they will be placed inside a big kaldero and the rest of gata will serve as the water to soften the pilit.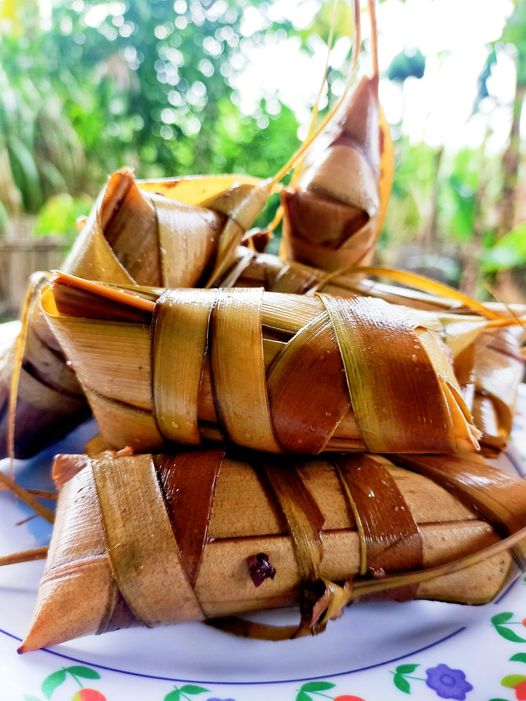 Once cooked, you can dip it in sugar and enjoy. Muscovado sugar is recommended but some would prefer washed (central) or white (refined). To level up your ibos, instead of sugar, you can also partner it with ripe mangoes.
To level up your ibos more, you can fry it and enjoy.
Bot-ong
Bot-ong is typically like ibos. The only difference is that instead of wrapping it with coconut leaves, it is wrapped with banana leaf (dahon saging). They are equally good.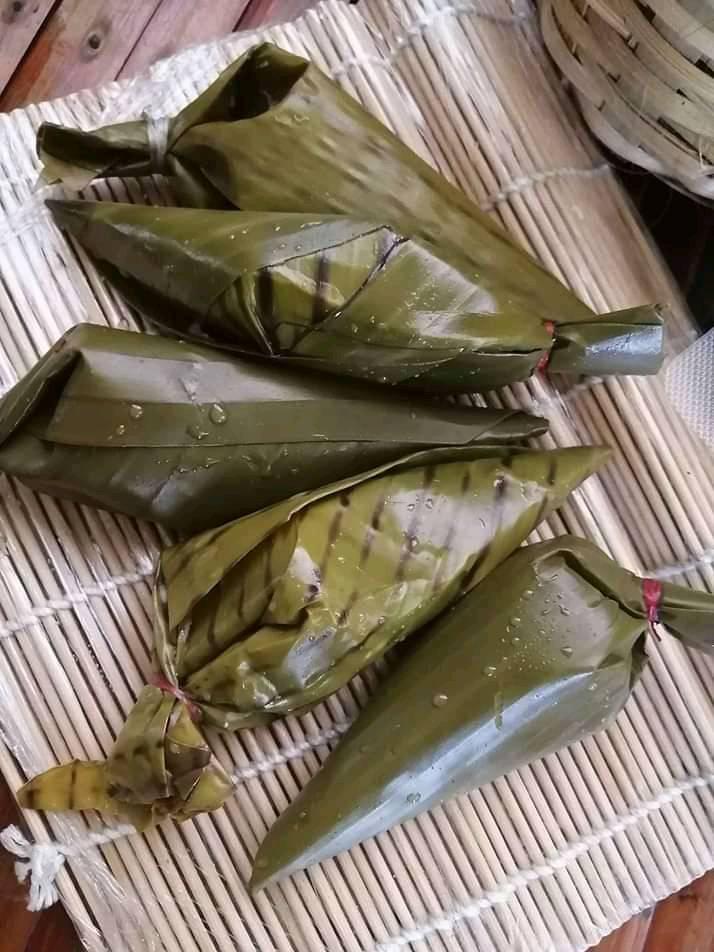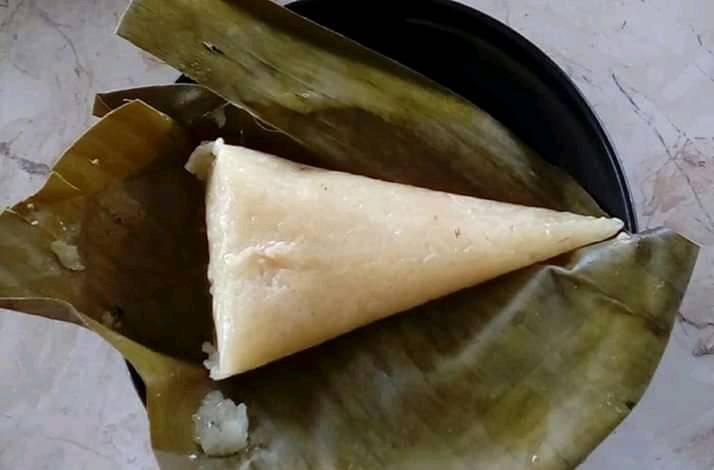 Suman
Suman is another level up of ibos. But this time, the muscovado sugar is mixed with the glutinous rice and coconut milk. Other parts of the countries would call it biko. We usually prepare it by cooking the pilit first. Instead of using plain water when we cook (tig-ang) the pilit, we use the second coconut water (ikaduwa nga gata as we call it). To perfectly cook the pilit, measure it with a ratio of 1:1. Like one cup of pilit is equals to one cup of gata.
Once ready, prepare a bigger pan (kawa if you have). The secret is to keep your heat low (palangay as we would say). Place the coconut milk (una ng gata) and combine the muscovado sugar. Some neighbors prefer using central or refined sugar. The color of your suman would directly depend on the color of the sugar you use.
For us, we also apply 1:1 ratio in sugar. If we cook 1 kilo of pilit, we prepare 1 kilo of sugar. But then this would depend also on your level of sweetness preference.
We also add peel of calamansi in the suman.
It requires continuous mixing so it will not stick in the kawa and as the suman gets cooked, the stronger you should be as the mixture gets stickier and you need more force to continue mixing.
Kalamay Hati
Kalamay is the other name where some parts of the country would use it. Some would also find this inside a coconut shell (bao). The preparation is quite like suman but in kalamay hati, we need to grind (galing) the rice first. There are stores which specializes in galing, bokbok and kagod. Usually, it is a one-stop shop where you can pagaling your pilit and pakagod your lubi.
No need to cook (tig-ang) as you can directly mix the ginaling nga pilit in the gata and kalamay mixture. Same low heat but require more force. Mixing kalamay hati is more tiring than suman. But all the efforts will be worth it.
Suman Latik
Suman Latik is typically just suman or bot-ong but instead of having sugar, it is topped with bukayo – sweetened coconut strips. The glutinous rice is cooked as it is and topped with bukayo. It is usually wrapped in dahon ka saging.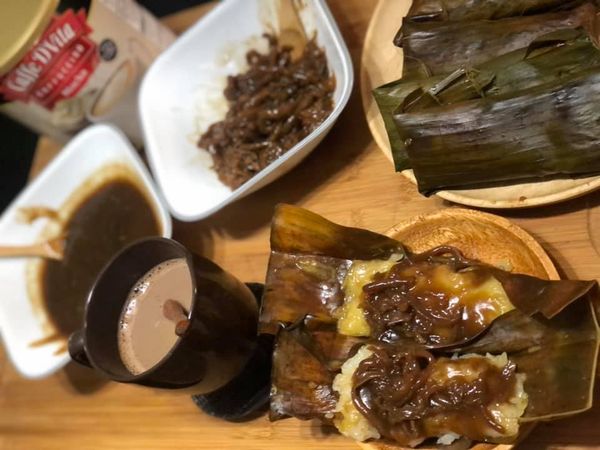 Inday-Inday
Inday-Inday is like suman latik but instead of getting wrapped in banana leaf, it is flattened above it. And the pilit used is the one grinded, formed into circles and placed on top of banana leaf. Then the finale is being topped with bukayo that will serve as the sweetener.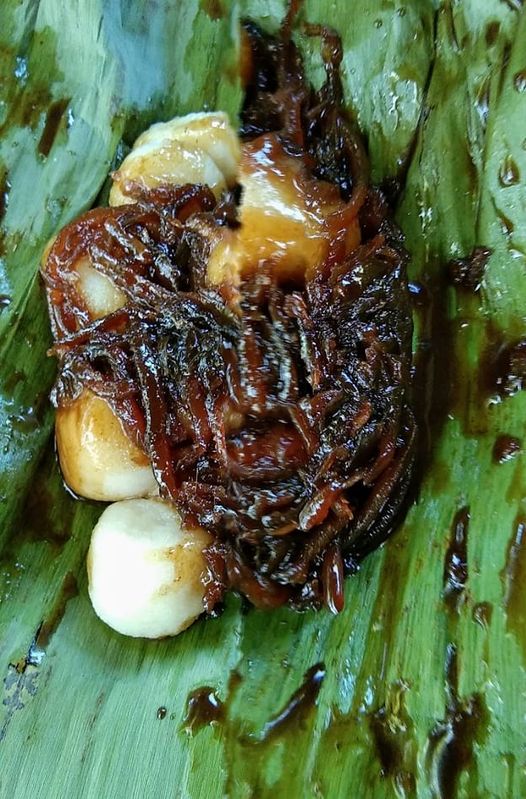 Moasi
Moasi is like a fusion of inday inday and suman latik. It is a tinig-ang nga pilit (cooked glutinous rice) topped with grated coconut (kinagod nga lubi) and mascuvado sugar. Some would roast sesame seeds (lunga) to add flavor and luscious smell to the food.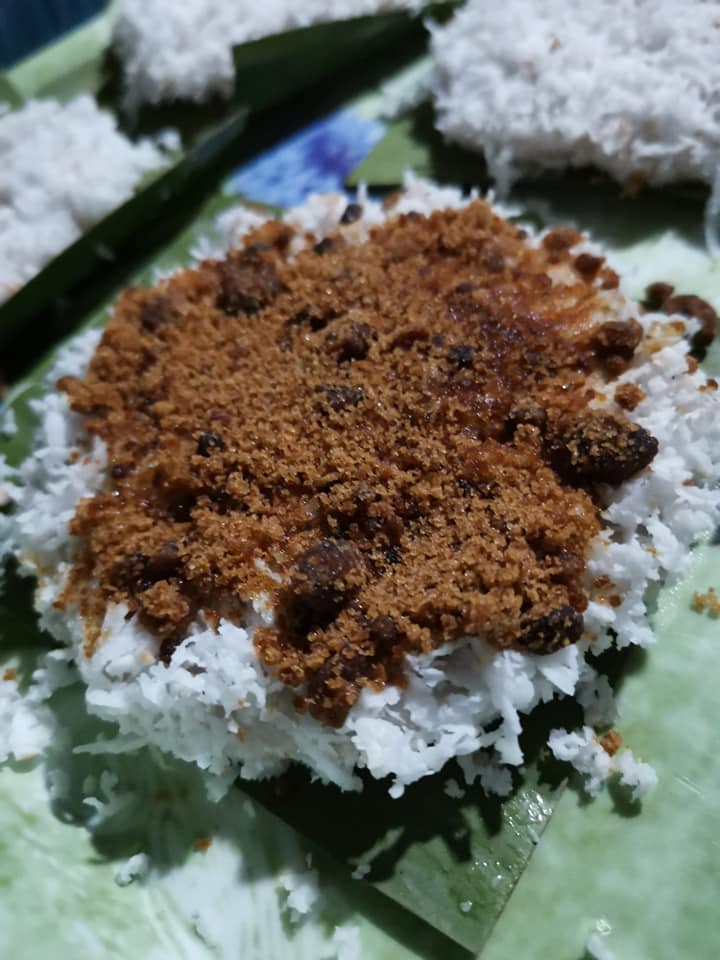 Ginat-an
Ginat-an is another way to cook glutinous rice. This is such a colorful meal, but this requires more ingredients. We would have colorful tapioca (sago), banana (sab-a), sweet potato (kamote), we would add palawan if there's available. You can also add coconut strips and extend some effort to form glutinous rice into balls to make it your palitaw.
Basically, we just boil the tapioca in water until it become soft (some would used pre-cooked), then add the rest of the ingredients – grinded glutinous rice, sugar (we prefer white), coconut milk, cubed banana, kamote and palawan and the palitaw.
Continuously mix to attain the good texture.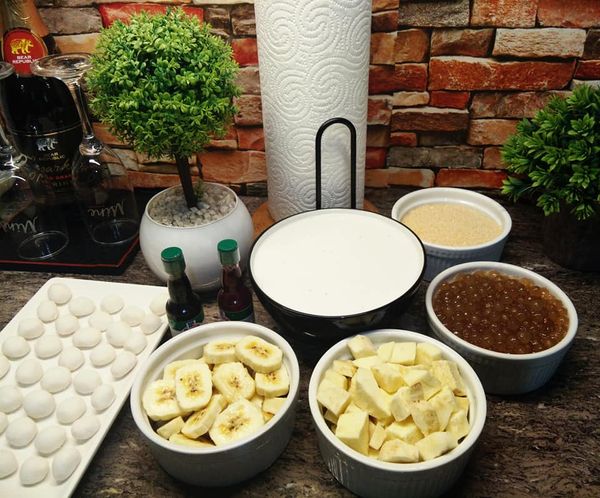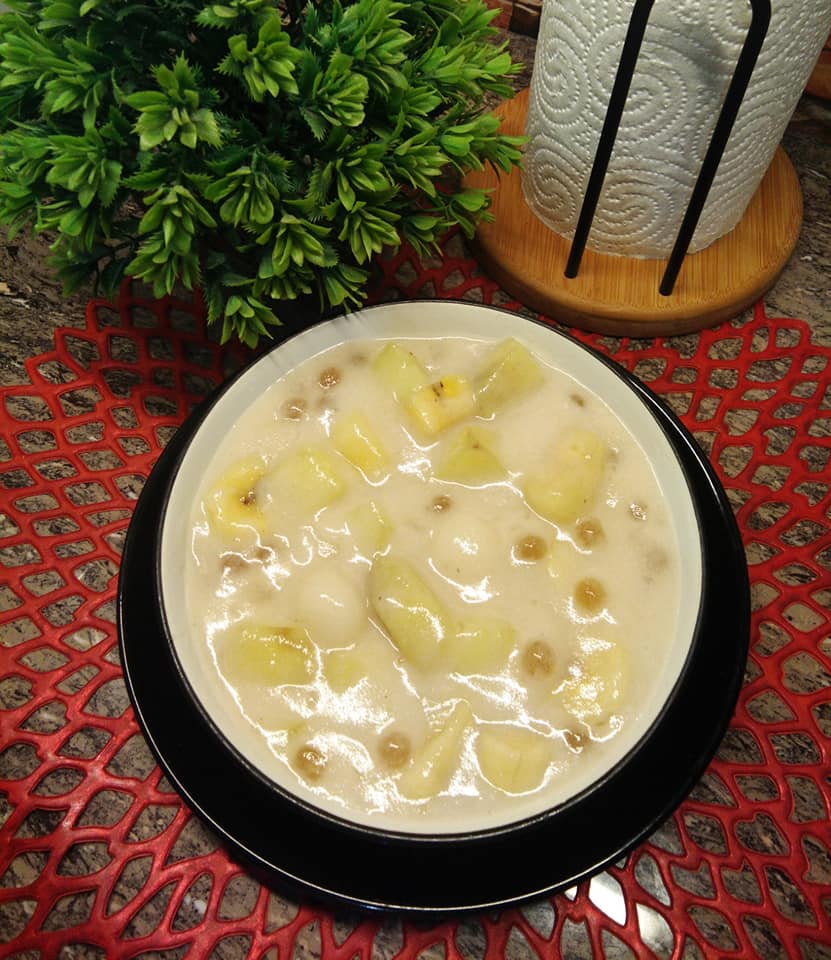 Bitso-Bitso
Bitso-Bitso is another recipe made from glutinous rice flour ("giniling nga pilit) and muscovado sugar. Illonggo version would make a batter from combining pilit and water, roll a scope of it and twist it to shape. Fry each in cooking oil and dip it in caramelized sugar for its coating.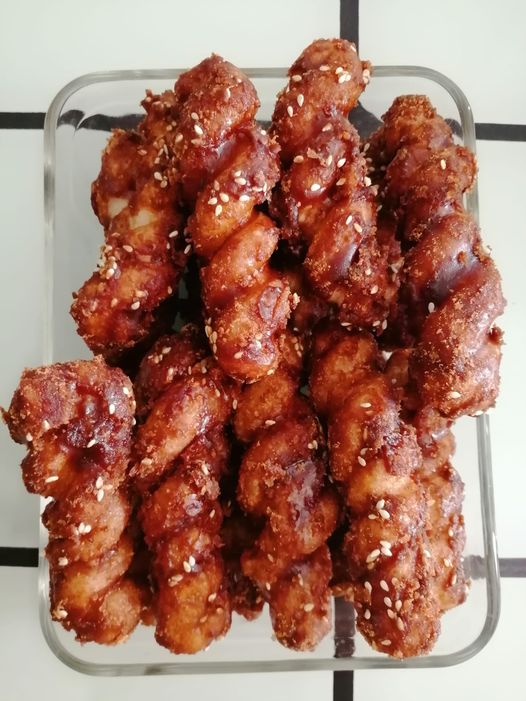 Valenciana
Valenciana, finally is the glutinous rice food that is not sweet. It is like a local paella. Some would add pineapple juice and chunks in their way of cooking to make it a little sweet. Valenciana is not complete without liver (atay), chicken or pork cubes. Level up the valenciana by adding chorizo bilbao and hard-boiled eggs. Some would also add raisins (pasas) in valenciana.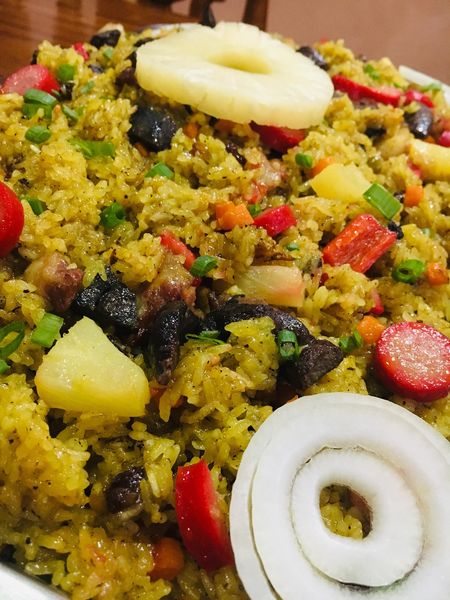 Iloilo delicacies made of pilit are often cooked, served and eaten during All Souls' Day (Tigkalalag). On any other days, you can cook or buy from restaurants. It is more available during market days on towns (banwa-banwa) and available daily around Iloilo Terminal Market (Super) and Iloilo Central Market.
Something sweet Iloilo delicacies
Bukayo
Bukayo is candied coconut. It is a favorite "sweetener" for our Inday Inday and Suman Latik. This is also best palaman (spread) to our pandeleche or pandesal. The main ingredients are buko (coconut) strings and muscovado sugar. Some would prefer to form it into balls or flattened circle and left it to harden for a chewy product.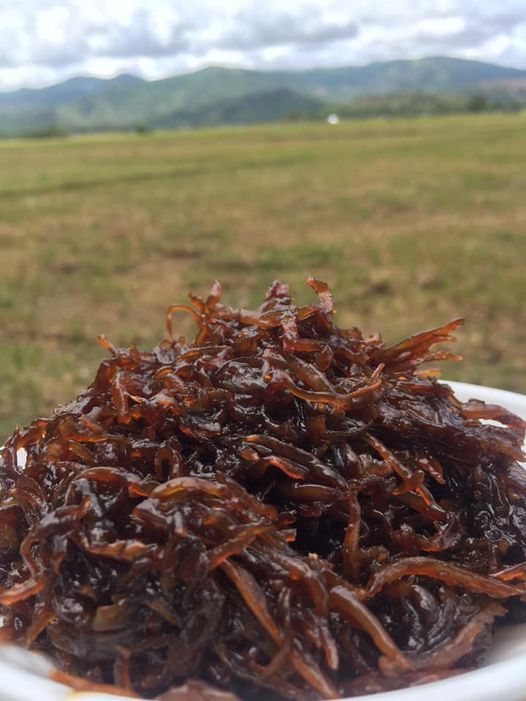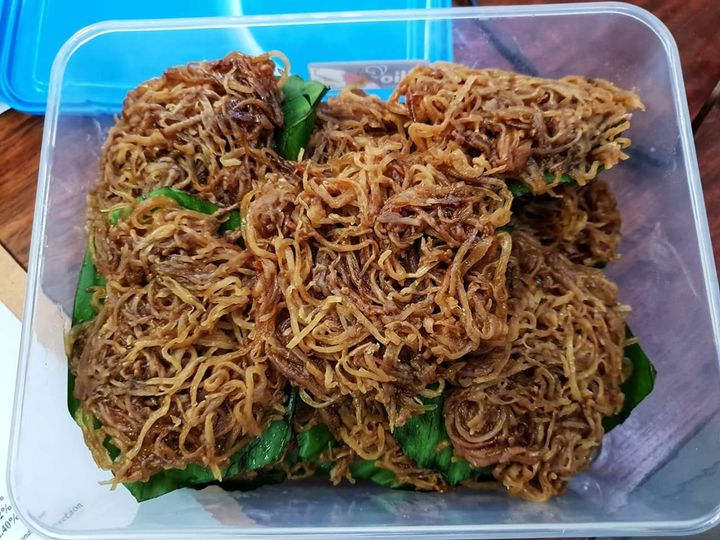 Butong-Butong
Butong-Butong is a stick like candy made from sugar, sesame seed and coconut milk. There can be two kinds. The hard one or the one which breaks every time you take a bite. And the second one is the one you can "butong" pull and it stretches.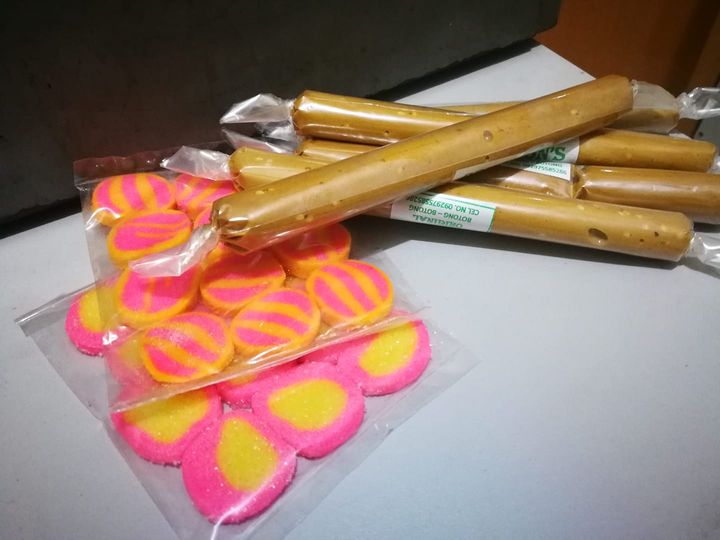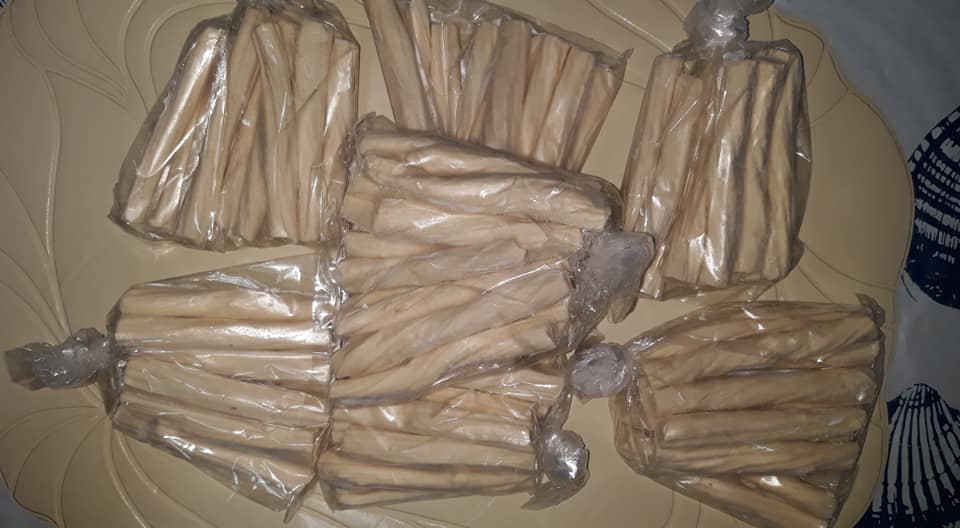 Pulot
Pulot or known as molasses or treacle in English is a sweet and thick syrup/ Locally, it is made of sugar and coconut milk. Foreign countries would make this as their sweetener or flavoring. It is sold on a bamboo canister as its jar and wrapped with banana leaf on top as its lid. It comes with a string usually a twine rope which serves a dual purpose – as string to connect with the vendor's "tuwang-tuwang" a pole he use to carry them and at the same time, the string rope is used as the spoon to scope the pulot inside the bamboo jar.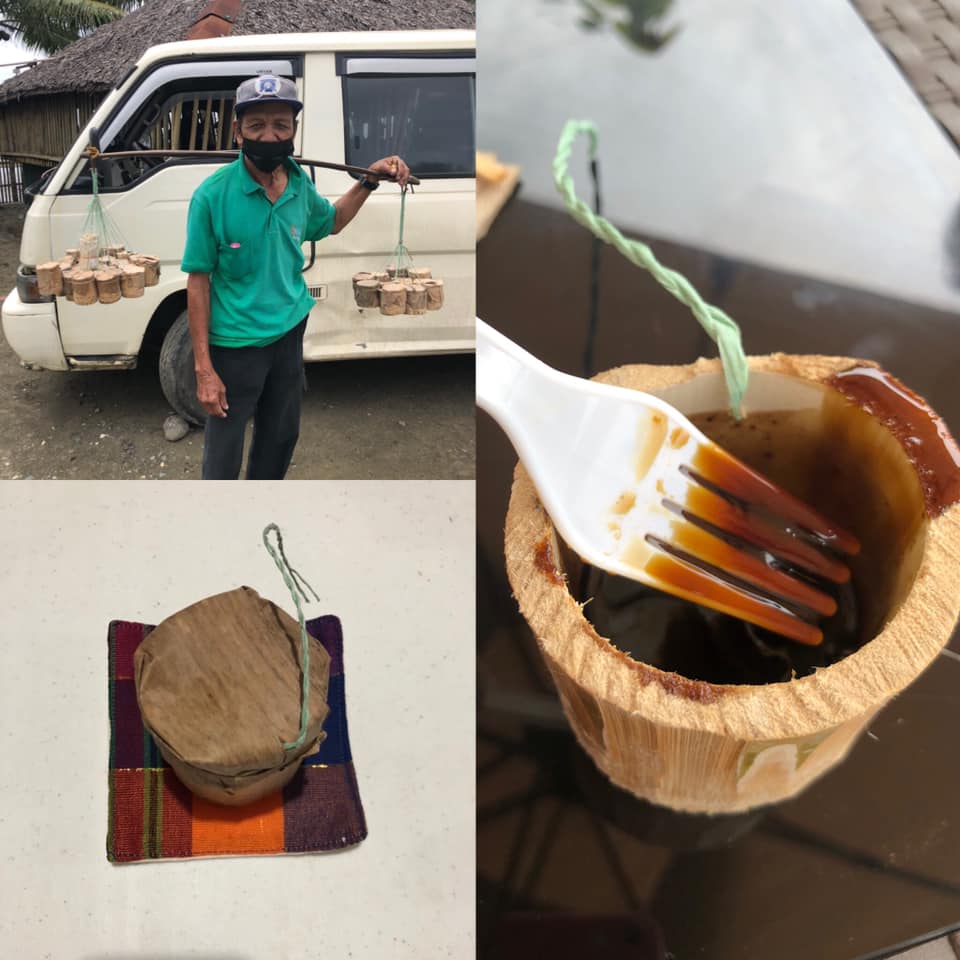 Bandi
Bandi is a peanut brittle the San Joaquin Iloilo way. It is made from peanuts and caramelized sugar. It is another perfect snack to satisfy your sweet tooth.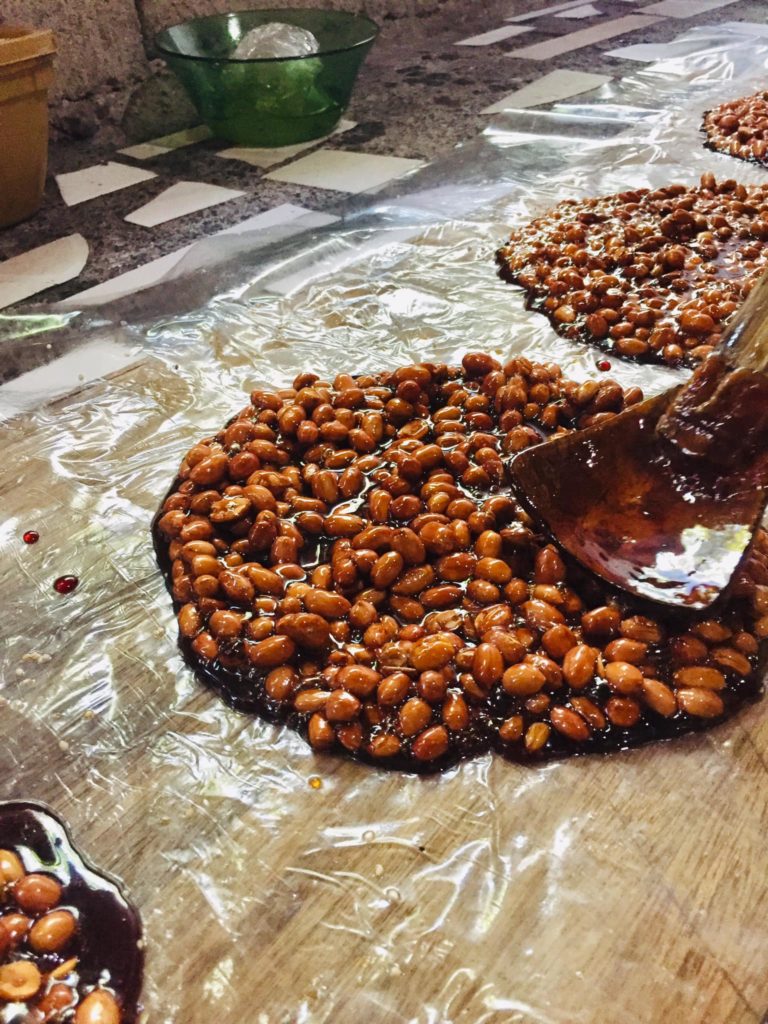 Pinasugbo
Pinasugbo is a food made from thinly sliced banana (sab-a) and deeply fried in oil then dipped into caramelized sugar topped with sesame seeds. It is locally served with white paper cones which serves as the handle so can eat it without getting your fingers messy.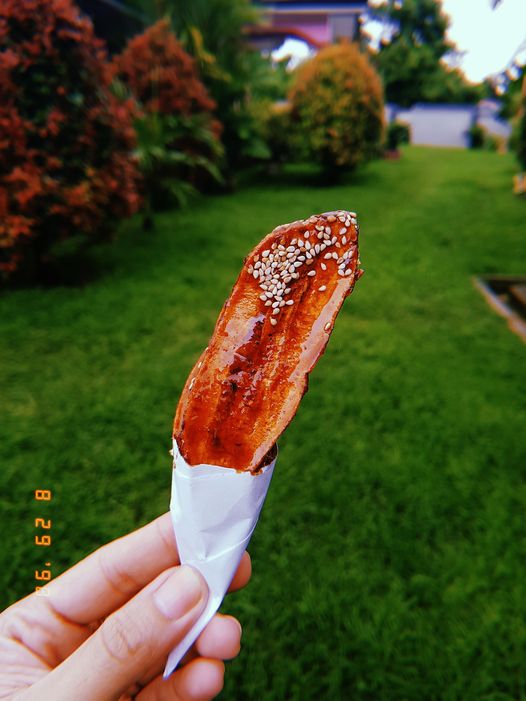 Dinulce nga Saging and Kamote
Candied banana (sab-a) and sweet potato (kamote) are two of the famous Iloilo delicacies afternoon snack (merienda). Banana or kamote is sliced in bite-sized portion and boiled with coconut milk and sugar. Some would mash the sweet potato. Others would also used squash (kalabasa) as their main ingredient.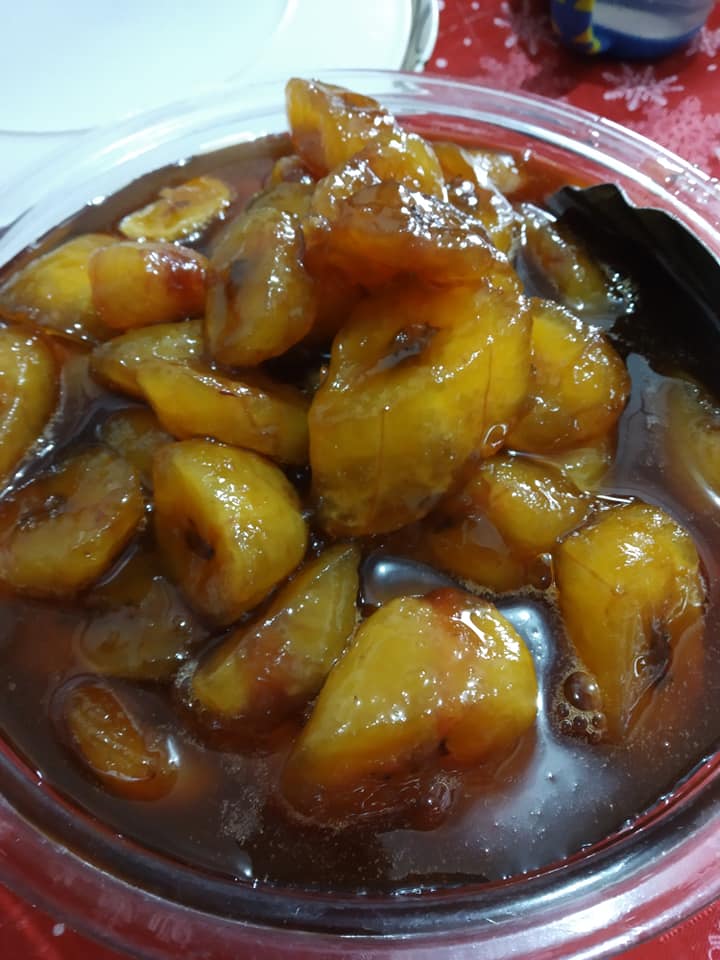 Iloilo delicacies that are something savory
Empanara
Empanara is Iloilo's empanada. It is a kind of pastry filled with meat and vegetables usually potato and pork. Some modern recipes would include bean sprout or shrimp in the filling.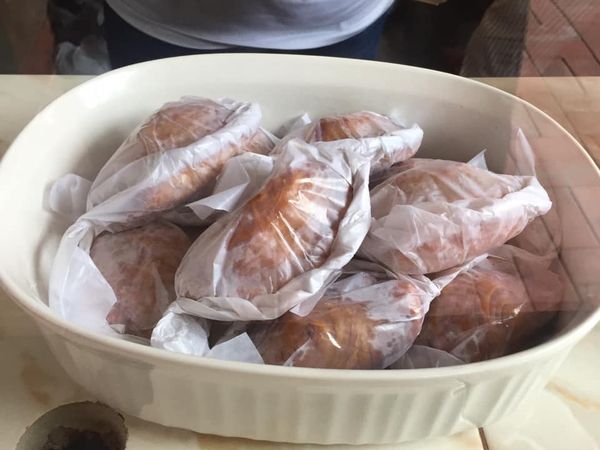 Ukoy
Ukoy are fried fritters made with assorted vegetables like carrots and cabbage and shrimp. These are mixed with the flour and eggs and shaped into fritters. It is more delicious when dipped in your favorite chili sauce or sinamak.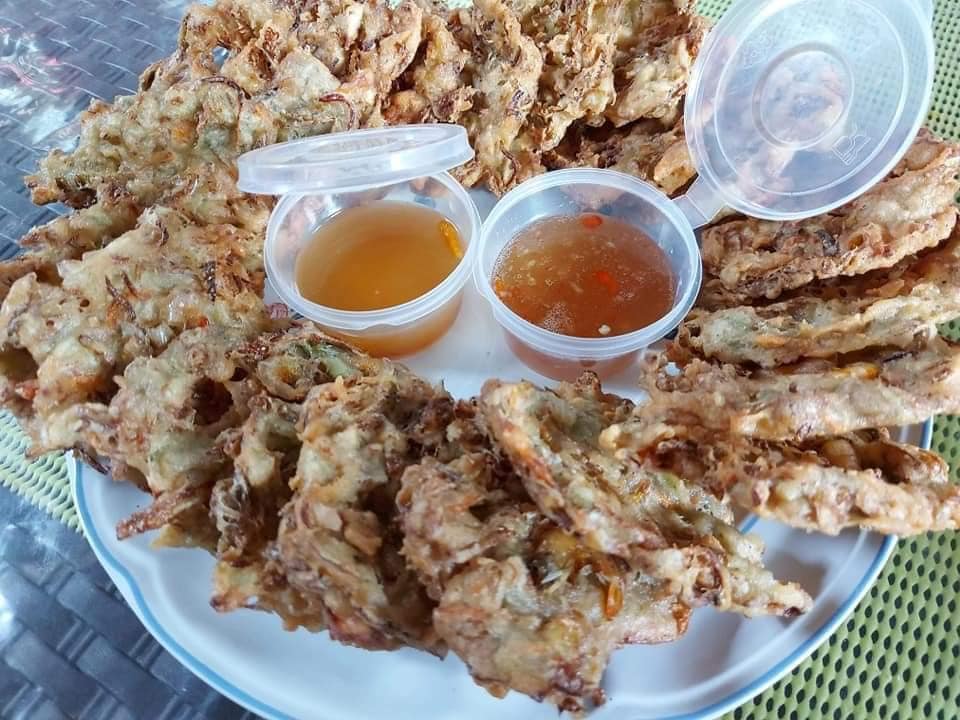 The pasalubong go to
Biscocho
Biscocho is a crunchy bread that melts in your mouth with the butter and sugar in every bite. Every crisp goes best with coffee or your preferred hot drinks.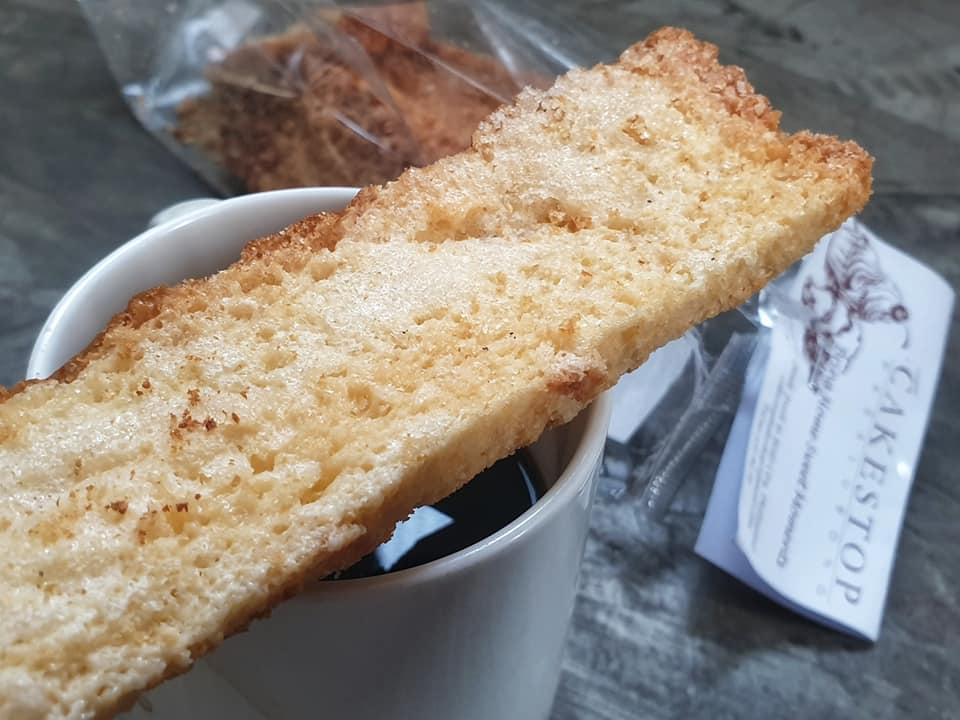 Butterscotch
Butterscotch is another pasalubong favorite. This soft and chewy bite-sized goodness is so addicting that you can even finish one pack in one sitting.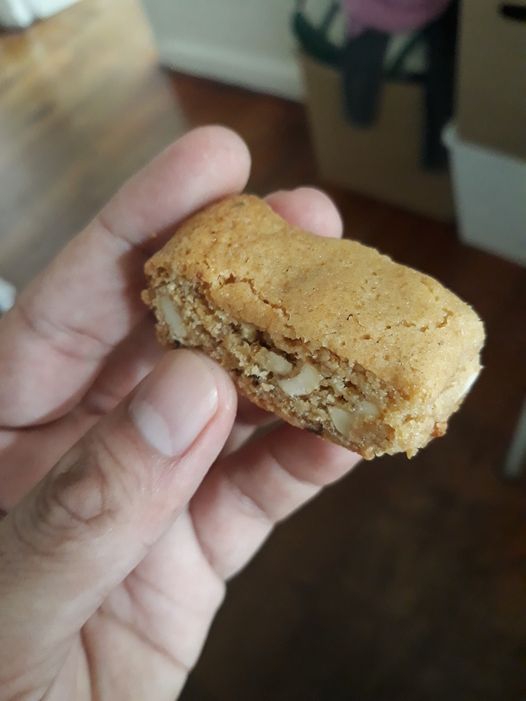 Cream Horn
Cream Horn is a conical-shaped pastry filled with sweet cream. Through the years it has made its name of becoming a favorite pasalubong from Iloilo.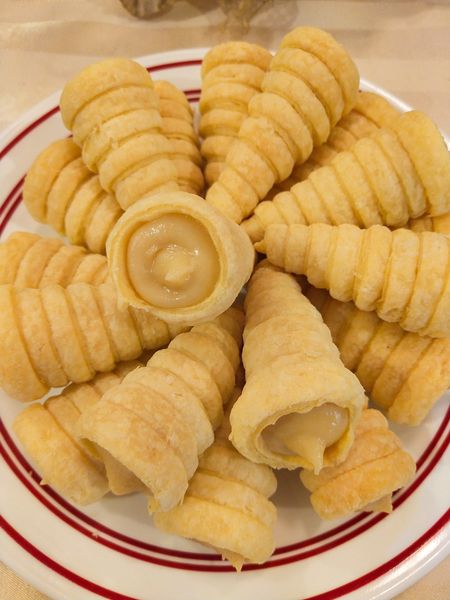 Baye-Baye
Baye-Baye is an Iloilo delicacy classic. This is Iloilo's version of espasol. It is made from glutinous rice, coconut milk and sugar. It is usually wrapped in banana leaf and famous in Pavia town.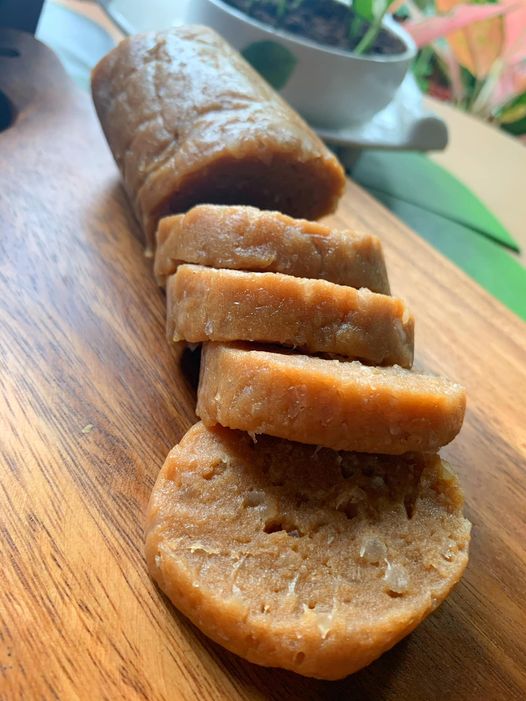 For most of these Iloilo delicacies listed, there are main ingredients that are common namely sugar, rice and coconut.
Although Bacolod is known to be the sugar capital of the country, Iloilo is also playing a huge part in the sugar industry of the country. Tracing back to the time when Sir Nicholas Loney set foot in the province, he convinced the American house of Russell & Sturgis to branch out in Iloilo and give crop loans for sugar farmers. Sugar industry became a hit in Iloilo which they transported to Guimaras and Negros Island. Loney then opened the same crop loan terms in Negros Island. Prominent Ilonngo families then moved to Negros due to the island's promising development. Visayas then became the main exporter of sugar across major countries.
The region of Western Visayas where Iloilo belongs, is one of the top palay producers in the country. Through the years, Iloilo remains to be one on the major rice baskets in the country. Same with rice, coconut is also one of the top crops in the region.
Iloilo's strategic location offer raw ingredients both from agricultural and coastal side. Combine this strength with Ilonggo's creative culinary thoughts, we will sure to get the best tasting food.
Listed Ilonggo foods are only some of the many Iloilo delicacies that we all grow up too. In the middle of modernization and the entries of international cuisines, we may continue to pass the flavors of Iloilo on to the next generations.