Iloilo Bloggers Society supports City Govt's drive for COVID vaccination with #IloiloPabakunaTa campaign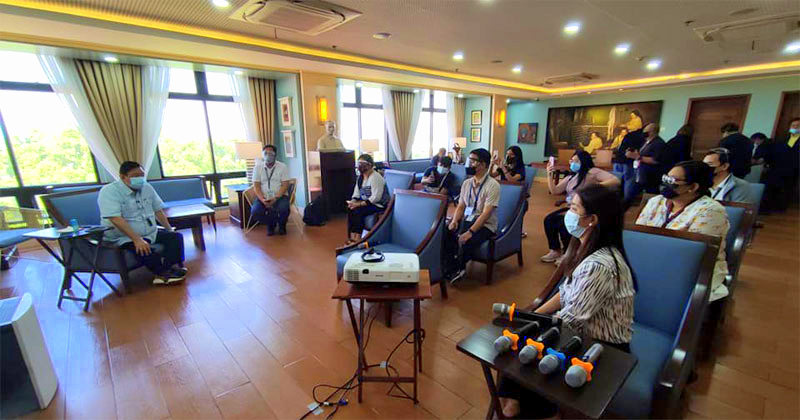 Iloilo Bloggers Society has partnered with Iloilo City Government for COVID-19 vaccine awareness initiative.

The bloggers launched #IloiloPabakunaTa social media campaign to increase vaccine acceptance among Ilonggos.
Iloilo Bloggers Society (IBS) supports the Iloilo City Government's COVID-19 vaccination drive with #IloiloPabakunaTa campaign.
The members of IBS has launched #IloiloPabakunaTa campaign a day after its consultation meeting with Iloilo City Mayor Jerry P. Treñas who solicited its insights for support of the City Government's drive for massive public vaccination as the city gears up towards the new normal.
"I met with the Iloilo Bloggers Society to appeal for their help to spread awareness on the Covid-19 vaccine to have more residents agree on the immunization process so we can safeguard them from the risks of the virus. They have also shared their inputs to strengthen our campaign, " said Mayor Treñas on a Facebook post after a series of meetings held over the day.
The meeting with the Iloilo Bloggers Society was a significant undertaking for Mayor Trenas who always reaches out to different stakeholders for support on efforts that uplift the common good.
"A strong partnership with both private and public sectors has been a great help for the Iloilo City Government to develop plans and programs that will support our fellow Ilonggos and put the city to the next level," Treñas emphasized.
[See: https://www.facebook.com/JerryTrenasOfficial/posts/3784131295005946]
"Once again we are supporting our city on this noble effort through the campaign #IloiloPaBakunaTa," said Nonoy Taclino, president of IBS.
"We intend to generate and share materials for the digital platform to help spread accurate information that will raise the awareness and improve the understanding of fellow Ilonggos about the COVID-19 vaccines," explained Taclino.
The Iloilo City Government has conducted COVID-19 vaccine simulation last week of January in preparation for the arrival of 600,000 doses of vaccines from AstraZeneca, a United Kingdom-based pharmaceutical company.
Iloilo City has also opened the opportunity to procure vaccines from other pharmaceutical companies like Novovax, Janssen, Moderna, and Pfizer.
According to Mayor Treñas, the 600,000 quantity will be able to vaccinate around 70 percent of the city's population.
Iloilo City has a total of 447,992 population based on the 2015 census.
#IloiloPaBakunaTa is a social good and advocacy initiative by IBS members similar to digital campaigns it also launched last year like #PadayonKita and #SaIloiloTa in support of Iloilo City's revival initiatives from the pandemic.
Among its member bloggers' are Nile on Weekends, Malditang Librarian, Gorgeous Lifestyle PH, trendy.ph, shemaegomez.com, feature Iloilo, When in Iloilo, Iloilo Updates, Iloilo Lifestyle and Features, peoplesdomain.net, and Iloilo Today.
The Iloilo Bloggers Society was formed in 2019. It is composed of legitimate bloggers and online influencers from a diverse backgrounds. Its formation is aimed to become a frontrunner in the online community who plays the role of a catalyst in building a conscientious cybersociety.
The pulled content of the Iloilo Bloggers Society can be found at www.ibsdigital.net or https://www.facebook.com/IBSDigitalNet.