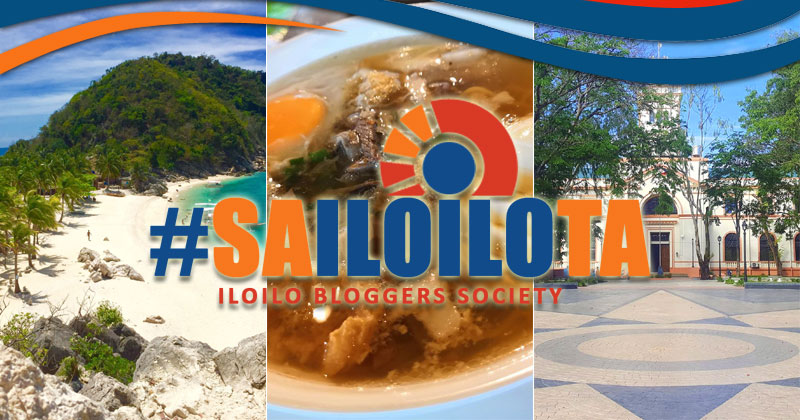 IBS members introduced a complementary effort to support Iloilo's tourism and economic revival.

#SaIloiloTa aims to share content about safety tourism and business practices under the new normal.

It will highlight the contributions of the Ilonggos for economic revival.
The Iloilo Bloggers Society (IBS) has introduced a campaign hashtag #SaIloiloTa to support local efforts for tourism and economic revival starting this September, a Tourism Month.
#SaIloiloTa is the second thematic project that members of IBS have initiated to complement government and private sector programs designed for the revitalization of tourism and business activities using the online platform.
The bloggers' project hopes to create digital content that will impart safety practices that were adopted by tourism and business actors and to share how they have applied health protocols in doing day-to-day transactions as part of the new normal of doing business.
The intention of #SaIloiloTa is to highlight local efforts geared towards the revival of the local economy.
"As bloggers, we believe that we are a relevant stakeholder with a role to play in the revival of our local economy. We have opened our platforms to provide a meaningful space to raise awareness and to help educate the public regarding new ways of doing things for these are now part of the new normal, expressed IBS president Nonoy Taclino.
Taclino emphasized that the effort of IBS members is designed to suggest a forward movement similar to #PadayonKita. Cautious steps are naturally slow, but we need to start moving with health protocols as part of everyday life because Covid-19 cases continue to rise and a vaccine may be long and far ahead."
The campaign goes inward to generate stories and share news regarding activities of locally generated products by MSMEs, informally produced goods, and the fast-expanding ventures of Coronapreneurs.
Moreover, it supports regulated and family-oriented safe domestic travels that adhere to health guidelines issued by the government and which includes safe dining and safe use of public transportation, among many local tourism activities.
#SaIloiloTa also aspires to act as a complementary promotional venue to share relevant and useful information produced by agencies like the Dept. of Tourism Region VI, Iloilo Provincial Government's Tourism Office, Iloilo City Tourism and Development Office, private sector and business groups, and MSMEs.
"Since June, we have been reaching out to the local government and numerous business groups for a joint effort so that IBS can help them communicate their initiatives through our members. Most of them, however, are still absorbed by the disruptive impact of the Coronavirus and with no forward plan," revealed Ted Aldwin Ong of IBS.
"#SaIloiloTa is an advocacy initiative which offers complementary communications support on the efforts of other stakeholders. We believe that it can help shape people's trust and confidence – a vital element that will allow the public to slowly start moving with health protocols in place and to resume economic activities," Ong added.
The Iloilo Bloggers Society was formed in 2019. It is composed of legitimate bloggers and online influencers from diverse backgrounds. Its formation is aimed to become a frontrunner in the online community who plays the role of a catalyst in building a conscientious cybersociety.
Among its member bloggers' are Nile on Weekends, Malditang Librarian, Gorgeous Lifestyle PH, trendy.ph, shemaegomez.com, feature Iloilo, When in Iloilo, Iloilo Updates, Iloilo Lifestyle and Features, peoplesdomain.net, and Iloilo Today.
The pulled content of the Iloilo Bloggers Society can be found at www.ibsdigitalnetwork.net or https://www.facebook.com/IBSDigitalNet.