Iloilo City is home to Filipino-Chinese residents and Chinese restaurants that serve mouthwatering dishes. Naturally, oriental dishes have become a common fare on our dining tables.
These dishes include Sichuan noodles and baos which have been catching some foodies' attention. So, what are they, where did they come from and how are they made? Find out below.
What is Sichuan noodles?
In the early days, vendors in Sichuan, a southwestern province in China, peddled noodles on the streets using a pole (dan dan) that is hoisted over their shoulders. The ingredients were in one basket and the cookware was on the other. That's how the name "dan noodles" or "peddler noodles" came about. Nowadays, it is called Sichuan (szechuan) noodles and it is served in Chinese restaurants across the globe.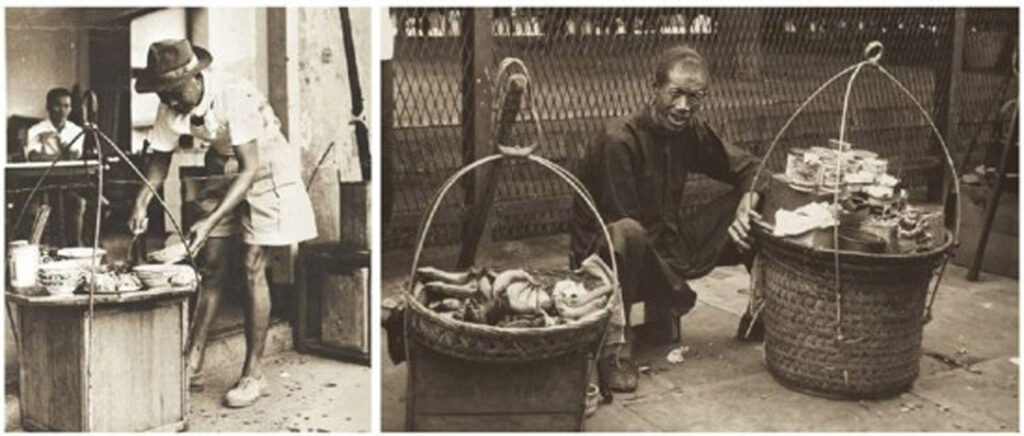 Like most dishes in its place of origin, Sichuan noodles is inherently spicy. Its sauce has much finely minced garlic and chili pepper. The dish also includes pork or chicken and garnished with ground peanuts, scallions, and sesame seeds.
Sample ingredients of Sichuan noodles
But, not all Sichuan noodles taste exactly the same because of the varied ways chefs prepare the dish. Below are photos of how an Iloilo-based online food business Lazy Susan prepares it. Lazy Susan is a popular seller of Sichuan noodles, bao, and fried rice.
Lazy Susan immerses the noodles in a thick, chili oil-based sauce, and tops it with crispy pork, boiled egg, bok choy (pechay), and ground peanut (optional). A single serving of Lazy Susan's Sichuan noodles comes with one pork bao while a double serving comes with two barbecue roast baos.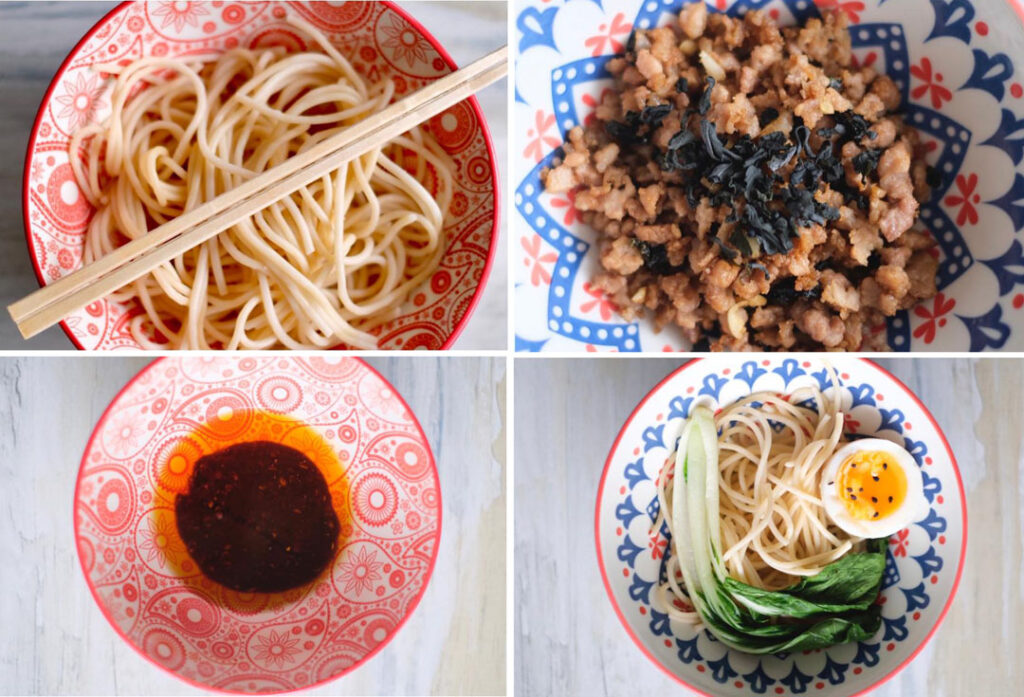 What is a bao?
A bao (also called baozi), is a yeast-leavened bun with a filling and comes in various types. The names vary depending on the cooking style, on the wrapper (thick or thin, fully wrapped or folded), and the filling (meat or vegetarian).
For example, a vegetarian bao is filled with tofu, mushroom, custard, or bean paste and completely covered with slightly thick wrapper dough that is similar to mantou (plain bun).
Meanwhile, Xiaolongbao is pork broth and meat seasoned with onions, ginger, and soy sauce and completely covered with a thin dough. Xiaolongbao looks like a round dumpling.
Do you know that the siopao we Ilonggos love is a bao? Siopao is a steamed bun filled with either chicken, pork, or salted egg. Roberto's, a famous Chinese restaurant in Iloilo City puts them all together and even offers a version with added bacon and Chinese chorizo.
But, not all baos completely cover their filling. The type of folded bao with pork filling is called Gua bao and in Iloilo City, this type is being offered by Lazy Susan.
Pork bao ingredients
The following photos taken from Lazy Susan's Facebook page show an example of a Gua bao with barbecue roast pork. Lazy Susan cooks the pork in its special sauce for three hours, making it tender with a sweet, tangy, and smokey taste.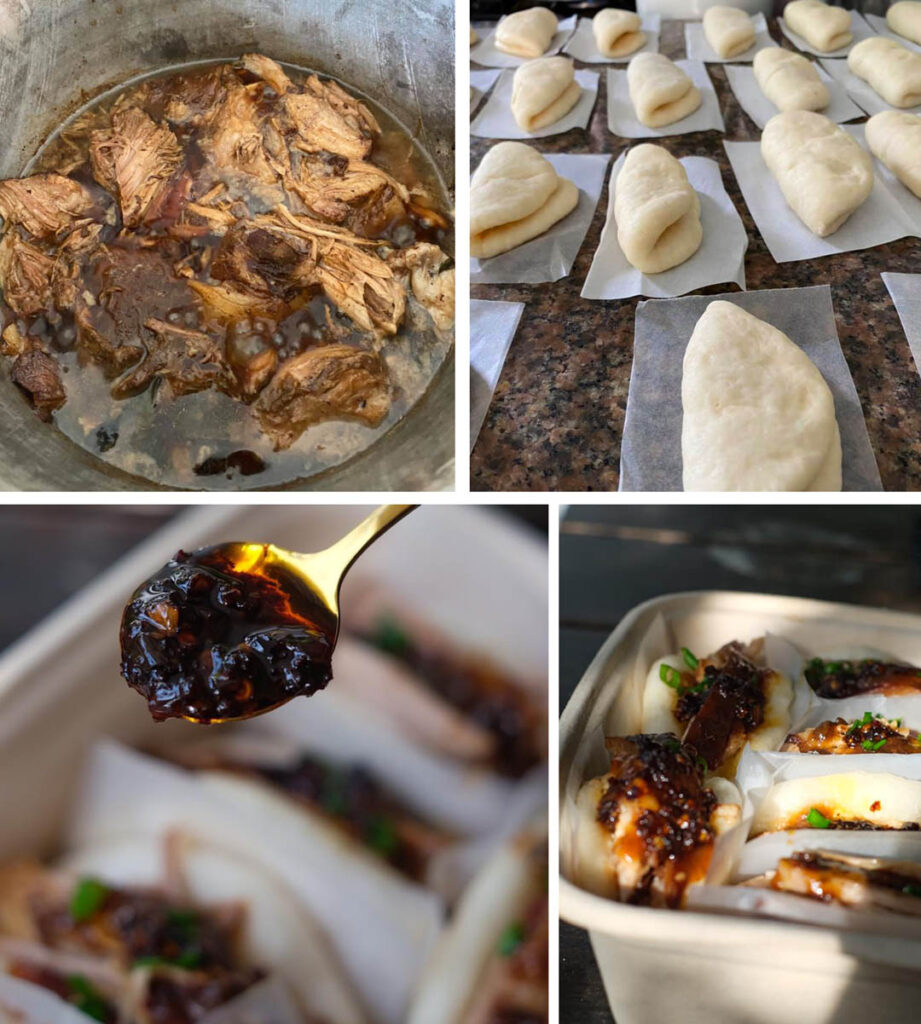 If you wish to cook at home, you can find numerous Sichuan/dan dan noodles and bao recipes on the internet. But if you would rather order and have them delivered to you, consider Lazy Susan.
Sichuan noodles and barbecue roast bao are a perfect combination for snacking. The fiery taste of Sichuan noodles is balanced by the sweet and tangy taste of barbecue. Best paired with soda or any sparkling drink!/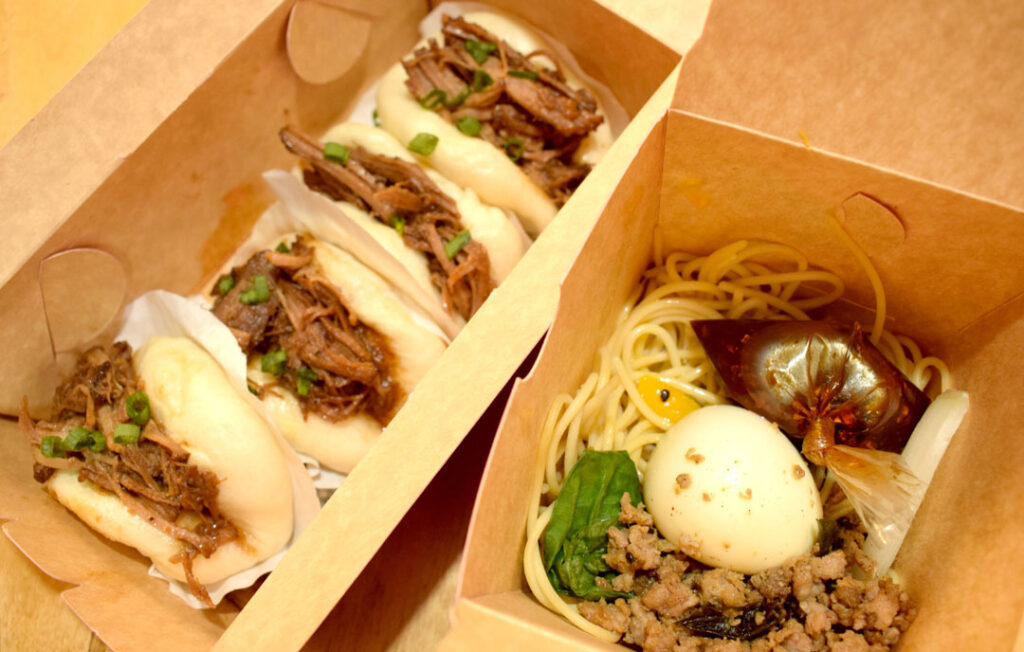 Also read: Ilonggo dishes that will truly make you feel at home