Treñas 'more than satisfied' with MORE Power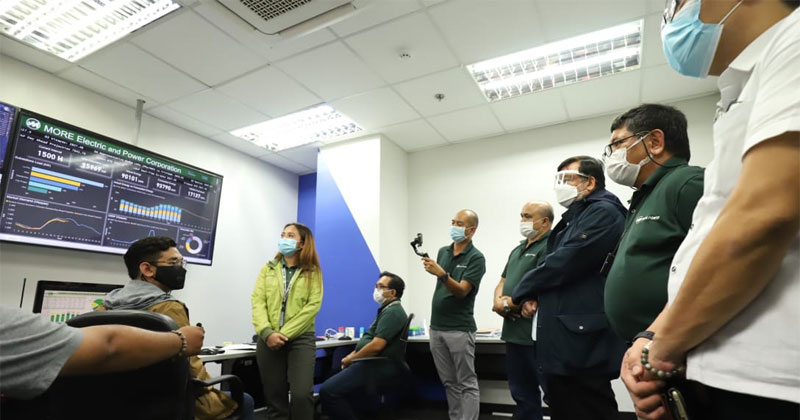 Iloilo City Mayor Jerry P. Treñas visited MORE Power Iloilo Corporate Office and Control Center on Monday, and he was very happy with what he saw in the new power distribution utility of Iloilo City.
"Ako ya nalipay gid magtan-aw nga plastado gid ang MORE. Ang ila pag-uyat diri very professional. We hope that their professional way of working here in MORE Power will result to lower electric rates for consumers in Iloilo City," Treñas said.
"I am more than satisfied because MORE Power has shown that what they are doing are beyond my expectations," he added.
Iloilo City's top executive also said that he will request all barangay captains to help putting end to all illegal connections or jumpers in their villages.
"Ang mga illegal connections, ini isa sang mga causes nga nagasaka ang presyo sang kuryente. Kay kon [ginakawat] ang kuryente, ang tanan nga consumption ginasukot man gihapon sa aton. Amo na nga ginapangabay ko ang tanan nga mga kapitanes nga buligan man kita para mapanaug man ang galastuhan sang siyudad kag sang mga pumuluyo ta."
Trenas assured that his administration through the City Engineers Office will work hand in hand with MORE Power and barangay captains in breaking off these 'jumpers'.
Supreme Court decision on MORE Power franchise
Reacting to the recent decision of Supreme Court upholding the constitutionality of MORE Power franchise,Treñas said that it will give stability in the power situation of the city.
"It is very important that Iloilo City, as a regional center, must have stability. A final decision on this issue should give stability to the city. It will also allow MORE Power to invest more in the needed distribution lines, especially in the much-needed substations that have resulted in several outages in some districts," Treñas said.
MORE Power President and CEO Roel Z. Castro said that the decision is a 'major win for Iloilo City consumers.'
"The ruling, more than anything else, is a clear message by the High Tribunal that nothing is over and above the welfare of the general public. This is definitely a major win for all of us, most especially for Iloilo power consumers who spent years, decades even, putting up with all the unbridled violations and inequities of the former utility distributor," Castro said.
"Rest assured that MORE Power will continue working to improve and modernize the distribution system as we carry forward the tradition of noble public service Ilonggos have every right to demand for and which they fully deserve," Castro added.