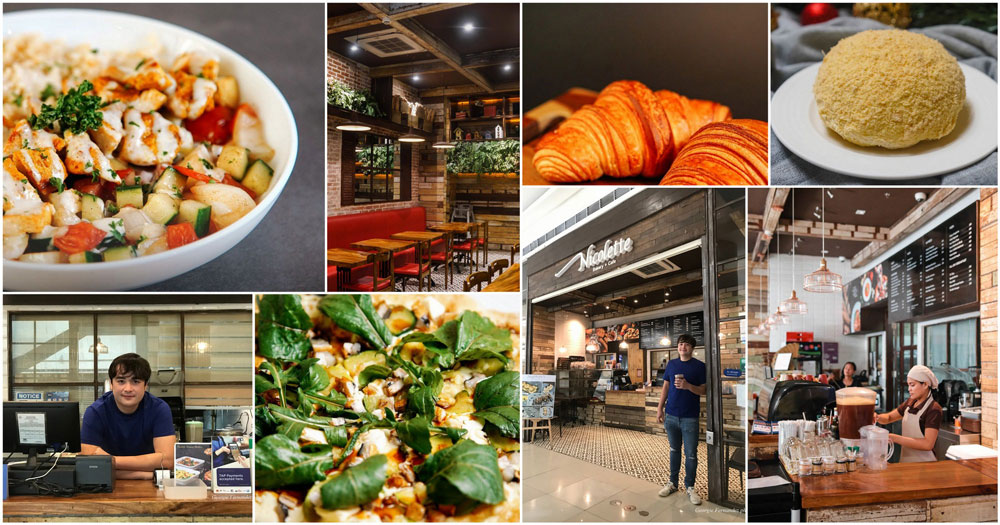 "What I realized during and after the pandemic is that we should take care of the people that you work with. If you have a good relationship, they will stay with you."
Ted Valderrama Jr. came from a family of bakers whose breads are considered, not only as Ilonggo breakfast staple but revered locally as much as baguette is loved by the French.
Guess what happened when Ted decided to start a restaurant business instead. "It was nothing short of a baptism of fire," Ted shared. "I know how to bake bread so we started with what I know."
Nicolette Bakery+Café', which opened in SM City Iloilo in May 2016, was named after Ted's wife, Nicolette. Together, they let their love for food lead them to realizing their dream of running a place where Ilonggos can enjoy special moments with family and friends.
In the first month of operations, Nicolette only had about six food items. The menu expanded as they sought out and listened to the recommendations of their customers during their first three months of operation. "We talked to our customers about what can we do better, what can we do right, what can we add. So most of our products are ideas given by our customers," Ted fondly recalled.
"Eventually, we grew and we grew with SM," Ted said proudly. As a start-up venture, Ted points out that partnering with SM steered them in the right direction. "Our relationship with SM is important because we are guided by them. They seem to know before we know. And it's nice to be led by a company that knows where the future is headed."
Ted acknowledged that with the foot traffic of SM City Iloilo, Nicolette was able to reach thousands of customers, consistently achieved year-over-year revenue growth, expand and thus provide jobs for more than 30 employees.
Today, Nicolette is a consistent crowd-drawer in SM City Iloilo with its extensive menu offerings from appetizers to coffee and desserts. Customers are said to schedule their mall trips around their cravings for the smoked bangus pizza, ensaymada, croissants, and chicken shawarma rice at Nicolette's.
Navigating uncharted waters
Like all businesses, the pandemic launched Nicolette into uncharted waters. SM's support was critical to enable them to keep their business afloat and help sustain their employees. For most tenants like them, SM's leadership in waiving rental fees as well as providing marketing and delivery support services was a lifeline that enabled them to pivot, stay resilient, and continue serving while navigating through challenges. During that time, Nicolette was able to respond to rising demand for wholesome ready-to-cook meals as most people stayed home.
Recounting his experiences and inspiration from SM, Ted said, "What I realized during and after the pandemic is that we should take care of the people that we work with. If you have a good relationship, they will stay with you."
Looking ahead
Nicolette is now fast recovering and continues to work with SM as they cook up more ways to delight customers and drive expansion for their business. With the help of SM, they were able to turn their vision into reality, and currently, Ted feels that their enterprise is ripe for further growth. With his eyes set on expansion and scaling their business, Ted spends most of his time in their commissary developing new products, upskilling their employees and whipping up strategies for operational efficiency.
All these are also part of the preparations for their new store concept that will soon open in SM. Strengthened by his experiences, Ted intends to continue working with strategic partners and keeping customers at the heart of their business.