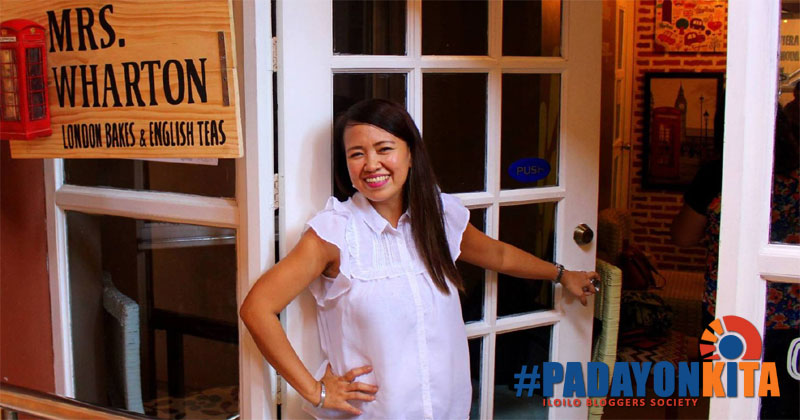 Wharton is the person behind Mrs. Wharton London Bakes and English Teas and Spa Riviera Prime.
We have lost so much in our business because of the pandemic but it is what it is.
#PadayonKita – nothing is permanent, learn to develop a sense of grit, and reinvent yourself and your business.
Anna Marie Rivera-Wharton is Babes to many of her close friends and fellow entrepreneurs. But she is also popular as Mrs. Wharton being the person behind the trendy pastry shop brand Mrs. Wharton London Bakes and English Teas.
Before she entered the local pastry circle, she is better known among loyal clients and friends for her pioneering venture on wellness services through Spa Riviera, which became an established brand in Iloilo City before it became a buzz in the market. It is now Spa Riviera Prime and its loyal customers have expanded.
Let us learn what are her motivations; her business outlook; and what has kept her going despite the challenges that she faced while sustaining her business ventures,  especially in this extraordinary period of an ongoing Coronavirus pandemic.
Mrs. Babes Wharton has been open about her humble beginnings as an entrepreneur by sharing  her struggles and the many challenges that she experienced for over 20 years in business.
She emphasized that her struggles have strengthened her faith in God, it drew her to become more closer to Him, and it made her spend each passing day with a gratitude to Him.
Let's take a glimpse on her story and learn what #PadayonKita mindset she employed that allowed her to thrive and survive.
When asked about business, particularly losses in this period of the pandemic, Mrs. Babes has this to say. "We have lost so much in our business. It is what it is. But, I have to get it done and over with. The sooner I accept it, the sooner I can move on and think of the many possibilities that are just waiting to be discovered."
However, she emphasized that she has to keep her focus. "I still believe in the power of possibilities and that wealth transfers from one hand to another. I always think of the possibilities of being also a player in the business world, and that, I, too can win," she added.
As for business planning during this time, most of her work happens within her head. She begins with an end in mind and with a thought that the plan is flexible, and that anything can happen.
These dynamics helped her approach her with new strategies. "My target market is still the same. However, the way we do marketing will change as we implement new approaches in getting our services and products to the target market despite challenges and restrictions," Mrs. Wharton explained.
Mrs. Wharton wants to empower all other entrepreneurs by keeping her business going. Being an entrepreneur, she has to survive. "We have to survive not necessarily to earn a profit, but to exist and to give employment. Little by little, we navigate through the many possibilities that show up along the way. Believe me, the opportunities will present itself," she further emphasized.
Here are three life lessons Mrs. Wharton wants to share with everyone
Nothing is permanent. Nobody is that strong to withstand a pandemic. Business conditions can change overnight. If you're not adaptive, your business will just be another casualty.
Learn to develop a sense of grit. Without it, you are not likely to survive a crisis.
You have to reinvent yourself and your business. And you have to do it fast.
"We have to keep moving forward. We are paving the path walk for others to follow," explained Mrs. Wharton as she shared her #PadayonKita mindset underscoring the need to move forward so that other entrepreneurs will also get the empowerment that they need.
"To keep going and to continue moving forward is not easy. Yet there is no other way but forward with a hope. #PadayonKita will eventually allow us to break through this crisis," expressed Mrs. Babes Wharton.