Best Ilonggo Vloggers capture Iloilo City's charm amidst the pandemic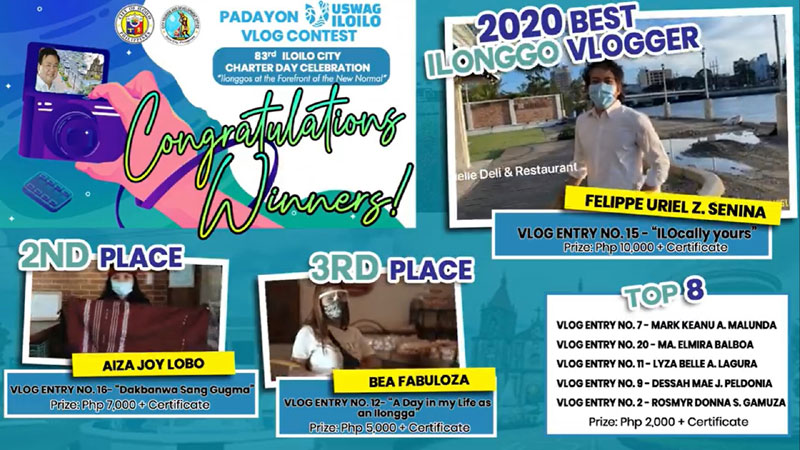 Ilonggo Vloggers showcased what's best in Iloilo City in a contest hosted by the Iloilo City Government.

Felippe Uriel Senina won the 2020 Best Ilonggo Vlogger award with a cash prize of P10,000.
The ongoing pandemic could not stop the Best Ilonggo Vloggers from going around Iloilo City and showcase the beauty and charm of the metropolis!
As part of the 83rd Iloilo City Charter Day celebration, the City Government through City Tourism and Development Office organized the "Padayon Uswag Iloilo Vlog Contest" which seeks to feature Iloilo City tourism destinations and products to communicate the message of being proud and happy living in the City of Love.
A total of 21 Ilonggos submitted their creative videos about living in Iloilo City and enjoying tourist spots, food, and culture in line with the Charter Day theme of "Ilonggos at the Forefront of the New Normal".
Felippe Uriel Senina bested them all to win the 2020 Best Ilonggo Vlogger award for his "ILOcally yours" entry, which presented his perspective as 'Iloilo City boy living in the Ciudad sang Paghigugma for 26years'. He will bring home a P10,000 cash prize and certificate for the feat.
Aiza Joy Lobo's Dakbanwa sang Gugma took the second place and P7,000 cash plus certificate, while Bea Fabuloza's A Day in my Life as an Ilonggo' got the third place and P5,000 and certificate.
???? ???? ??????? ???????: Felippe Uriel Z. Senina, Entry No. 15 – "ILOcally yours"

??? ?????: Aiza Joy Lobo, Entry No. 16 – Dakbanwa sang Gugma
??? ?????: Bea Fabuloza, Entry No. 12 – A Day in my Life as an Ilongga

Here are the other entries that were shortlisted into the top 8. They will receive P2,000 cash and certificates.
Lyza Belle A. Lagura – What Makes Iloilo

Dessah Mae J. Peldonia – Dakbanwa sang Gugma

Rosmyr Donna S. Gamuza – Iloilo City's Beauty Amidst the Pandemic

Ma. Elmira Balboa – Iloilo Padayon sa Pagtuo kag Pagbato!
https://www.facebook.com/watch/?v=581431352534932&extid=mtV4uDb48b7dr22j
Mark Keanu A. Malunda – Iloilo's Best
https://www.facebook.com/watch/?v=1493263937536331&extid=hmaS8sgiDvtMPpi5
The panel of judges for 2020 Best Ilonggo Vlogger contest is composed of multi-awarded filmmaker Direk Elvert Banares, veteran print and broadcast media practitioner Florence Hibionada, and topnotch journalist and blogger Ted Aldwin Ong.