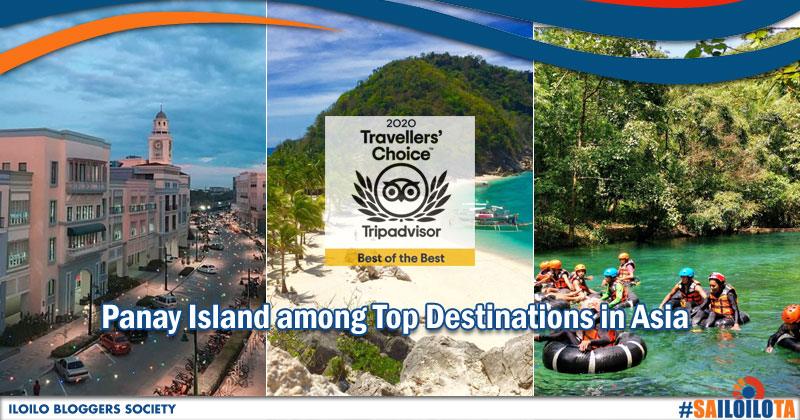 Panay Island joins 'Big Leaguers' in Asia as among Top Travel Destination.
This 2020, Panay Island is No. 20 in Tripadvisor's Travelers' Choice Awards.
It is the lone Philippine travel destination that made it to Top 25.
The Island of Panay in the Visayas region in central Philippines have made it to Tripadvisor's Top 25 list of the Most Popular Destination in Asia in 2020.
The entry of Panay Island side-by-side top travelers' spots in Indonesia, Thailand, India, Vietnam, Cambodia, Nepal, Japan, and China surprised many travel watchers except Tourism Region VI director Atty. Helen J. Catalbas who anticipated it coming.
"Panay Island is now considered a big leaguer," said Atty. Catalbas over online forum IMT Conversations of the Iloilo Metropolitan Times last August 27.
"The recognition was attained through the collaborative effort of Local Government Units, private sector and frontline service providers in the communities," underscored Atty. Catalbas.
The interview entitled: "Can Panay Island sustain the title amid the pandemic" was also aired on Facebook and hosted by Rhod Tecson.
See interview https://www.facebook.com/watch/live/?v=623239875053200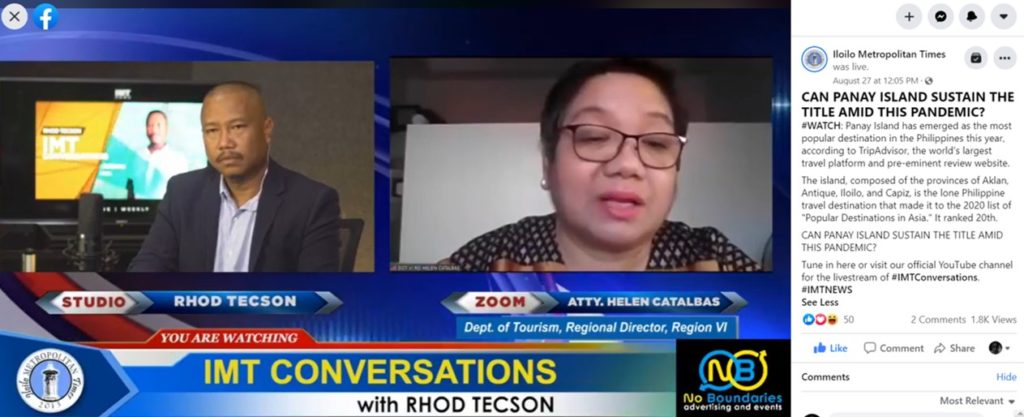 Can't miss cities to new surprises
The 2020 Popular Destinations in Asia were selections by travelers described by TripAdvisor as "can't-miss iconic cities to new surprises" and spots that "travelers raved about most" in 2020.
This year's awards included two new categories, revealed seasia.co on its Instagram.
"First, Trending, recognizes destinations that saw the biggest increase in positive reviews, booking interest and searches over the last year. Second, Emerging, looking ahead to what's next — the destinations still ahead of the curve that travelers are already saving to their Trips on Tripadvisor, a great indicator of up and coming hotspots," explained seasia.co
Panay Island's 20th spot was followed by Bophut, Thailand (21); Shanghai, China (22); Singapore (23); Seoul, South Korea (24); and Taipei, Taiwan (25).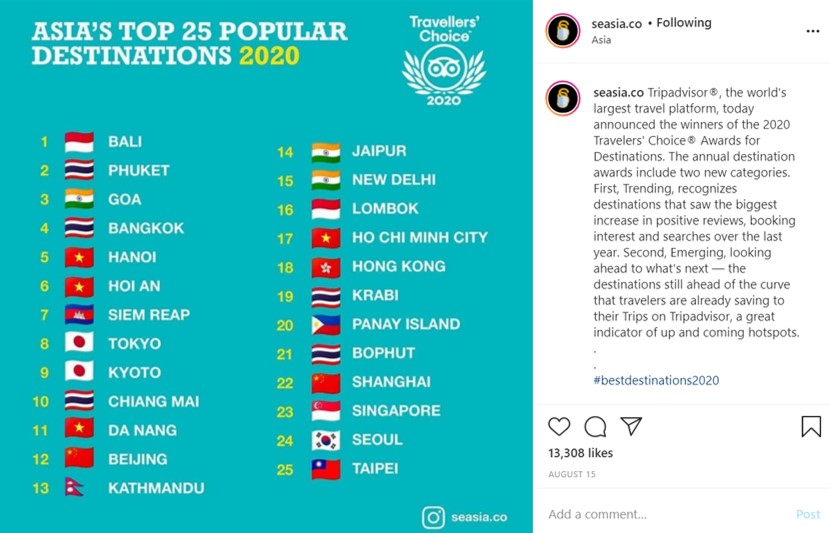 Panay Island is the only Philippine destination listed
Panay Island is the lone Philippine travel destination that made it on the 2020 Top 25 list.
Tripadvisor described Panay Island as spots composed of "turquoise lagoons, waterfalls and perfect beaches."
"For years, Panay Island has shown up on most travelers' maps as a stop-over on the way to Boracay's white sand beaches. Turns out, they were missing something truly special — a hidden gem with a rich ecotourism ethos, where turquoise lagoons and waterfalls are just the start," Tripadvisor highlighted.
See complete list here: https://www.tripadvisor.com.ph/TravelersChoice-Destinations-cPopular-g2
The inclusion of Panay Island on the list suggests that apart from Aklan where the famous Boracay Island is nested, there are coveted travel destinations in the Provinces of Antique, Capiz, Guimaras and Iloilo – provinces that comprised Panay.
Panay Island has more than 200 islands and it is the home of around 4.4-million friendly people who are known for its warm hospitality and happy character.
About Post Author