MORE Power on full alert for 2022 Elections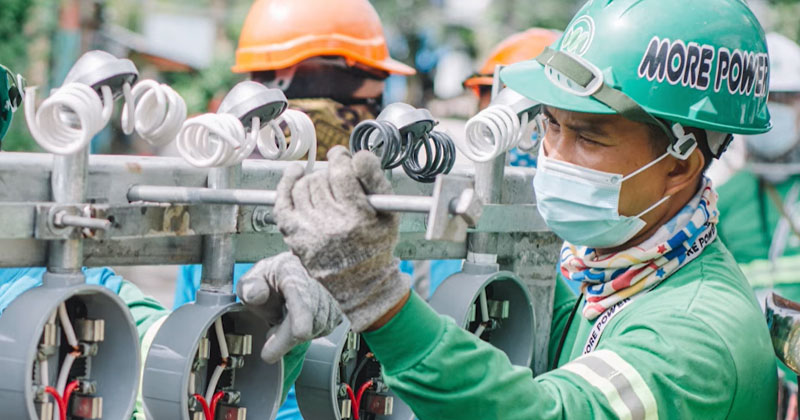 MORE Power President Roel Castro said that they '100% prepared' for the 2022 elections on Monday, May 9.

Iloilo City's sole power distributor signed an agreement with COMELEC last December to ensure readiness of its system for polls.

In partnership with City Engineer's Office, power systems serving schools as polling precincts were inspected and upgraded.

Response teams were all-hands-on deck, to prioritize 66 precincts on Election day.
More Electric and Power Corporation (MORE Power), the electricity distribution utility in Iloilo City, assured the Ilonggos that they are well prepared and fully committed to ensuring power supply integrity in their franchise area during the national elections on Monday, May 9.
In a radio interview also broadcasted on Facebook on Friday, MORE Power President and Chief Operating Officer Roel Z. Castro said that they signed an agreement with the local Commission on Elections (COMELEC) to ensure the readiness of the distribution system for the polls.
"Basically, the content of the agreement with local COMELEC is we will ensure the connection and the safety from our franchise area all the way to the precinct level. As we know, all of the precincts are in schools. Part of the preparation and agreement is to make sure that the loads for the schools are sufficient and adequate," Castro said.
"I would say at this point na we are 100% prepared for that, and that is basically embodied in our agreement," he emphasized.
Preparations
Engr. Bailey del Castillo, MORE Power Deputy Head for Network Operations, said that they conducted load testing in 66 polling centers, hotspot corrections, and transformer replacement in the affected areas.
"Aside from load testing, we also conducted thermal scanning of all those 66 voting centers from the transformers to service wires, down to metering, and even up to main distribution panels serving schools. Out of the 66, meron tayong nakitang 22 distribution transformers that we need to upgrade or install additional capacity. So we upgraded the 22 transformers, and we corrected those loose connections, service wires na nakita natin na hotspots. We even upgraded the old service wires serving the elementary schools," he added.
The inspection of precincts were done in cooperation with a team from City Engineer's Office, who took care of the busted lights and internal wirings of the schools, and also streetlights near the entrance of schools.
DOE monitoring
Castro revealed that the Department of Education (DOE) is also closely monitoring the power situation in the regions thru a task force established in the agency's Visayas Field Office in Cebu. MORE Power and other distribution utilities are required to submit twice-a-day report to the task force.
On the power supply side, Castro said that there is enough supply from the generation, and the ancillary services of the National Grid Corporation of the Philippines (NGCP) are sufficient.
"On Election Day, since it is a holiday, our peak might not be as high as the ordinary working day. There will be lesser consumption, so our supply is sufficient," Castro said.
Even though vote-counting machines (VCMs) have built-in batteries, MORE Power has backup power as part of its contingency system.
"We have generator sets that will be available just in case there are failures in some of the areas," Castro assured.
Response teams on full alert
Starting Friday, MORE Power has temporarily suspended all maintenance works so that all their response teams (RTs), quick response teams (QRTs), as well as their line crews will be on stand-by as the distribution utility had shifted to 'full alert' status for the elections.
"If magkaroon ng mga complaints and concerns ang ating mga consumers sa kanilang mga bahay-bahay, of course we will still respond if there are no trouble in polling centers. Pag may kailangan sa polling centers, uunahin natin yun because that would be very crucial," Castro said.
MORE Power is also securing its lines from illegal connections that may affect the load in the upgraded transformers. Their RTs and crews are now deployed in the field so that this will not happen.
"More intensified ang ating response teams ngayon because we assigned maintenance crews per district. Ordinarily lahat yan nasa control center, but now the deployment is on the seven district. Meron talagang assigned na crew, linemen, RT; also, we are putting up a command center in our office," Castro said
"We also have personnel who will be going around per district on schools and be in touch with COMELEC personnel in those precincts. Everybody is actually all-hands-on-deck. Hindi natin bibitawan until ang Comelec mag-declare na tapos na," he added.
Modernization is working
MORE Power has previously installed modern technology and equipment such as automatic circuit reclosers (ACRs) and feeder tie-ups to further ensure the integrity of their system.
"The ACRs will be very very fast to try to reclose it again in case there are faults in the line. If hindi mangyari, ang tinitignan ngayon ng mga line teams are shorter na. Instead of the whole feeder dati, ngayon specific areas nalang kasi alam na natin kung nasaan ang fault," Casro explained.
"Nakatie-up na rin ang mga feeders natin. In case of any stroke of uncertainty na magkaroon ng problema ang ating feeder na may precinct, kaya na natin i-transfer load to the next feeder para hindi mawalan nga kuryente. These are part of the modernization and the equipment na nilagay natin. Nakakatulong talaga sila ngayon," he said. "We are confident because we have the response teams, and our initial modernization is working now."