Iloilo City to join UN climate gab in Vienna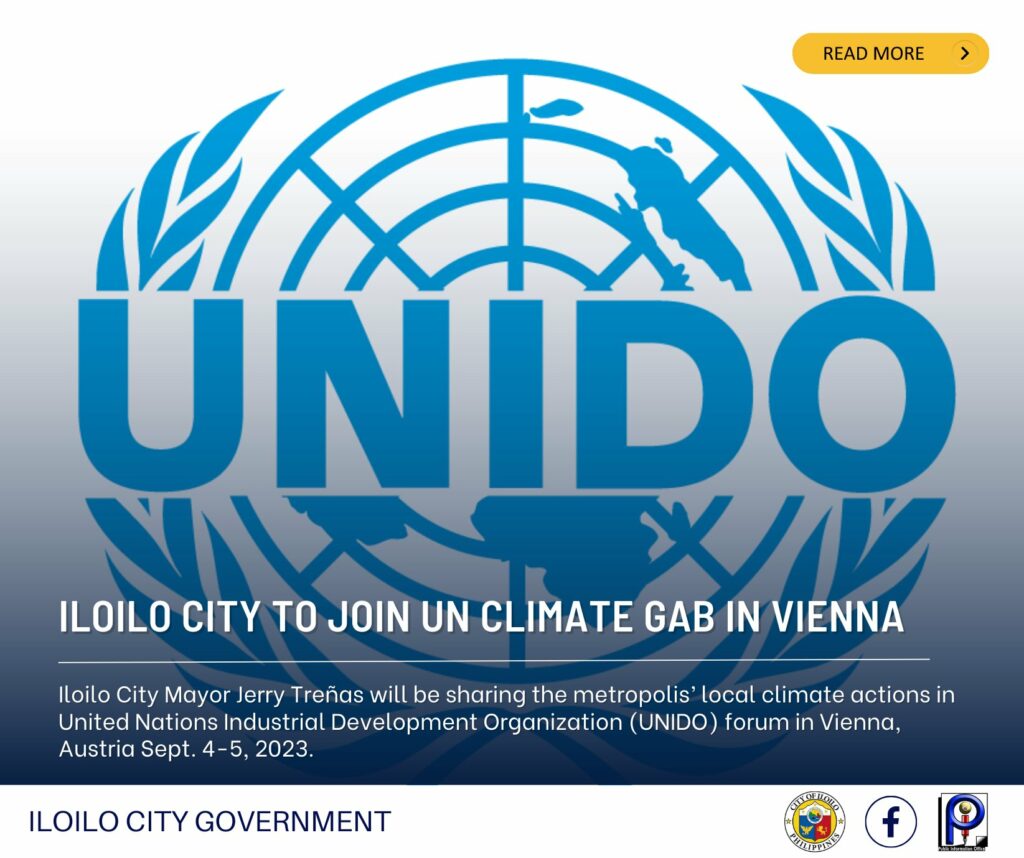 Iloilo City Mayor Jerry Treñas will be sharing the metropolis' local climate actions in United Nations Industrial Development Organization (UNIDO) forum in Vienna, Austria Sept. 4-5, 2023.
The 2023 edition of Bridge for Cities on "Accelerating Climate Action through Urban Innovation" seeks to bring together stakeholders from cities along the Belt and Road and beyond to discuss latest development solutions, and explore how innovation can drive climate action and create more sustainable, resilient, and livable cities.
Treñas stressed the representation is an opportunity to promote the city's best practices as well as the metro's potentials in the global platform.
These include the transformation of Iloilo River through Esplanade development which serves not only as riverbank protection measure but also advocate for sustainable river management;
Mangrove, tree-park and beach forest development to combat flooding and sea level rise;
Renovation of public plazas for more inclusive and green open spaces for citizenry;
Watershed management initiatives in collaboration with Metro Iloilo Guimaras Economic Development Council and water supply conservation and security through storm/rain-water collection;
Wastewater management through enactment of septage ordinance and creation of City Septage Management Authority (CSMA);
Enhancement of Solid Waste Management (SWM) Plan, SWM Code and SWM Council, improvement of MRF facility, sanitary landfill operation, and segregation at source;
Solar energy advocacy with private sector partners such as malls, universities and hospitals;
Promotion of biking and eco-friendly transport; and
Active operation of Iloilo City Action and Response Center in strategic areas to improve response to emergencies and disasters; among others.
Through the high-level opening ceremony, mayors' dialogues, exhibition, city matchmaking sessions and cultural performances, the event provides ample opportunities for participants to forge partnerships and exchange knowledge.
It will showcase examples of climate action and innovations in circular economy, energy, and technology.
It will also highlight the critical role of partnerships between cities and stakeholders, business sector, international organizations, financial institutions, think tanks and academe, to address urban challenges.
Further, it will put a special emphasis on financing urban transformation and climate action, through innovative approaches and collaboration with financial institutions and climate funds.
By fostering collaboration and innovation, the gathering aims to contribute to a more sustainable and resilient future. Cities can implement nature-based solutions, such as green roofs, green walls, and urban forests to reduce the urban heat island effect and improve air quality. Bike-sharing schemes and electric vehicles are already reducing emissions and improving mobility in cities. (Iloilo City PIO)