Iloilo City made it as one of the Top 5 finalists in the 2021-2022 World Resources Institute (WRI) Ross Center Prize for Cities.
The metropolis presented "Participatory Housing and Urban Development in Iloilo City" highlighting "Community-built Resilience."
WRI Ross Center for Sustainable Cities team conducted documentation in the city over the weekend.
They interviewed Mayor Jerry Treñas, City Planning and Development Coordinator Jose Roni Peñalosa, Iloilo City Urban Poor Affairs Office head Rony Firmeza, Eva Marfil of Department of Human Settlements and Urban Development, and Mona Pico of University of San Agustin.
They also visited the relocation site and interviewed the beneficiaries. They further took shots of ongoing and existing development activities of the city and informal settlement communities along the shorelines and riverbanks.
The Homeless People's Federation of the Philippines, Inc. (HPFP) with Philippine Action for Community-led Shelter Initiatives, Inc. submitted the entry.
They are supported by the City Government; Iloilo City Urban Poor Federation, Inc.; and Iloilo Federation of Community Associations, Inc.
They are addressing the complex urban housing crisis from the ground up and without uprooting communities from their jobs and support systems, WRI said in a statement.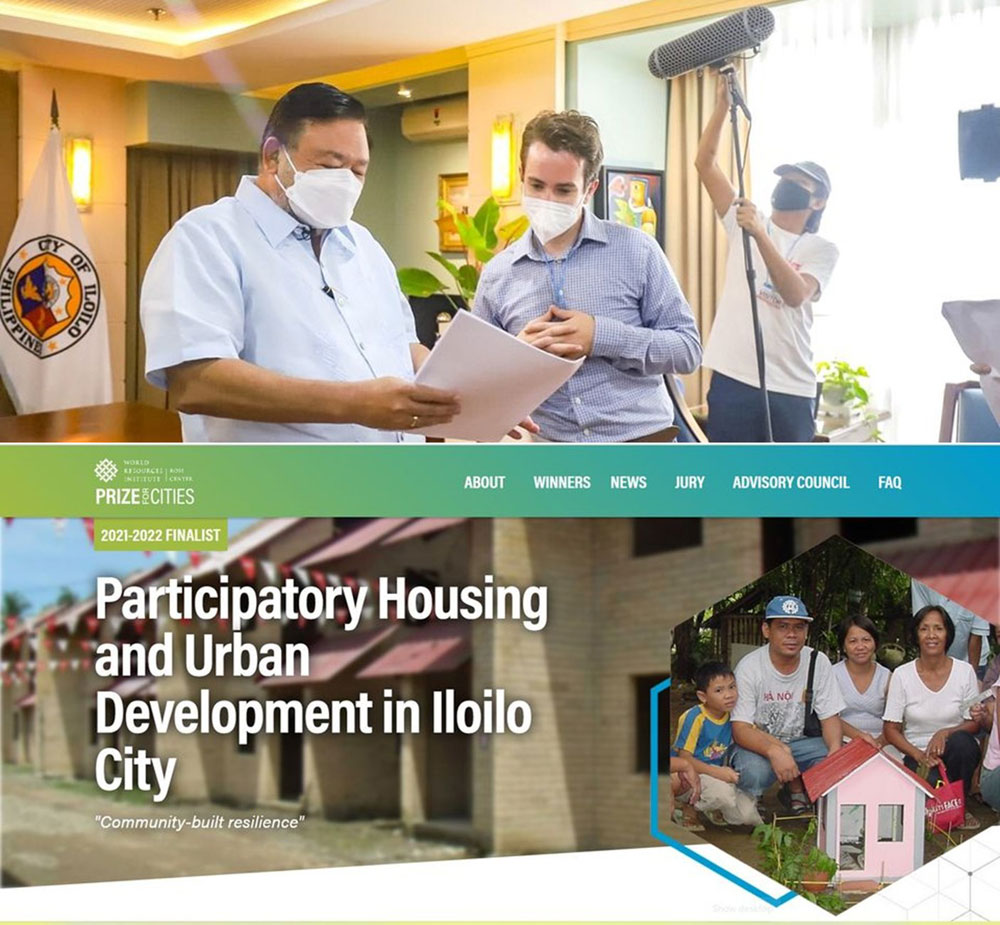 The other entries include Todos al Parque of Barranquilla, Colombia; The Urban Wage Employment Initiative – MUKTA of Odisha State, India; The 15-Minute City of Paris, France; and ZU Peshawar of Peshawar, Pakistan.
The urban transformation award is recognizing leaders that create more sustainable and inclusive cities worldwide with the grand prize winner to be awarded later this year.
The 2021-2022 cycle's theme, "Thriving Together in Turbulent Times," adjudged how cities are responding to uncertainty, disruption and crisis.
The 260 applications from 155 cities in 65 countries demonstrated enormous drive, commitment and creativity in responding to an increasingly tumultuous world.
The premier global award celebrating and spotlighting transformative urban change seeks to inspire urban changemakers across the globe by elevating trailblazing initiatives, telling impactful stories of sustainable urban transformation, according to WRI website. (Alexandra Jover/Iloilo City PIO)