Guimaras marks Independence Day with simple ceremony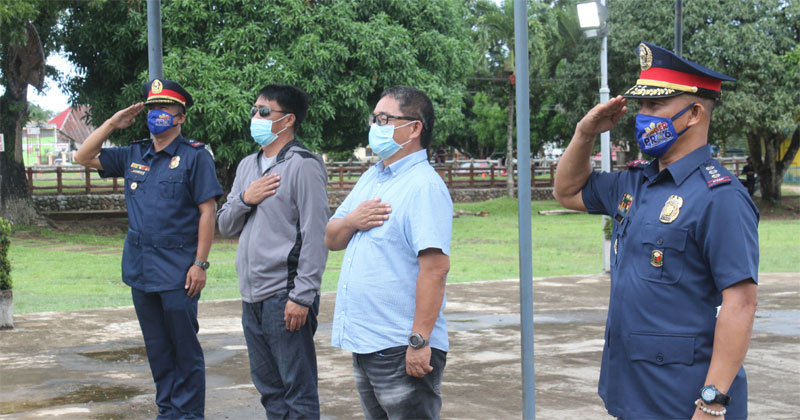 Guimaras celebrated the 122nd Independence Day with only 10 people in attendance.

Gov. Gumarin called for unity while the country is facing the COVID-19 pandemic.
The Province of Guimaras held a simple and quiet commemoration of the 122nd Philippine Independence Day on June 12, 2020 at the Provincial Capitol Grounds with this year's theme: "Kalayaan 2020: Tungo sa Bansang Malaya, Nagbabayanihan at Ligtas".
Governor Samuel T. Gumarin led the flag raising and wreath-laying ceremony.
As the whole nation battles the COVID-19 pandemic where mass gatherings are not allowed, there were only 10 people in attendance during the event.
Gumarin was joined by Guimaras Police Provincial Office (GPPO) OIC Provincial Director Police Colonel Pablito B. Asmod Jr., Provincial Administrator Dr. Alejandro D. Araneta and Police Major Idel P. Hermoso, Chief, Provincial Operations Management Unit of GPPO.
In his message, Gumarin called for unity among Filipinos as the nation is besieged by challenges, particularly the dreaded COVID-19 pandemic.
"With the challenges we face from all different sectors, from agri-fishery to education, from unemployment to poverty, from economy to public health, we need to be united as one Philippines," Gumarin said.
He said that every Filipino has to do their share to achieve a much safer environment and society for the generations to come.
"For a long time, we have fought for this day. We have proven our strength to fight for democracy. And for the next year ahead of us, this is what we need to continue because if we all work hand in hand, only we can have the future that every Juan truly deserves," he added.
Gumarin reminded the Guimarasnons to value the heroism and struggles of the forefathers for the freedom that every Filipino is enjoying right now.
It is paramount for every Filipino to think of what they can do for the country rather than focusing on what the country can do for them according to the governor.
The Local Chief Executive also paid tribute to the frontliners leading the battle against the COVID-19 pandemic.
As to date, the Province of Guimaras remains free of COVID-19.