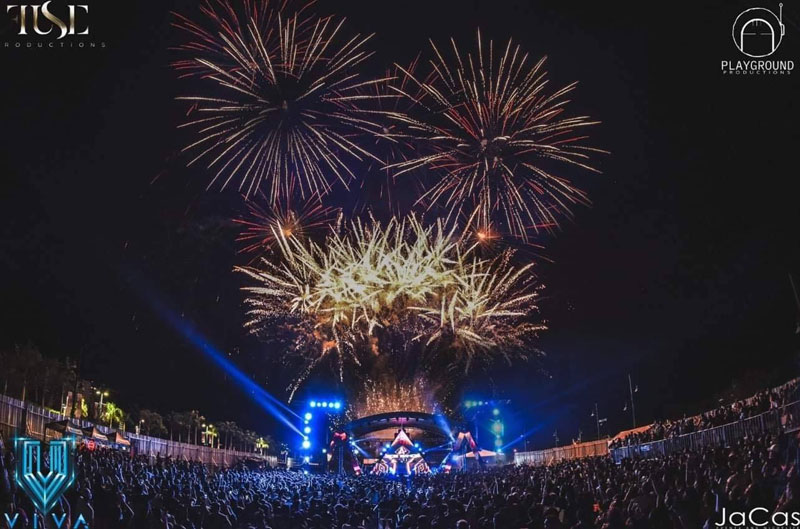 Iloilo Live Events Alliance (ILEA) to hold online streaming event entitled Go Live To Live on June 12.

The alliance was formed to uplift Iloilo live events industry that is greatly affected by COVID-19 pandemic.
As early as January 2020, the Live Events industry was one of the first to feel the impact of the COVID-19 pandemic. All the sectors and members have been greatly affected – Weddings and Social Events; AVL (Audio, Video, Lights) and Staging suppliers; Agencies and Activations; Concerts; Gigs and Festivals, Conventions; Venues; Freelance Production Workers; Talents; among others.
The Live Events industry started with only a few players but has now grown to hundreds, if not thousands of Ilonggos working and earning their living from their businesses or jobs in the said industry — losing jobs, businesses, projects, and livelihoods. The challenge of how to address these concerns brought events people together to work as one, paving the way towards the formation of the Iloilo Live Events Alliance (ILEA), a non-stock, non-profit organization with the aim of building a strong and united live events industry.
"Our industry has been greatly affected by the pandemic and we need to help it bounce back. We have come together to form an alliance that will take care of the welfare of the members with our very own initiatives and programs and not just depend on the aid from the government," says Jida Hautea, owner of Passion8, an activation and production agency. Hautea took the lead in organizing ILEA along with sector representatives who had the same vision of creating a support network and pro-active community for the Ilonggo Live Events industry.
To formally launch ILEA and as a way of celebrating Independence Day, the alliance will have an online streaming event entitled, Go Live To Live. "This event is a collaboration of key players who feel strongly about the live events industry. For the very first time, we are working as one, putting our minds and hearts to this project, sharing our talents and skills, and volunteering our services and resources to help our members and sectors that have been deeply affected by the pandemic," says Jong Combong-Pijuan, ILEA sector representative and owner of Adworx, an events and integrated marketing company.
"Seeing the different AVL and Staging suppliers come together to provide the technical requirements of this production is truly inspiring. In times of crisis, we just need to step up and volunteer because we can't do this alone," says Titus Chiu of BlackNote and AVL sector representative. Dennis Ochoa, Creative Director of Events and Wedding Ensembles from the Weddings and Socials sector, adds, "Even with barely two weeks of preparation, we are confident that we can pull this off because how can we not succeed with all the event managers, choreographers, directors, and artists working together?" Festival choreographer Romel Flogen, one of the members of the working committee of ILEA says, "The festival sector is currently at a standstill. Because of this event, we can dance again for the Ilonggos." Eric Divinagracia, one of the creative consultants of the event puts everything into perspective, "The theme for this project is love. Ang naga higugma, hilway. When you love, you are free, that is the message we want to impart."
Go Live to Live is an online fundraising show and Independence Day Celebration presented by the Iloilo Live Events Alliance (ILEA). It is co-presented by the Iloilo City Government and Mayor Jerry P. Treñas, JS Layson & Co., Inc., Hotel df el Rio, and Iloilo Convention Center. It will be streamed via the Facebook Page of the Mayor (@JerryTrenasOfficial) on June 12, 2020, 6 PM (PHT), UTC +8.
GLTL is a three-part live event that will feature "Bulig", a fundraising drive; "Gugma", a film preview starring Councilor Jay Treñas and JP Libo-on and a collaborative effort by the videographers of Iloilo — HeliCam Philippines, Xane, Lubim Ta Films, Imahe, Hampang Productions, Jay Palmares; and "Hilway," a showcase of performances from Musicares, Represent Band, KAMI, Tunog Amakan, Indie Ilonggo, Tribu ni Mali, Musikeros, Emman Abatayo, Tribu Paghidaet of La Paz National High School, Tribu Salognon of Jaro National High School, EOD Dance Co., and Sidlangan Dance Co. The event will be hosted by Kate Chaves, Rudyard Magsipoc, Aldene Duyag, Angela Tan, Nico Gumban, Gab Umadhay, Rommel Paborada, and Reyna Clamor.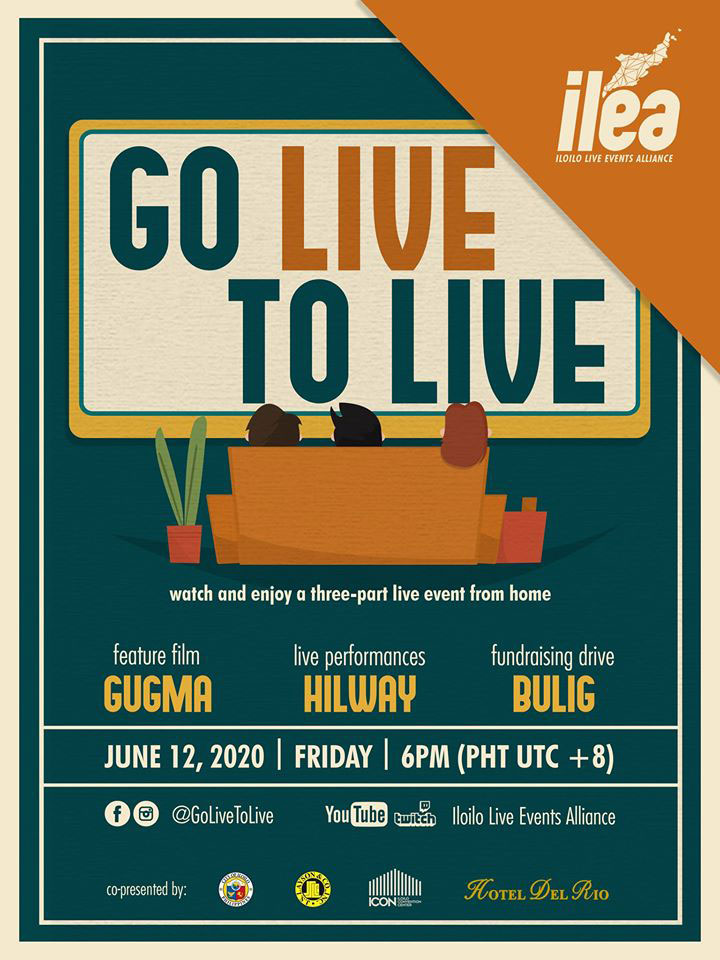 Go Live to Live is a collaborative project of the following live events members and sectors: Productions, Activations, and Independent Production Workers: Jida Hautea (Passion8), Jong Combong-Pijuan (Adworx); Weddings and Socials: Dennis Ochoa (Events and Wedding Ensembles), Mee-ay Cudilla (Mee Events); AVL and Staging Suppliers: Titus Chiu (Blacknote); Live Artists / Theater and Creative Committee: Eric Divinagracia (USA Little Theatre), Kristine Chan (Iloilo Prima Galaw), Joemar Sustento, JP Libo-on; Live Artists/Festivals: Romel Flogen, Errol Jave Villalobos (EOD), Linane Soncio (Sidlangan); Live Artists/Music: PG Zuluaga, Taw Muhammad; Live Artists/Hosts/DJs: Dyard Magsipoc, Jason David; Video and Photo: Jesa Christine Tamayo (Imahe), Deneb Gela (Love Train); Hair and Makeup: Noreen Jean Infante; Social Media and Marketing: Benjamin Pe (Deuce Brand Studio), Nizza Regalado, Gerald Jetonzo, Zach Pijuan, Nile on Weekends; Production: Kate Luceno, Tricia Aguirre, Ana Saul, Josh Davis Sales, Events and Beyond Iloilo, Pixie by Jen, Faces by Ira, Jomz Par, Prima Luce, Vaggo Nozze, SFQ Photography, USA Little Theater, BlackNote, Q Solutions, CRB Sounds and Lights, and Dreams Pro Audio.
Donations and proceeds of "Bulig", ILEA's fundraising project, will benefit the sectors and members affected by the Covid-19 pandemic and will help fund programs and projects of the alliance. For details on where to watch and how to donate, please follow ILEA's FB and IG pages: @GoLiveToLive; YouTube and Twitch: Iloilo Live Events Alliance.
The organizers would like to thank their co-presenters: Mayor Jerry P. Trenas, JS Layson & Co., Inc., Iloilo Convention Center, Hotel del Rio; and donors: Daily Guardian, F&C Jewelry, Dova, Sbarro, Toyota Iloilo, Dr. Regil Palmares, Mr. and Mrs. Romeo Nonaillada, Mr. and Mrs. Agustin Ngalongalay, Drs. Butch and Sol Villaruel, Rochelle Palermo-Lomeda, Razon by Glenn, Eon Centennial Signature Banquets and Catering, Smirnoff Mule; Fiesta Souvenir, Touch of Morrocan.