Guimaras awards 56 barangays with Good Governance Seal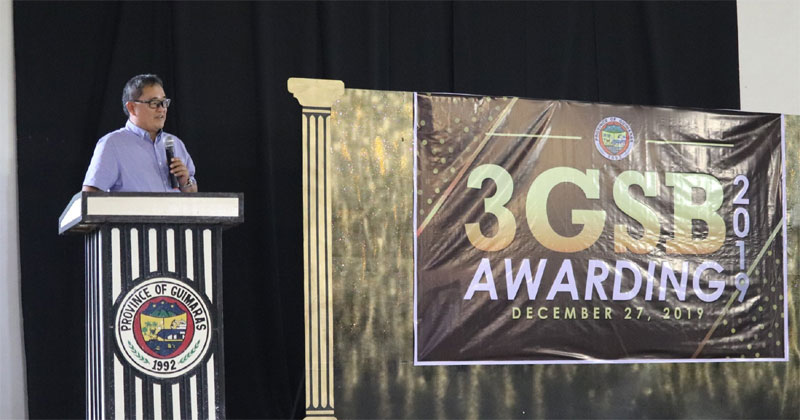 Provincial Government of Guimaras gave P100,000 incentive to each of 56 barangays for earning the Good Governance Seal.
Fifty-six barangays in the Province of Guimaras were conferred the Guimaras Good Governance Seal for Barangays (3GSB) at the awarding ceremony held at the Provincial Covered Gym, San Miguel, Jordan, Guimaras on December 27, 2019.
These barangays were declared passers of the validation conducted by the Provincial Government of Guimaras.
Eighteen of the barangays are from the Municipality of Nueva Valencia that includes: Calaya, Canhawan, Concordia Sur, dolores, Igang, Igdarapdap, La Paz, Lanipe, Lucmayan, Magamay, Napandong, Oracon Sur, Pandaraonan, Poblacion, Salvacion, San Roque, Sto. Domingo and Tando.
Barangays Avila, Daragan, Mabini, Navalas, Nazaret, San Isidro, San Roque, Taminla, Tanag, Tastasan and Tinadtaran are the standouts from the town of Buenavista.
Qualifiers from the Municipality of Jordan include the villages of Alaguisoc, Balcon Maravilla, Bugnay, Buluangan, Hoskyn, Poblacion, Rizal, San Miguel, Sinapsapan and Sta. Teresa.
Barangays Cabano, Cabungahan, Constancia, Gaban, Igcawayan, M. Chavez, San Enrique, Sapal, Sebario, and Suclaran are the winners from the town of San Lorenzo.
Standouts from the town of Sibunag are Barangays Bubog, Dasal, Maabay, Sabang, San Isidro, Sebaste and Tanglad.
The 56 barangays received Php 100,000 each as an incentive.
Governor Samuel T. Gumarin said that the 3GSB is a tool to mobilize the barangays in the province to perform their responsibilities for the betterment of the community.
"For the past years nga gin-launch naton, amo ini ang isa ka innovation sa probinsiya sang Guimaras para mapahulag naton ang 98 naton ka kabarangayan. This award is not only para sa mga deserving, it is for all, sa tanan nga mga kabarangayan to get hold kun naga-ubra kita sang aton dapat ulubrahon," Gumarin said.
He added that the performance of the barangays of their mandate led to the success of the province in the recent Excell Awards 2019 of the Department of the Interior and Local Government (DILG) where Guimaras was declared as first runner-up as Best Performing Province in Western Visayas while 3GSB was declared as Champion in Administrative Governance best practices.
"Indi namon ni malab-ot kun wala ang 98 ka mga barangays nagbulig. Ang Excell Awards isa ka tool nga malab-ot sang munisipyo, malab-ot sang probinsiya ang iya gusto malab-ot through sa aton kabarangayan. Ang paghulag niyo tanan, nagatib-ong sa probinsiya," Gumarin added.
The conferment of the good governance seal for the 56 barangays shows the endless quest of Guimaras for excellence according to Vice Governor John Edward G. Gando.
"These and all will show and will prove that in this tiny island, the Province of Guimaras, we did not stop to aim high and hit the mark. We did not stop from searching excellence in our own little way. The acclamation that was given to us was a victory and triumph of every Guimarasnon. Your presence today would indicate that in this small island province of Region 6, the people and its officials have shown their endless quest for excellence," Gando said.
This initiative according to Gando, plays a crucial role in the pursuit of good governance in the Province of Guimaras.
Congresswoman Ma. Lucille L. Nava challenged the 42 barangays who failed to qualify to exert more effort.
However, she emphasized that barangays should not be after for the monetary prize, instead, to use the 3GSB as an avenue to perform their mandate for their constituents.
"Very proud kami nga out of the 46 barangays nga nagdaog sang una, nagsaka na subong, nag 56 na. So, I am challenging the remaining barangays nga wala pa nakadaog. You know, indi lang gid ini acknowledgment nga magtinguha nga dag-on ang Php 100,000. It is inherent to us, mandato ta ini nga maga-perform sang aton mga obligasyon sa aton kabarangayan," Nava said.
The Guimaras Good Governance Seal for Barangays also measures the competitiveness of the barangays in implementing programs and reforms for development according to Provincial Administrator Alejandro D. Araneta, chairperson of the 3GSB.
"This 3GSB is very very competitive. This initiative, nakita naton ang mga practice sang kada barangay," Araneta said.
DILG-Guimaras Director Victorio S. Pagapulan lauded the Provincial Government of Guimaras for being the only province to have an assessment tool for the barangays.
"Ginapabugal namon ini nga problema sang aton probinsiya kay wala pa ini ang iban nga kiabanwahanan, wala ini sa iban nga probinsiya. Ang ini nga programa, ang 3GSB, nagtib-ong sa bilog nga probinsiya sang Guimaras to be recognized as second top performing province sa bilog nga rehiyon," Pagapulan said.
Guimaras Good Governance Seal for Barangays or "3GSB" is an innovative program of Provincial Government of Guimaras (PGG) that assesses the level of performance of the component barangays in leading and managing their respective local communities in four governance areas namely: Administration, Social Services, Economic Development and Environmental Management. (PIO Guimaras)