48 Market vendors graduate from Uswag Negosyo Academy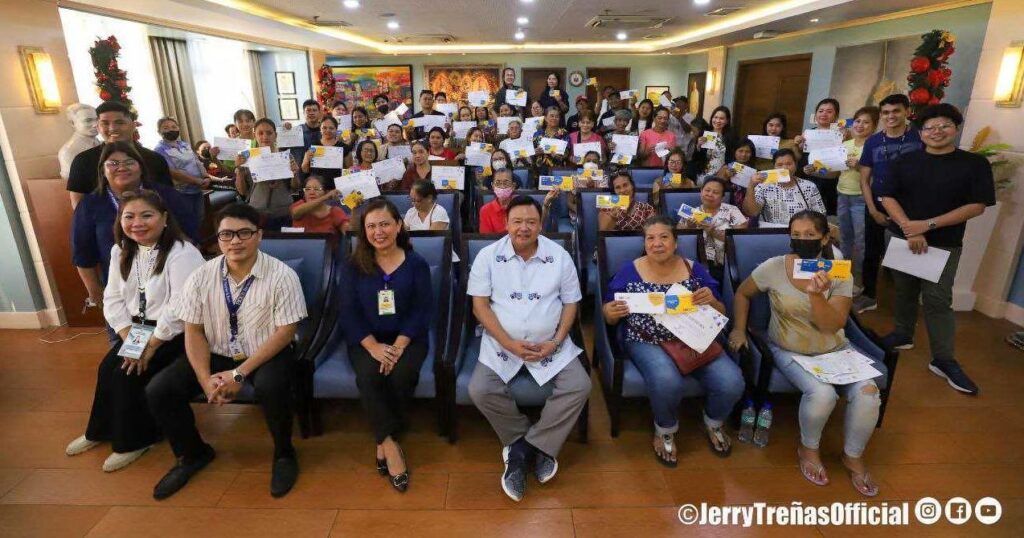 The Local Economic Development and Investment Promotion (LEDIP) Office, in collaboration with the Local Economic Enterprise Office (LEEO) and BDO Foundation, held a Completion Ceremony for the 4th and 5th Batches of 48 Uswag Negosyo Academy (UNA) trainees at the City Mayor's Office, City Hall, Nov. 6.
This batch of completers has completed six sessions of training related to business operations and market management to foster the growth of micro, small and medium enterprises (MSMEs).
To sustain the improvement in MSMEs' competitiveness and as part of the agreement between the City Government and BDO Foundation, BDO Network Bank Iloilo facilitated their respective BDO Kabayan accounts.
The P5,000 given by BDO Foundation to the completers will serve as additional capital for their businesses and be deposited in their accounts.
This will also encourage MSMEs to practice financial literacy, which will help them save money and manage their expenses on a day-to-day basis.
Mayor Jerry P. Treñas commended the efforts of different offices, non-government agencies, and private companies for their huge support to the program.
"As we continue to redevelop our markets, we must also help our market vendors to be equipped with skills in financial literacy and business handling before they go back to their usual operations in the new markets," said Treñas.
"Aside from our trainings through the Uswag Negosyo Academy, we emphasize the need to have markets that are clean and safe, making them more convenient and accessible to the public. With this, I am asking for your utmost cooperation," he added.
Uswag Negosyo Academy (UNA) is a banner program of the Iloilo City Government through the LEDIP Office, which focuses on the needs and growth of local MSMEs in the metropolis.
"Aside from the skills they have learned in the training, we hope that they will use the additional capital from BDO to help their business grow," said LEDIP Head Velma Jane C. Lao.
Vendors that have gone through training are from: Iloilo Terminal Market, Central Market, Jaro Big Public Market, Jaro Small Public Market, La Paz Public Market, Mandurriao Public Market, and Arevalo Public Market.
Each training session delves into topics including Work Ethics, Service Quality, Business Registration, BMBE Application, Digitalization, Food Safety and Handling, Customer Service, Financial Literacy, Fair Trade laws, Consumer Rights and Responsibilities, Business Continuity Planning (BCP), and Financial Education (Fish N' Learn). (Angelo Miranda/Iloilo City PIO)