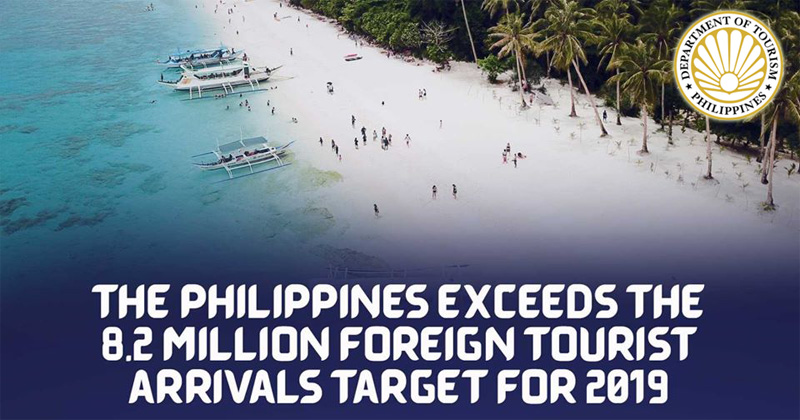 International visitors hit 8.26 million in 2019, exceeding yearly target under NDTP.

Korean tourists still top the arrivals, followed by Chinese, Americans, Japanese, and Taiwanese.
The year 2019 is deemed celebratory for Philippine tourism as international visitors numbering 8.26 million, exceeding the 8.2 million annual target set in the National Tourism Development Plan (NTDP) for 2016-2022.
"This heralds a new milestone in the country's tourism history, breaching the eight millionth mark. Without a doubt, our convergence programs with other government agencies, particularly in improving access as well as product development and marketing initiatives with local government and private sector have greatly paid off. These gains we hope to sustain even as we face global challenges," enthused Department of Tourism (DOT) Secretary Bernadette Romulo-Puyat.
The DOT year-end visitor arrival report cited a 15.24 percent growth over 2018's year-end figure of 7.16 million. Almost all months, except January, registered double-digit growth rates, the largest of which was August at 27.54 percent while December recorded the highest volume at 776,798.
2019 was the year the DOT launched its refreshed branding campaign; continuing the "It's More Fun in the Philippines" slogan but repurposing it to advocate for sustainable tourism. The local launch was held in the National Museum of Natural History while the international event was in Berlin during the Internationale Tourismus-Börse (ITB).
To complement the new direction towards sustainable tourism, the DOT launched a movement called "Save Our Spots" to call for each individual to be a responsible tourist and encouraging the same behavior towards others to preserve the country's natural and man-made wonders.
The Philippine tourism industry also received a number of international awards and recognitions in 2019 such as the World's Leading Dive Destination at the 2019 World Travel Awards, Asia's Leading Tourism Board at 2019 World Travel Awards and Excellent Partner Award (for Sustainable Efforts in Boracay, among others.
"This is a high point for Philippine tourism as it depicts our solidarity and commitment to make tourism work and prove its full potential as a sustainable and inclusive economic activity. The record-breaking numbers solidify the effectiveness of the Tourism Act of 2009, which celebrated its 10-year anniversary in 2019." Secretary Puyat remarked.
Korea remains as the top source market with a total of 1.98 million arrivals, for a 22.48 percent increase. The ace spot has been well-guarded since 2010.
China follows closely on second with 1.74 million, boasting of a 38.58 percent growth.
The United States of America (USA) on third, yielded 1.06 million visitors for a 2.90 percent increase.
Japan is fourth at 682,788 arrivals, with an 8.07 percent growth followed by Taiwan reporting an equally impressive double-digit increase of 35.01 percent for its 327,273 arrivals.
Rounding up the top 12 visitor markets with their volumes and respective growth rates are: Australia with 286,170 (2.27 percent), Canada with 238,850 ((5.48 percent), the United Kingdom with 209,206 (4.06 percent), Singapore with 158,595 arrivals (-7.68 percent), Malaysia with 139,882 (-3.69 percent), India with 134,963 (11.43 percent) and Germany with 103,756 (12.66 percent).