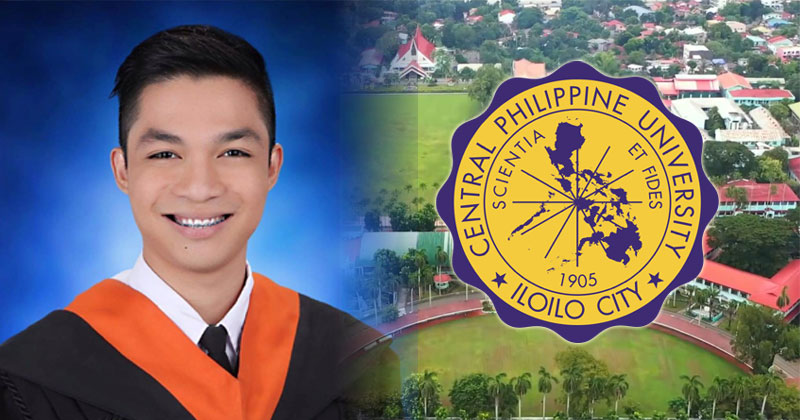 Five CPU graduates topped the Chemical Technician Board Exam given this October 2021.

Ivan Jan Pamplona Romero paced all Centralian examinees with rating of 91% to place at Rank No. 2.
Once again, graduates of Central Philippine University (CPU) made it to the list of board exam topnotchers! This time, five graduates of the University topped the October 2021 Chemical Technician Licensure Exam!
On Friday, November 5, Professional Regulation Commission (PRC) released the results of Chemical Technician Licensure Examination with 1,074 passers out of 1,322 examinees. The exam was given by the Board of Chemistry in Manila, Baguio, Cagayan de Oro, Cebu, Davao, Iloilo, Koronadal, Legazpi, Lucena, San Fernando, Tacloban and Zamboanga last October 2021.
Engr. Ivan Jan Pamplona Romero led all Centralian examinees with a rating of 91% to place at Rank No. 2. He finished as Magna Cum Laude of Bachelor of Science in Chemical Engineering, and also no. 11 in Licensure Examination for Chemical Engineers.
The Centralians who made it to the Top 10 list are as follows:
Rank No. 2 – Ivan Jan Pamplona Romero (91.00%)
Rank No. 3 – Renan Panes Bilan (90.50%)
Rank No. 8 – Rowell Serac Lamason (88.00%)
Rank No. 8 – Ernest Troy Bascoguin Saquibal (88.00%)
Rank No. 10 – Aira Rose Patnugot Panadero (87.00%)
The members of the Board of Chemistry who gave the licensure examinations are Ms. Adoracion P. Resurreccion, Chairman; Ms. Soledad S. Castañeda and Ms. Ma. Theresa C. Cayton, Members.
The results were released in four working days after the last day of examination. Check the full list of PRC results HERE.
The growing list of board exam topnotchers who graduated from CPU is additional proof that indeed the University is one of the best in the country and in Asia.
Recently, the prestigious Quacquarelli Symonds (QS) World University Rankings named CPU as one of the top universities in Asia for 2022. The University got this recognition for the second straight year.
It is one of 15 universities in the Philippines included on the list, and the only one from Western Visayas.
QS is a global higher education think-tank and compiler of the world's university rankings, one of the three prestigious agencies after Times Higher Education (THE) and Academic Ranking of World Universities (ARWU).
Iloilo City Mayor Jerry P. Treñas hailed the University "for providing quality education for students and nourishing their young minds." (Photo by Frolene Pearl Cocjin Arnaez via Facebook)