New fiberglass vessel launched in Guimaras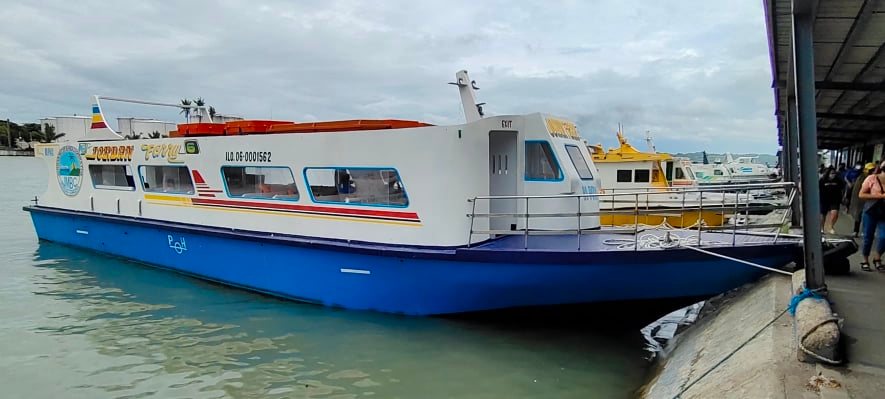 Guimaras launched P7-million fiberglass vessel named Jordan Ferry 6 that will ply Jordan-Iloilo route.

Provincial Government of Guimaras granted P3 million to JMBC for the purchase of the vessel.
The Jordan Motorbanca Cooperative (JMBC) launched their newly-acquired fiberglass vessel Jordan Ferry 6 on October 31, 2021 at Jordan Wharf in Barangay Rizal, Jordan, Guimaras.
The Jordan Ferry 6 will ply the Jordan-Iloilo route, vice versa. The newest addition to the JMBC's fleet costs Php 7 million which was acquired through the assistance of the Provincial Government of Guimaras.
The Provincial Government has granted the cooperative Php 3 million of financial assistance to purchase the vessel.
The financial grant was awarded to JMBC last January 3, 2021.
Jordan Mayor Ruben Corpuz acknowledged the PGG for the support given to the JMBC. He is grateful for the cooperation between the local government of Jordan and the Provincial Government.
He said that the additional fiberglass boat is a great help to meet the growing demand of the riding public in Guimaras particularly from the municipalities of Jordan, Nueva Valencia, and Sibunag.
Chief Petty Officer Estelyn Agaccid and CP PO2 Rhunstedt Velasco of the Philippine Coast Guard – Guimaras; Ms. Louielyn Baldostamon of the Provincial Economic Development Office (PEDO); and the JMBC Board of Directors were also present during the launching ceremony.
The JMBC targets to operationalize 16 units of fiberglass vessels by the end of December 2021. Currently, they have 11 operational units plying the Jordan-Iloilo City route daily.
Due to the phase-out of the wooden-hulled motorbancas plying the Guimaras-Iloilo route, vice versa the Province of Guimaras is pursuing the modernization of the sea transport.