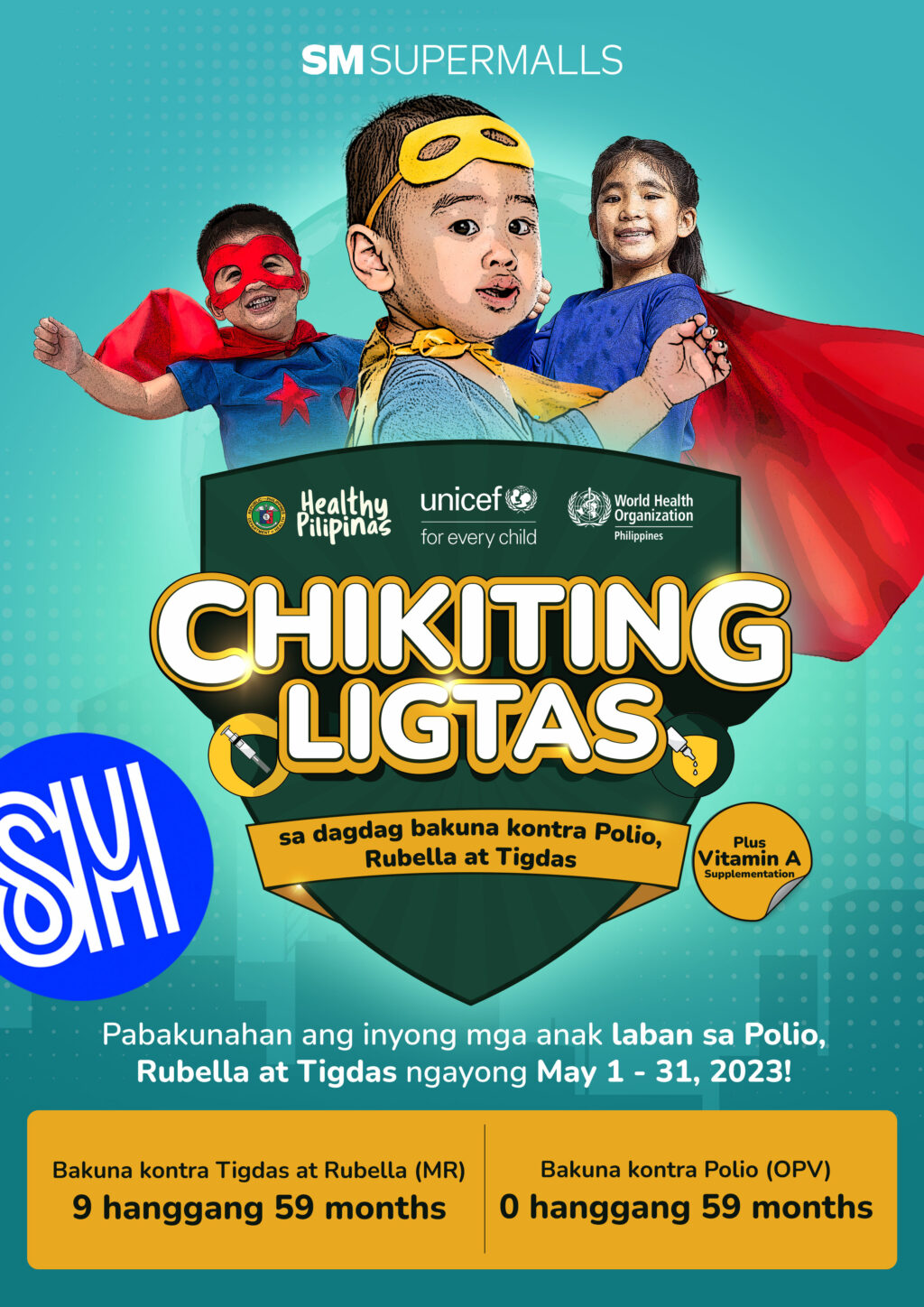 SM opens 60 mall sites for pediatric vaccines aged 0 to 59 months
SM Supermalls, in partnership with the Department of Health (DOH) launches the Chikiting Ligtas Measles-Rubella and Oral Polio Vaccine Supplemental Immunization Activity (MR-OPV SIA) on May 01-31, 2023 in 60 SM malls in cooperation with Healthy Pilipinas, United Nations International Children's Emergency Fund (UNICEF), and the World Health Organization (WHO).
Dubbed as "Chikiting Ligtas sa dagdag bakuna kontra Polio, Rubella, at Tigdas," this nationwide campaign aims to prevent impending outbreaks from these vaccine-preventable diseases and to inoculate children aged 9-59 months old against measles and rubella with the vaccination of one (1) dose of Measles-Rubella (MR) vaccine, and children aged 0-59 months old against poliovirus types 1 and 3 with the vaccination of one (1) dose of Bivalent Oral Polio Vaccine. Just like all other vaccines in the routine immunization program, getting inoculated against these diseases are FREE, safe, and effective in keeping them healthy.
"SM Supermalls remains committed to creating a safer, better normal by providing a convenient, accessible, and enjoyable immunization experience to our SuperKids. With this, we encourage our shoppers, especially parents with children aged below five years old to get them their supplemental immunization against these preventable diseases in 60 SM malls nationwide," said SM Supermalls president, Steven Tan.
Measles, rubella, and polio are highly contagious and can be fatal. In the Philippines, the 2022 year-end report of the Epidemiology Bureau of the DOH documented a 186 % rise from 2021 in epidemic-prone diseases, particularly measles. Further, the country is also at risk of the re-emergence of polio.
"The only way we can prevent these life-threatening diseases is through vaccination. We, at SM Supermalls, are giving our full support to the DOH's campaign by ensuring that our young stakeholders are given the opportunity to access Measles-Rubella and Oral Polio Vaccine (MR-OPV) in the comfort of our malls," Steven Tan added.
With its long-standing commitment to ensuring the health and safety of the public, SM continues to provide not just a #SafeMalling experience to shoppers, but also a convenient and accessible venue where their communities can get vaccinated.
In SM City Iloilo, the activity is located at the 2nd floor Northwing (near World of Fun).
To know more about SM Supermalls' partnership with the DOH for Chikiting Ligtas, visit www.smsupermalls.com or follow @SMSupermalls on social media.