7 Best Dating Places in Iloilo City for the Month of Love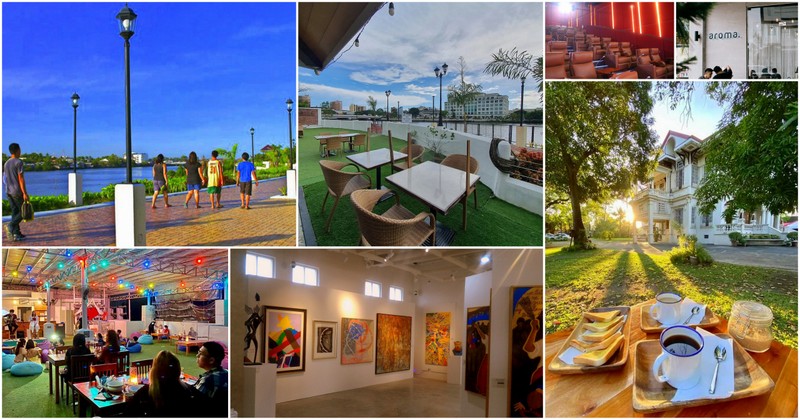 Iloilo City is famously known as the "City of Love" because of its geographical location being in the "Heart of the Philippines". But everyone who's been to Iloilo will definitely agree when I say that the affectionate locals, as well as the ambiance of the place, is what really makes "City of Love" a more fitting title. Now that we are in the Month of Love, Iloilo is definitely the place to be. If you still can't figure out what to do on the 14th, or the entire month of February (if you're feeling extra romantic), here's a list of top dating places you can check out:
1. Molo Mansion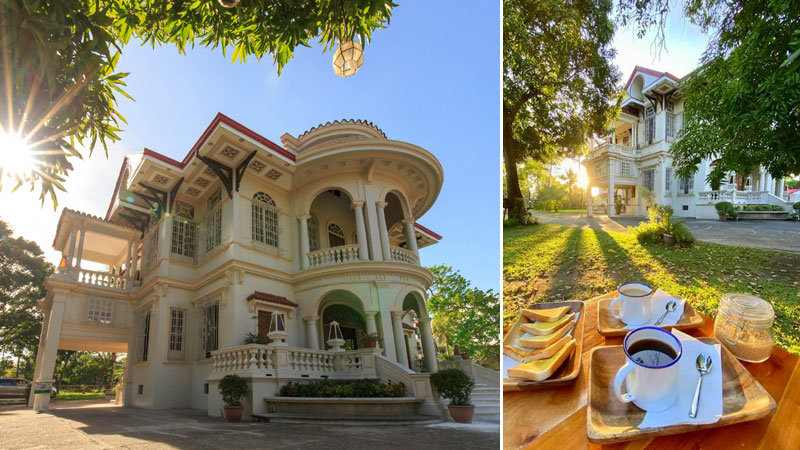 If you're a cultural heritage buff, you'll surely appreciate a historical gem in the city – the recently restored Molo Mansion. The house was built in the 1920s by the forefathers of the Consing family of Iloilo. It boasts of Neoclassical features and Art Deco accents, highlighting its grandeur and elegance. Aside from the majestic view of the place, you can also enjoy good food at different food establishments in the Mansion – from classic coffee to Korean samgyupsal, you won't run out of options! The Molo Mansion gate is open from 10AM – 8PM.
2. Iloilo River Esplanade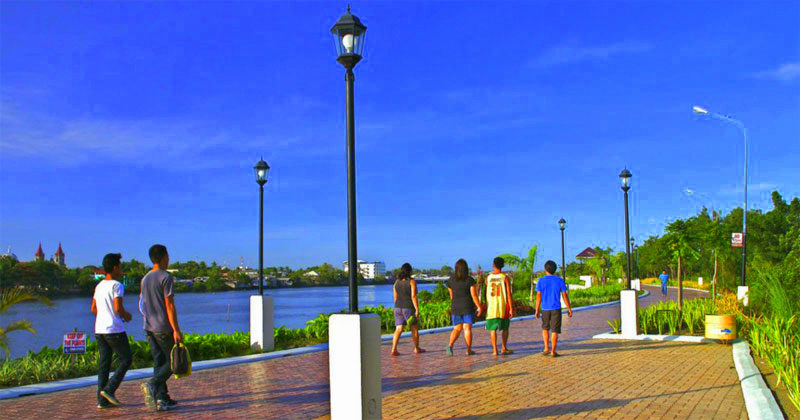 If you can enjoy leisurely strolls and serene views along the river, you'll definitely enjoy the Esplanade alone, with friends, or with a special someone. The Iloilo Esplanade (or simply the "Esplanade" as Ilonggos call it) is a peaceful promenade that runs alongside the Iloilo River. The best time to visit is during the early morning and late afternoon hours when the sun is low and the sky glows with the romantic soft twilight.
3. Iloilo Museum of Contemporary Art (ILOMOCA)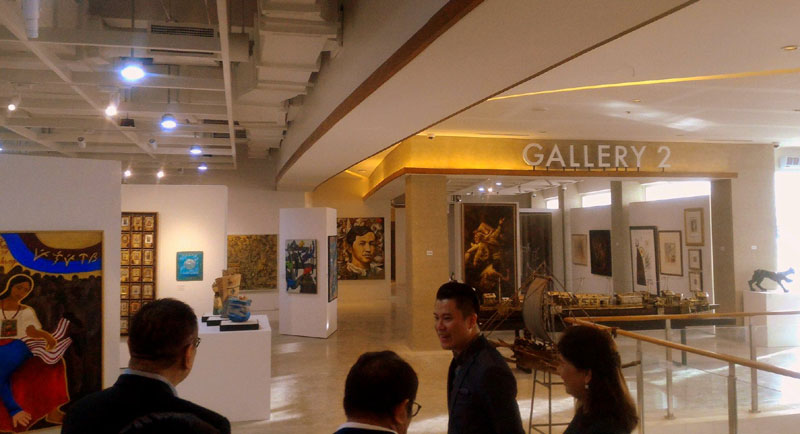 If you're an art enthusiast, ILOMOCA will not let you down. ILOMOCA is the first museum in the Visayas region built for modern & contemporary art! Surely, nothing beats a romantic walk around an art gallery with someone you love. They're open 10AM-4PM from Friday to Sunday. You can book your visit in advance through their Facebook Page.
4. Festive Mall Cinemas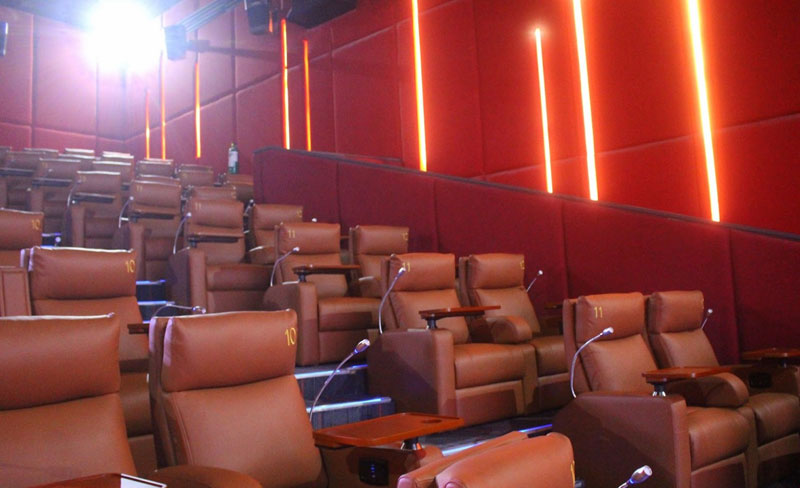 If your idea of a perfect date is going to a cinema to watch a movie together, you can make a beeline for the Festive Mall Cinemas. They are located on the third floor of the Festive Walk Mall. After shopping, you can definitely go there to unwind. You may check their website for the lineup of the movies showing for the month as well. With popcorn and soda, it'll be the best date ever!
5. Café Aroma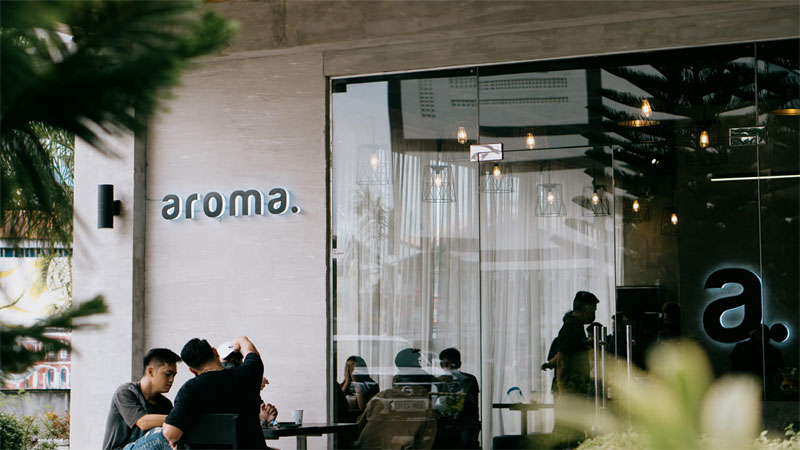 If you want to spend time over quality coffee with a serene atmosphere and instagrammable aesthetics, Café Aroma is perfect for you. Café Aroma is a Brunch Restaurant and Café that is famous for its minimalist approach. They offer a variety of coffee-based and non-coffee-based drinks, as well as mouth-watering food. Surely, you'll have a ton of Instagram-worthy pictures after your date here. They are open 10AM to 7PM ( Mon – Thurs) and 8AM to 8PM ( Fri-Sun).
6. Muelle Deli and Restaurant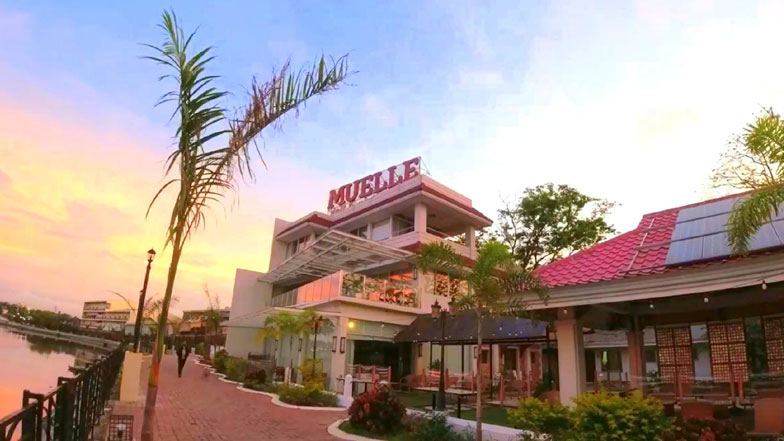 If you want to go on a date in a fancy restaurant, say no more: Muelle Deli and Restaurant is the place to go! They serve a mix of traditional and international cuisine, so it will surely not disappoint your palate and will satiate your cravings. As you dine you'll have a view of the historic Iloilo River and the Provincial Capitol while being serenaded by an acoustic band – fine dining at its finest, indeed.
7. Blink Rooftop Bar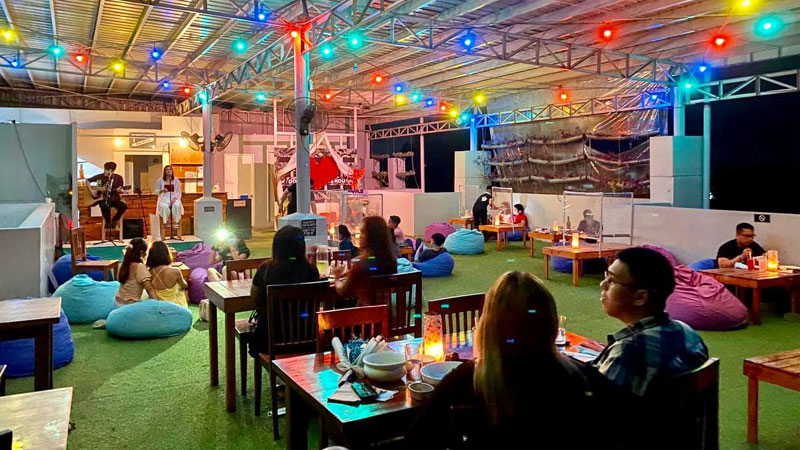 If your definition of love is music and a fun crowd, Blink Rooftop Bar will not disappoint. They offer open-air dining from 7AM to 12MN daily. Enjoy the month of love over drinks with the cool February breeze as you listen to a live band on the rooftop. Now, isn't that just romantic?