51 workers found stability in MORE Power, bid endo goodbye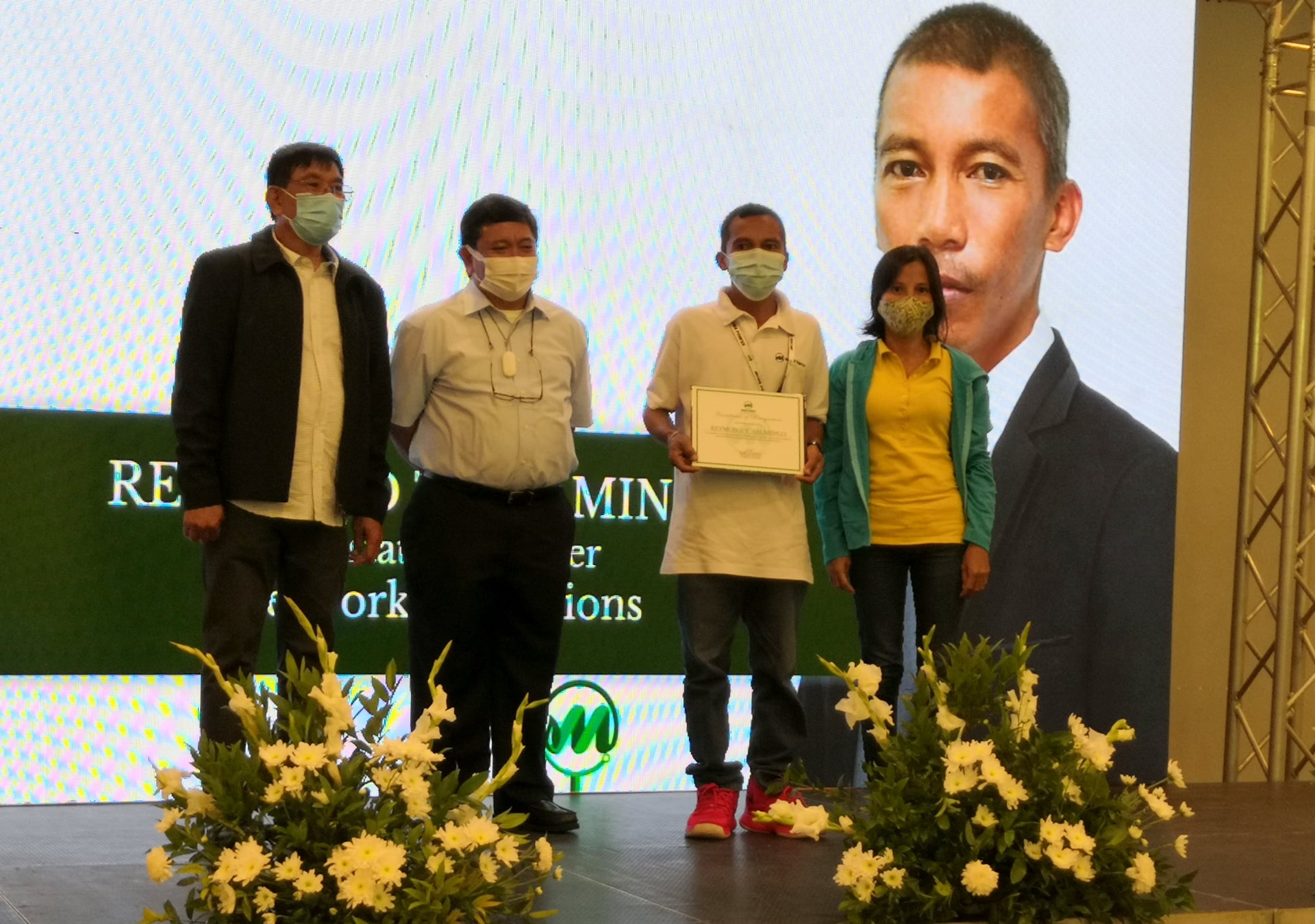 51 contractual workers of MORE Power who came from the previous utility was regularized after 6-months.

Majority of these workers served the previous utility for close to 17 years yet they were never offered employment stability.

The regularization of 51 personnel was not only meaningful for their careers, but also for their families.
In the period of employment uncertainty, job loss and workers displacement because of the Coronavirus disease, 51 contractual personnel of More Electric and Power Corp. (MORE Power) in Iloilo City found security and stability after they were declared regular employees in a ceremony.
The 51 employees came from the previous power distribution utility who is known for its arrogance, uncaring to low level workers, and for holding a contractual workforce over extended period of time.
The regularization of made official through a ceremony held at the Iloilo Convention Center last September 16, 2020 and attended by MORE Power's top officials and staff.
Simple yet meaningful ceremony
The ceremonial regularization of the employees caught the personnel by surprised for the experience was considered by them as another first in their careers. This made the simple event meaningful.
MORE Power President and CEO Roel Z. Castro led the ceremony with an awarding of certificates and handing over of official identification cards signifying an end of their contractual status and the start of regularization. Each of the 51 personnel went up the stage after their names were called.
Most of them couldn't help but shed tears for they were caught by surprise unaware that the event they were invited to attend was for them as guests of honor.
Castro was joined by Engr. Edwin Montemayor, Network Operations Head, and Ma. Cecilia Pe-Calunod, Head of Customer Care Dept. of the power utility.
"I know it was difficult for you to make a decision six months ago to join MORE. You were torn between staying with the old company or joining a new company that you don't even know…I salute all of you 51 who had the courage to come forward and say I will join MORE," Castro said.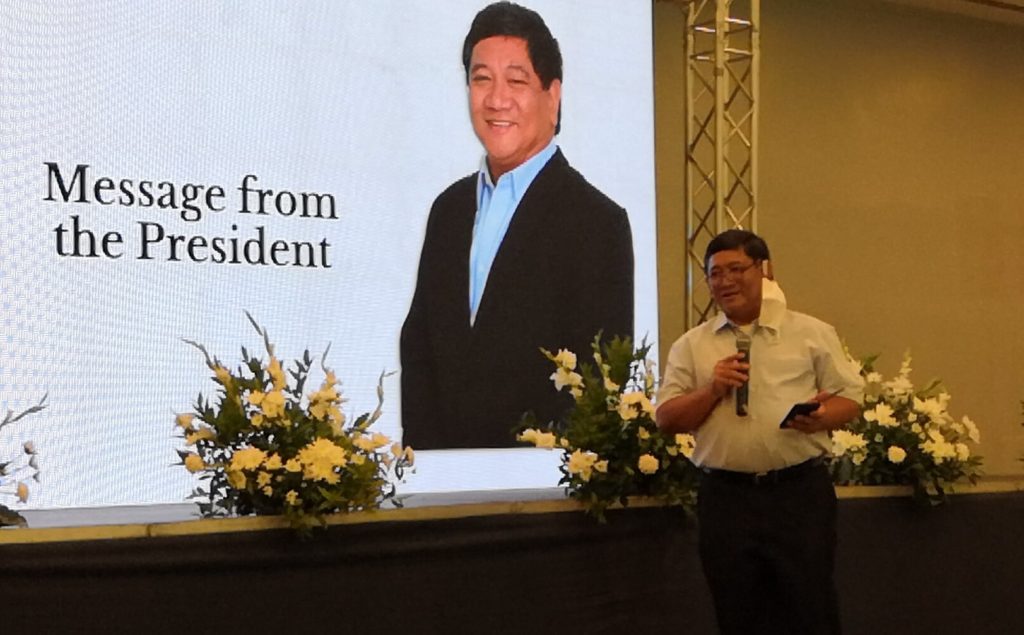 While MORE Power takes care of its employees, Castro also highlighted that the business organization's focus is to value the consumers of Iloilo City.
"We want each and everyone to be treating our consumers the highest respect, the best-accorded service that we can give to our consumers, emphasized Castro, and further sharing that his leadership is grounded in treating employees with all the best possible and the same is expected from them by MORE Power, especially in handling consumers.
An event for the books of 51
The regularization of 51 personnel was not only meaningful for their careers, but also for their families, as such, the event was one for the books.
Letting go of employment from the previous power utility who prides itself of its 100-year legacy as a pioneer power utility of the booming city was a critical decision for the 51 employees considering the legal battle that MORE Power was facing on numerous arena from the Energy Regulatory Commission, the Regional Trial Court, the Court of Appeals, and even the Supreme Court.
The decision to apply to MORE Power was binded by a lot of uncertainty, because most of them were working as contractuals from the previous one for close to two decades. They were expecting that their fate will be the same or may even worsen under MORE Power, but only to be surprised that they will be regularized after 6-months.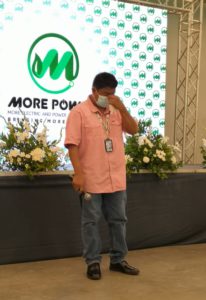 Contractualization or called Endo (end of contract) is uncommon for the 51 workers. Contracting and renewal of contracts every six months has become a clockwork habit among employers even in Iloilo City to skirt accountability of providing law-mandated benefits to workers like SSS, Philhealth, Pag-ibig fund contribution, 13th month pay, and unpaid leaves.
MORE Power, however, would like to become a game-changer in the field. "[We] recognized the essential roles of each of these workers who worked so hard 24/7 for the betterment of Iloilo City," stressed Ma. Cecilia Pe-Calunod, power utility's head of customer care.
"More Power needs you – your talent, your skills, your perseverance. We need you as much as you need us," Pe-Calunod underscored.
These statements during the ceremony brought line testing technician Alexis Nacionales to tears recalling his experience working with the previous utility managed by one of Iloilo City's enduring Spanish elite families. "For more than 17 years working with them (previous utility) we were never regularized," said Nacionales.
Nacionales shared that he even encountered an accident which put his life on 50-50 for survival, perhaps relating how he was treated but he decided not to elaborate instead for thankfully he was able to survive. "We thank MORE Power for regularizing us. We, including my workmates, has been looking forward for this day," expressed Nacionales.
Castro lauded the 51 employees who took the risk to let go of their previous employer and who were bold enough to join MORE Power.
MORE Power at present
MORE Power took over Iloilo City's power distribution services in February this year in spite ongoing legal battle in the courts. The utility was awarded a 25-year franchise of service by Congress through RA 11212 and which was signed by President Rodrigo R. Duterte in February 2019.
The franchise handed to MORE Power translated to a P1.8 billion initial investment for efforts to modernize power services in Iloilo City which was left to rot by the management of the disfranchised company.
Recently, MORE Power secured an 8-6 vote from the Supreme Court upholding the constitutionality of Section 10 and 17 of Republic Act No. 11212 or its franchise law.
=====
*Photos by Nonoy Taclino and with reports posted from his Facebook.