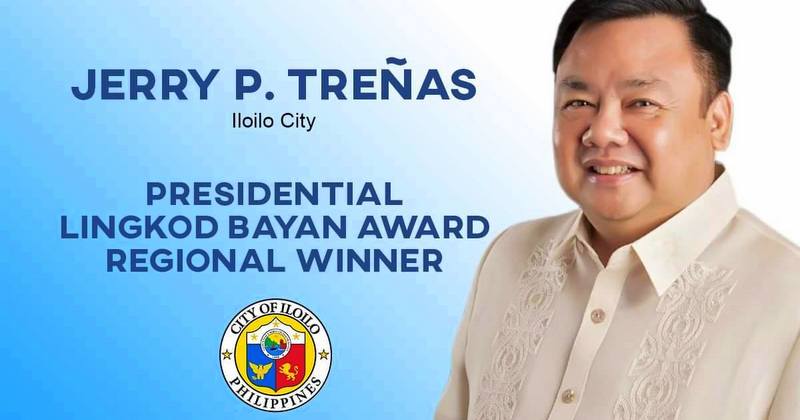 CSC named Mayor Treñas as the Regional Winner of Presidential Lingkod Bayan Award for leveling up Iloilo City.

The awarding will be done virtually on Sept. 29 as part of 121st Philippine Civil Service Anniversary.
Iloilo City Mayor Jerry Treñas won best public service provider in Western Visayas by the Civil Service Commission Regional Office (CSC-6).
"We are pleased to inform you that you have been adjudged as Regional Winner of the 2021 Search for Outstanding, Government Workers under the Honor Awards Program (HAP), Presidential Lingkod Bayan Award category," CSC-6 Director Nelson G. Sarmiento wrote Treñas.
The local chief executive is credited for leveling up Iloilo City through his WHEELS programs prioritizing welfare, health, education, environment, livelihood and sustainability; and the strong efforts against COVID-19 pandemic.
"It is an honor for myself and the city in receiving this award as a civil servant. Here in Iloilo City, they have seen how we all united to fight the pandemic. Our residents and personnel had been working together in helping each other. I am also thankful to all the private sectors for believing in our vision to create a safer environment for all," Treñas said via his Facebook.
"This award is for all of us. We will continue to aspire for a level-up City of Love while helping each other rise from the adversities brought by the pandemic," he added.
The Pasidungog awarding will be live-streamed on Facebook on Sept. 29 at 1:30 pm in celebration of the 121st Philippine Civil Service Anniversary.
The awards to be given out are the highest and most coveted recognition given by the government to individuals or group of individuals who have excelled or shown utmost dedication and commitment to public service.
The Presidential Lingkod Bayan is conferred to an individual or group for exceptional or extraordinary contributions that had a nationwide impact.
Education and position are not the main requirements for receiving the award but strict adherence to the norms of conduct which positively influences others to display ethics in the discharge of official duties, CSC-6 stated. (Iloilo City PIO)