An SM scholar's story of inching towards his destination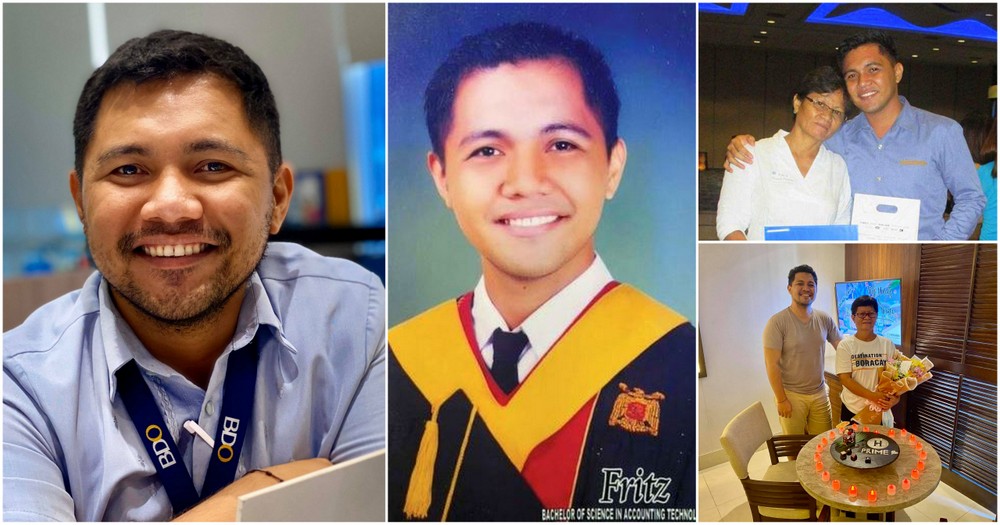 "Dream your dreams with open eyes, and make them come true."
This famous adage from British writer T.E. Lawrence perhaps is a fitting passage that will describe a person's determination to succeed and to make his dream a reality.
Such is the case of a man named Fritz Mendez, who made sure he realizes his dreams, as his eyes have seen the struggles of his mother by selling foodstuff, among other items, just to make ends meet. His parents then could not financially afford to send him to school, so finishing his education was as gloomy as the dark skies he used to look up as he was figuring out how he could finally move on with his studies.
It was not an easy road for Fritz as he had to quit school twice when he was studying at Pavia National Highschool due to financial problems. That deprived him to graduate on time with the supposed usual age of 21.
Fritz was among the hopefuls who applied for SM scholarship years ago, passed the exam and the interview conducted by SM Foundation during its stop in Iloilo. He did not give up and found a way to graduate at the University of San Agustin at the age of 23, when he took advantage of a SM Foundation Inc. (SMFI)Scholarship grant and finished his course of Bachelor of Science in Accounting Technology in March 2014.
Ironically, Fritz is the first degree holder in the family despite being the youngest among his siblings. He persevered to finish his education and gave his family a better life.

Fritz Mendez started his career as a bank teller at Banco De Oro SM City Iloilo branch, when he applied for the company right after his graduation. Now, he is living his best life being assigned in the Boracay Island branch of BDO. He also serves as the Regional Director for Visayas Region of the BDO Employee's Association, who is in charge of drafting proposals for the benefit of its members.
Perhaps, Fritz's success is rooted in his positive disposition in life, his jolly character and that natural tendency to serve and inspire others. Being also the President of the SMFI Iloilo Alumni Association, he lends his time to join the SM Foundation group in going to far flung areas in Iloilo, for the screening of applicants and he gladly shares his story to incoming hopefuls. He even mentors current scholars to help them cope and maintain their scholarships. Along with other SM Scholars, Mendez also volunteers in relief operations during typhoons and other calamities.
Fritz, credits his success to his mother the most, the special person who crawled her way just to provide for her son's education. Now he can treat his mom to wherever she wants to eat and is able to provide for her and even extend assistance to his older siblings, who already have families of their own.
During the pandemic, Fritz thought that he could also be of service to the community, so outside of his job, he founded Destination Boracay, a Facebook page that is now home to almost 90,000 members and counting, in just a short period of time. The page started as a repository of experiences through pictures and videos of its members, but now it has become a community where one can inquire about hotel bookings, the best places to eat, affordable adventure packages and the like. This led him to come up with the Destination Boracay Travel and Tours Inc., where he serves as its Founder and CEO.
Fritz Mendez is paying it forward by lending his time to inspire hopefuls, to never give up on their dreams, despite the difficulties they face. He humbly shares that the good deeds he imparts through his services, in his own little ways through his job and outside of work , is his effort of repaying the goodness extended to him by the Sy family.
SM's late founder Henry Sy, Sr., believed that education is the best defense against poverty. SM Foundation provide college and technical-vocational scholarship grants as well as access to primary education through school buildings to help the youth achieve their dreams.