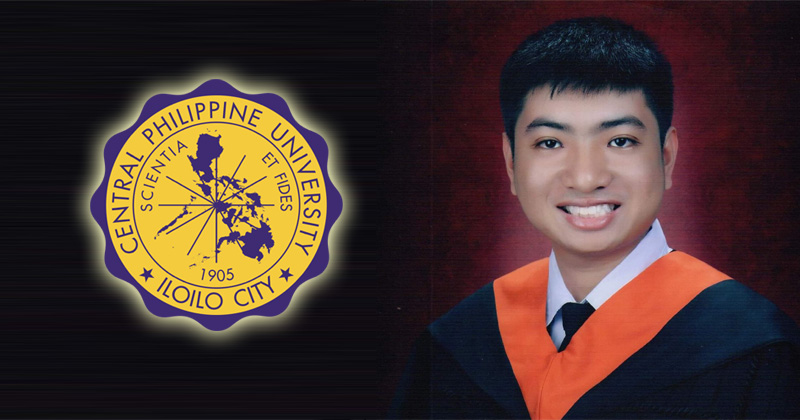 Sibalom, Antique native JAJ Hiponia Sentina was named Top 2 in the September 2021 Electrical Engineer Board Exam.

Already a registered nurse, Sentina enrolled in BS Electrical Engineering at CPU and graduated as Cum Laude.
A registered nurse from Sibalom, Antique ranked second in the recent Electrical Engineer Licensure Examination given by the Professional Regulation Commission (PRC) on September 5-6, 2021.
In full results released by the PRC on September 16, JAJ Hiponia Sentina scored 90.60% to place at rank no. 2 in the board exam.
Already a registered nurse, he enrolled in Bachelor of Science in Electrical Engineering and graduated as cum laude at the Central Philippine University (CPU) in Iloilo City in April 2019, according to his mother Janice Hiponia-Sentina in an interview Friday.
He was supposed to take the licensure examination in April 2020 but it was canceled due to the health pandemic.
In addition to being a passer of the Electrical Engineer licensure exam, he also hurdled the Registered Master Electrician that was given on Sept. 7.
Sentina was a recipient of the Department of Science and Technology (DOST) Merit Scholarship while he was a student of CPU.
He is now on a one-year contract of employment with the Aboitiz Company as part of the scholarship.
Sentina is grateful to CPU for the training that he received from the institution.
Antique Board Member Victor Condez said the provincial government is extending its congratulations for his remarkable performance in the licensure examination.
"Thank you JAJ for bringing great pride to our home province," Condez said in an interview.
Condez sponsored an ordinance giving plaque and granting incentives to Antiqueños who will land as topnotchers in bar, board, and other national licensure examinations and those who accomplished remarkable performance in sports, skills, and academic competitions.
The ordinance was passed on final reading during their regular session on Sept. 16.
Under the ordinance, Antiqueños who ranks second to fifth in the PRC and other national licensure examinations will be given PHP30,000.
A certificate of merit will be given to the school of the awardee as a form of recognition.
"The giving of plaque of recognition will be held on the occasion of the flag-raising ceremony of the provincial government," he said.
He said that he will find out if Sentina qualifies for the incentive as the ordinance is yet to be published and waiting to be signed by Governor Rhodora Cadiao. (By Annabel Consuelo Petinglay, PNA | Photo courtesy of Janice Hiponia-Sentina)