MORE Power to Host Bike Fun Ride for a Cause in Iloilo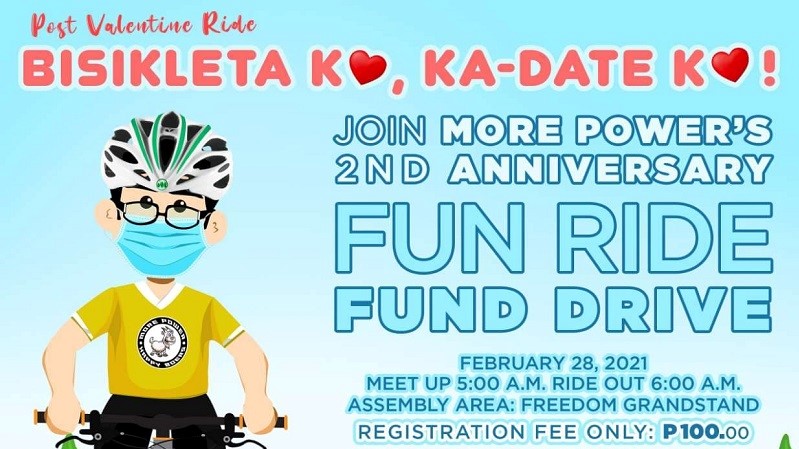 MORE Power Iloilo to host a 'Bike Fun Ride for a Cause' on February 28.

One hundred percent of the proceeds will be used to buy plant pots for bike lanes along Iloilo Bridge.
Bike fun ride in Iloilo: In a bid to improve the bike lanes in Iloilo City, Iloilo City distribution utility More Electric and Power Corporation (MORE Power Iloilo) will host a 'Bike Fun Ride for a Cause' on February 28.
The event will have a Php 100 registration fee and 100% of the proceeds will be used to buy plant pots that will be installed in bike lanes along the Iloilo Bridge, which will also serve as protection to bikers from vehicles on the main road. All those interested can register online via this link: https://bit.ly/3jX9avK. Those who are unable to register can do those on-site on the morning of the event.
"MORE Power invites everyone to join our charity fundraiser event, a post Valentine ride dubbed "Bisikleta Ko, Kadate Ko!" which will be conducted as part of the 2nd year anniversary celebration of our franchise and 1st anniversary of our operation. Proceeds from this cycling event will go to the ongoing improvement and beautification project of Iloilo City's bike lanes. So if you want to take part in the facelift of the metro's bike lanes and in the process get a chance to win a brand new bike, simply sign up and let's ride out on the 28th of February 2021!"- excerpt from a post on social media by MORE Power Iloilo.
Iloilo fund ride: With the help of partner companies of MORE Power, nine (9) mountain bikes, two (2) sacks of rice, as well as bike accessories will be raffled off after the fun ride. The registration will start 5am at the Freedom Grandstand and the event will start at 6am. Participants will be passing all seven districts serviced by MORE Power, totaling to around 28 kilometers.
This activity is part of the month-long celebration of the 2nd anniversary of MORE Power as Iloilo City's official electric distribution company. It may be recalled that earlier this month, MORE donated juvenile fishes that were dispersed in the Iloilo River, as support to the local government's initiative to repopulate the Iloilo River with fishes and develop the river's ecosystem.