MORE Power cuts down rates for 7 straight months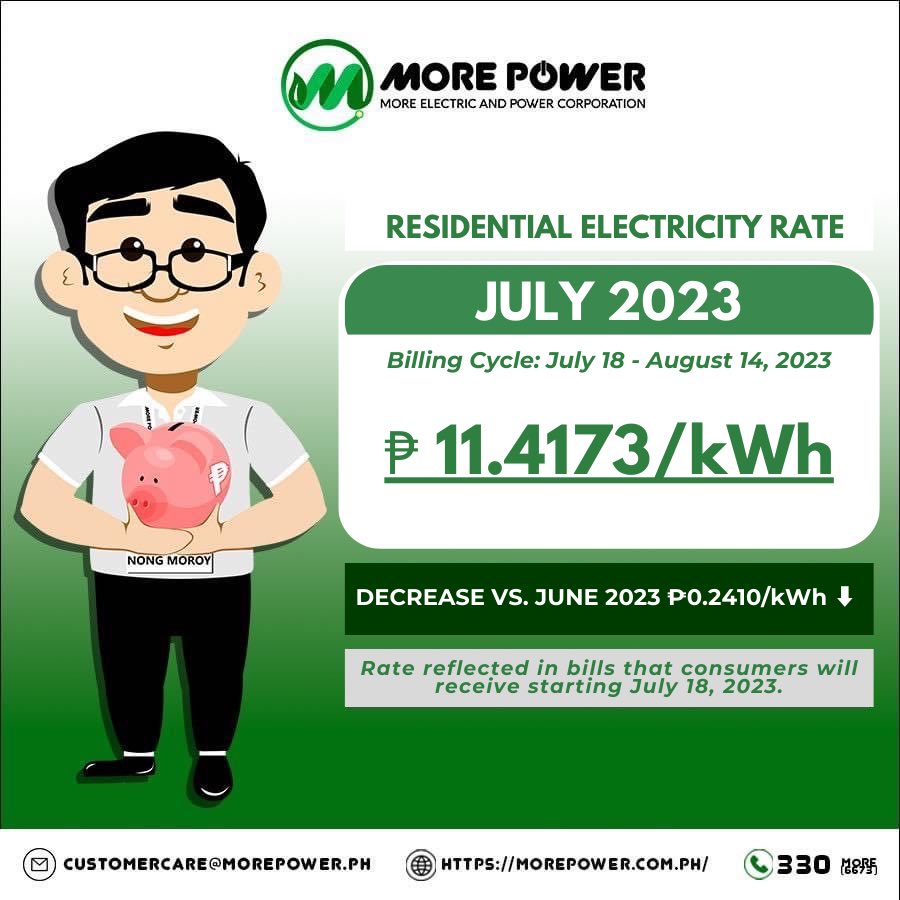 It's another round of reduction of electricity rate in Iloilo City as More Electric and Power Corporation (MORE Power) announced that there will be of P0.2410/kWh decrease in the monthly billing this July 2023.
This will be the seventh consecutive months of lower rates since January, which can be attributed to a combination of factors.
Since March 2023, the introduction of renewable energy sources has played a leading role in driving down costs. Moreover, the decreasing prices of coal in the global market and a dip in electricity prices in the Wholesale Electricity Spot Market (WESM) have further fueled the downward trend.
This latest adjustment brings the rate down to a more wallet friendly P11.4173/kWh from the previous rate of P11.6583/kWh. While consumers can rejoice in the ongoing decline, caution is advised when it comes to energy consumption. The prices of coal and electricity in the global market remain unpredictable, making it crucial for consumers to utilize electricity responsibly and efficiently.
"We would like to announce that the electricity rates in Iloilo City have decreased for the seventh consecutive month. This achievement is a testament to the dedication and patience of our Energy Sourcing team, as they continuously source for cost-efficient power generation supply, the entry of renewable energy, and favorable market conditions," stated Roel Z. Castro, President and Chief Executive Officer of MORE Power.
Residents can expect the reduced rates to reflect in their bills from July 18, 2023, to August 14, 2023. Additionally, MORE Power seizes this opportunity to remind eligible customers, including members of the 4Ps program and marginalized end-users, to apply for the lifeline rate discount. This initiative aims to extend a helping hand to electricity consumers, particularly those living below the poverty line.
With a steadfast commitment to providing affordable and reliable electricity services, MORE Power remains dedicated to empowering the residents of Iloilo City. By prioritizing sustainable practices and exploring alternative energy sources, they aim to make a positive impact on both the environment and the local community.