Modern Ilongga has flourished as a local enterprise in spite of the pandemic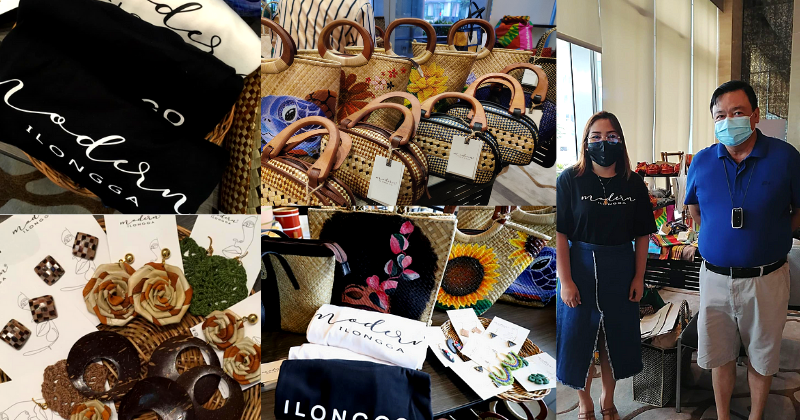 Modern Ilongga is a local brand that champions modernizing traditional handicrafts from native bags to women accessories.

The pandemic may have offered numerous hurdles but it also revealed some of the best opportunities for local enterprises.

For me, put God first and celebrate your little wins in life, shared Modern Ilongga Magge Carado.
Ilonggo entrepreneurs are more creative and aggressive in business and marketing these days. Recent social events held in one of the leading business centers in the city showed that tey are slowly bouncing back amidst the pandemic.
Among businesses who strived during the crisis is Modern Ilongga and it has made a significance in the local scene.
Modern Ilongga is a local brand who champions traditional handicrafts by modernizing native bags to women accessories. "It was first thought as a platform to move local products of Iloilo," said Maggerose Carado, owner of Modern Ilongga.
Modern Ilongga started with the handicrafts made by our indigenous Aeta community in Nagpana, Barotac Viejo. Over time, Carado expanded with other local materials like pandan weaves, abaca and hablon as she immersed herself to different communities.
"I have learned that people are very artistic by nature," she said.
Crisis offers opportunities for greatness
Everyone had their own share of struggles as the pandemic hit the province and Magge Carado is no exception. "No amount of pandemic can stop you once you are focused on your goal," she emphasized.
Carado shared that the pandemic has allowed her to set her priorities and she placed the family on top of it by striving to work harder so that there is food on the table, maintenance medicines for her parents, and payment for the monthly bills.
If there is anything that Magge Carado realized from her experience is the value of being generous. "I have learned to be generous not only of money and other resources but of my time, she highlighted.
Life may give you abundant hurdles, but it also offers the best opportunity to rise above it by imbibing the spirit of #PadayonKita. "We are all created as 'overcomers' of struggles for we are considered as the strongest creation. We can absolutely bring solutions to anything as long as we put our mind into it," stressed Carado.
Strong faith allowed Modern Ilongga to brave the pandemic
Modern Ilongga picked finances as among of the many struggles. "Limited finances also restrict you to fund communities and do community development work," she said. While I do this work physically alone, I have an invisible partner and that is God.
Magge recognizes the "angels" friends who comes around when she needs help.
In addition, Carado also pointed out logistics issues as another struggle presented by the pandemic to Modern Ilongga. "It's hard to move products for we are an archipelagic country. It would cost a lot of time, effort, and money. Sometimes, it tears you down when you can't have your products on time," Magge revealed.
Mutual support will help us overcome difficult times
"One would think that Modern Ilongga is managed by several people or a team but no. It's operations is made possible by myself – I'm the CEO and the kargador (transporter)," Magge laughs, as she commutes all day and do all the loading and unloading of products.
"It sounds funny but it's bloody hard. I do everything from end to end," she shared.
Yet more than ever, Magge is very much grateful to God for having friends around her. One of her closest friend does the printing of what is now a trending Modern Ilongga shirts while another is responsible of making the hard tags which she finds classy and elegant.
Some of her friends would also offer a hand to pull out and move the products from one location to another during their free time. "I would ask for their help and fortunately they come around," said Magge.
"I have realized that I can't do all of these things by myself and I'm grateful to be beyond blessed because of the beautiful, generous, and kind people around me," underscored Magge.
Here are three lessons shared by Modern Ilongga:
Put God first. Before you start your day and before you decide on anything ask God. Thank God and be grateful everyday. It is He who entrusted us with our enterprises. He will surely bless the works of our hands. Just trust Him.
Treat people equally. Don't get intimidated by the so-called "big people". Treat the CEO and the janitor with the same level of respect and kindness.
Do everything with love. If you love what you do, you don't work at all. You enjoy every minute of it. Celebrate your little wins. You may fail multiple times and you will succeed once. But that's all that you need.
Magge Carado's Modern Ilongga is among the most active local enterprise, showcasing its products in leading business centers in Iloilo. Modern Ilongga has a weekend booth at GT Mall in Pavia.
Modern Ilongga was also among local brands joined Bugal Iloilo, an advocacy event in partnership with Iloilo Festive Mall. The exhibit was held at The Bizbar of the Richmonde Hotel Iloilo and which concluded November 2.
Modern Ilongga will also be present at the Iloilo Market Market 2020 and Panublion Heritage Fair at SM City Iloilo, and Mercado Iloilo 3.0 at the Iloilo Convention Center. You can follow Modern Ilongga on their Facebook Page and get the latest details of their exhibits moving forward!
About Post Author