Balik Yuhum! Elevate your Masskara experience this year with Home Credit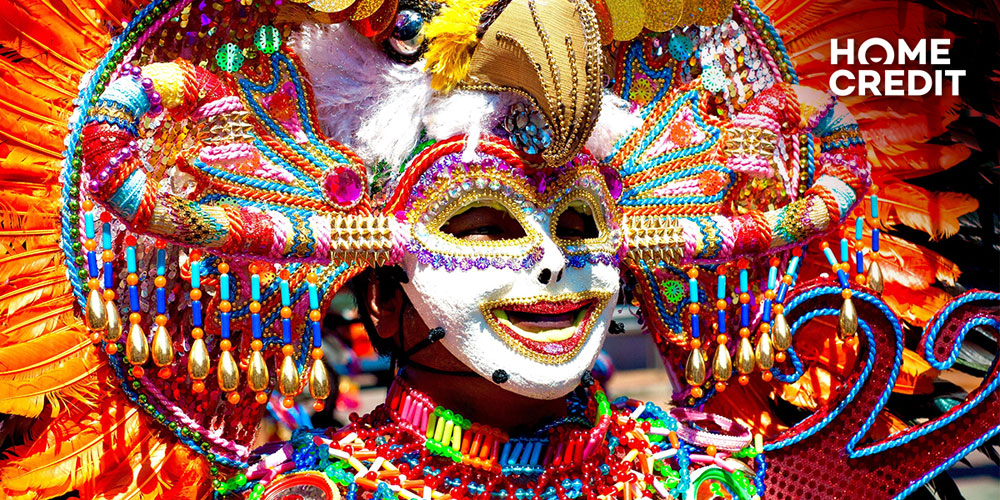 The Philippines is known to be a happy country. Everywhere you go, you see people break into their warm smiles despite the hidden storms they need to weather. Jeepney drivers, security guards, peddlers, and your Pinoy folks are simply a ray of sunshine. But that's not the country's only pride. The Filipino culture is a mix of rich, vibrant, and spirited history and traditions, having a total of 42,000 festivals including both major and minor events that the locals so wholeheartedly celebrate.
One of its famous and world-class festivities is the Masskara Festival originating all the way from Bacolod, the "City of Smiles". Having been put to a halt for two years given the global pandemic, the province is more than ready to host its vivacious month-long celebration.
Home Credit, as the lifestyle partner of every Filipino, wants festival-goers, locals, and foreigners alike to capture a picture-perfect image of the festivity and make the most out of this year's Masskara Festival through its wide product offerings for photography and videography.
Record the Masskara street dance and float parade hands-free
Fear of missing out capturing Masskara Festival's stars of the show – street dance and float parade? Never miss a good moment by setting up your smartphone or digital camera with a durable tripod to get steady shots with smooth pans and tilts. Going hands-free with a tripod, you are now able to fully enjoy the unfolding event in front of you and admire the skillfully crafted colorful gigantic masks by the Bacolodnons or the energetic dances of the youth in the streets.
Take selfies at the breathtaking tourist spots of Bacolod
If you're a traveler as much as a festival-goer, you would certainly dedicate a good portion of your trip to visiting the scenic tourist spots in Bacolod City and the rest of Negros Occidental. Some of the good spots that the province has to offer are The Ruins, an ancestral home mansion of a wealthy baron in the 1920s; Lakawon Island, a 33-hectare white sand beach with clear waters; and Negros Museum, where historical and cultural artifacts of the province are preserved for the Negrenses' sense of identity. With the breathtaking places, Bacolod has to offer, you want to make sure that you are able to seize it with a flagship smartphone with a good camera.
Capture your Bacolod food trip using a high-quality vlogging camera
After all the standing, strolling and cheering at the lively parade, food is the only possible cure for exhaustion! And so, don't think the City of Smiles would lag behind other provinces when it comes to culinary. One of its trademark foods is its chicken inasal – marinated with a mixture of condiments and spices meant to explode in your mouth. While you're at it, what better way to document hopping from one manokan restaurant to another than by vlogging it with a portable and top-notch digital camera?
Unleash the adventurer in you in the Masskara Cup Drag Fest
For all the adrenaline junkies, you have a place this coming Masskara Festival 2022! The city government has Masskara Cup Drag Fest lined up this year. Expected to set in motion in this event are drag racing, autocross, and cross-kart. To further build up the adrenaline rush, motorists and cyclists can now participate in a BMX competition. Recording rigorous activities like these calls for a reliable action camera so you would never miss out on recording the jumps and swerves when you fully shift into your element.
As the lifestyle partner of every Filipino, the country's leading buy now, pay later (BNPL) provider Home Credit Philippines (HCPH), helps festival-goers elevate their Masskara Festival experience with essential photography and videography gadgets that can be purchased through hundreds of its partner merchants. All items can be purchased through flexible payment terms and low-interest rates— making preserving vibrant moments and celebrating the country's history, culture, and traditions accessible for all.
Home Credit Philippines is a financing company duly licensed and supervised by the Securities and Exchange Commission (SEC) and the Bangko Sentral ng Pilipinas (BSP). To learn more about the latest updates from Home Credit Philippines, visit their official website www.homecredit.ph. You may also follow them on their official Facebook, Instagram, and TikTok accounts.