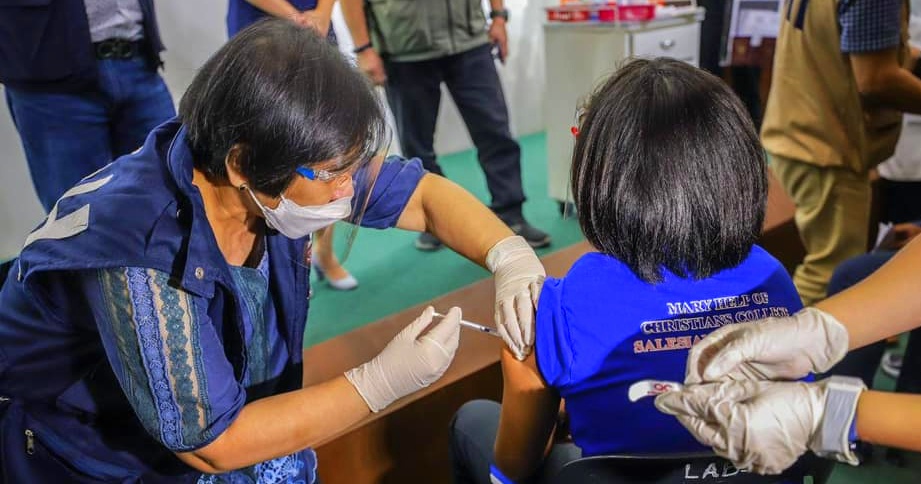 Iloilo City Covid-19 vaccination for minors aged 12-17 years old will start Oct. 29.

Around 6,000 minors have already pre-registered for the pediatric, inoculation which will be hospital-based.
The Department of Health (DOH) and Iloilo City Government are set to launch the COVID-19 vaccination for minors on October 29, 2021.
Iloilo City Mayor Jerry P. Treñas said that the city is prepared to do the pediatric inoculation on 5,894 minors aged 12-17 years old who were able to pre-register as of Friday, October 22.
"We will go ahead with the vaccination of all those who already pre-registered. The city is ready to give our minor children the protection that they need from COVID-19," Mayor Jerry P. Treñas said.
"We are coordinating with hospitals because they are requiring that vaccination of minors should be hospital-based," Treñas said.
Announcements and advisories were already previously made by the local government on pre-registration of minors as it waits for the go-signal from the Inter-Agency Task Force for the Management of Emerging Infectious Diseases (IATF). Only Pfizer and Moderna vaccines have been approved for pediatric inoculation.
The city is targeting to vaccinate some 50,000 youngsters.
"I urge the parents of these minors to pre-register your children for vaccination. It is a great gift we can give to our children and our family when the entire household is vaccinated and provided protection from severe COVID-19 and death," the mayor said.
Registration of minors
Iloilo City Government's vaccination registration is done in barangays, business establishments, and registration areas in malls and plaza booths. Registrants need to present School ID or Parent's or Guardian's Consent together with registration forms available in these sites.
SM City Iloilo (Lower Ground Floor, North Wing fronting Cafe Iloilo)
Festive Walk Iloilo Mall (2nd Floor, fronting Sunnies Eyewear Shop)
You may also pre-register at the Globe Telecom Booths:
Jaro Plaza (beside Jaro belfry)
Monday to Saturday: 9am to 5pm; Sunday: 10am to 4pm
Lapaz Plaza (fronting La Paz Maternity)
Monday to Saturday: 9am to 5pm
Arevalo Plaza (beside Arevalo Gym)
Monday to Saturday: 9am to 5pm
Atria Mall (fronting Metro Supermarket)
Thursday to Saturday: 10am to 5pm; Sunday: 11am to 4pm.
Note: Minors should be accompanied by a parent who shall sign the consent. During vaccination, when already allowed, parents shall sign again the consent form together with the child at the vaccination site. (via Iloilo City PIO | Photo: Vaccination of minors in QC)