Iloilo City @ 83 invites you to share your story through photos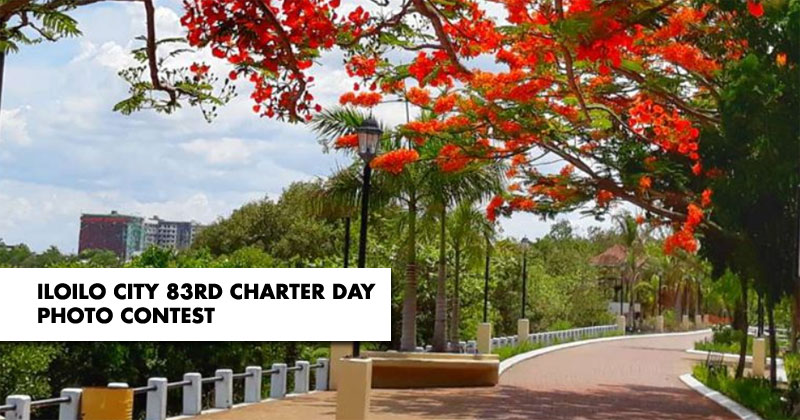 Join Iloilo City 83rd Charter Day photo contest and get a chance to win P10,000.00.
Take a photo that tell a positive story about the Ilonggos and Iloilo City's beauty, charm and uniqueness.
Photo must be taken between August 1 to 21, 2020.
The Iloilo City Government has released an online announcement calling for entries for a photo contest for the upcoming 83rd Charter Day.
The announcement was posted by no less that Iloilo City Mayor Jerry P. Trenas on his Facebook page. The 83rd Charter Day celebration this year is set to highlight on August 24.
"The search for promising photos from around the city was conceptualized to highlight the city's continuing recovery and the Ilonggos' resilience despite the ongoing global health crisis brought about by COVID-19," it said on the post.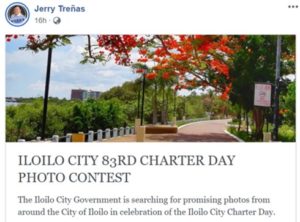 Photos that tell a positive story
The call for entries emphasized that the concept was "borne out of the need to give hope and positivity by capturing the Iloilo City of today, and how its people handle the challenges during these trying times."
"We are looking for Ilonggos whose visual creativity and skills captured a photo that represents the city's beauty, charm and uniqueness featuring the theme: Ilonggos at the Forefront of New Normal," described in the program.
The photo must be able "to present the city's beauty, charm and uniqueness" and which should have a focus on the theme: Ilonggos at the Forefront of New Normal.
The initiative "encourages the Ilonggos to explore the hidden beauty of Iloilo City" and play the resilient character of its people in these trying times of a pandemic through photos that possess skills and artistry.
The subject of the photo may 4 thematic themes: 1.) tourism spots and traveler destinations; 2.) history, people, and culture; 3.) customs and traditions; and 4.) food and local products.
Photo timeline
Photo entry must be recent or taken between August 1 to 21, 2020. The date must be indicated in the photo.
Criteria:
40% – Content and Adherence to the Theme
30% – Artistic Value and Communication Potential of the Image
20% – Technical Excellence and Quality
10% – Uniqueness and Originality
100% – TOTAL
To learn more about the details of the photo contest, go to:
https://www.facebook.com/notes/jerry-tre%C3%B1as/iloilo-city-83rd-charter-day-photo-contest/3204097509675997/
The Iloilo Bloggers Society is supporting this noble effort of the Iloilo City Government through #PadayonKita.