Home Credit's The Great 0% Interest Festival campaign video topbills Moira dela Torre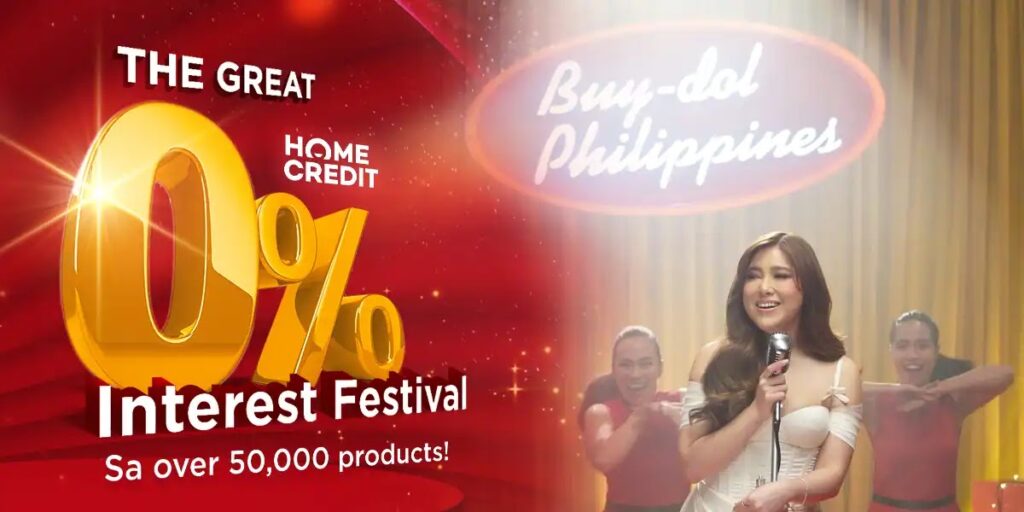 Following the rollout of the biggest and grandest 0% interest sale nationwide, Home Credit Philippines (HCPH), the lifestyle partner of every Filipino, launched a new campaign video this holiday season for the brand's The Great 0% Interest Festival, headlined by Home Credit's brand ambassador, Moira dela Torre.
Launched through Home Credit's Facebook and YouTube pages, the new campaign video took inspiration from a famous Philippine reality TV singing competition in which Moira was a judge. In the newly released campaign video, Moira plays as one of the panelists on Home Credit's "Buy-dol Philippines."
The campaign video, which aims to promote and drive awareness about Home Credit's The Great 0% Interest Festival, shows some Buy-dol hopefuls performing songs about the products that customers can get through Home Credit at 0% interest installment plan this holiday season.
"With Christmas being the most festive shopping season of the year, we at Home Credit want to give our customers the access to the widest range of items offered at the most affordable installment plans yet so far. With the launch of our biggest 0% interest sale, we want to make the shopping experience of every Filipino more sulit this holiday season. We're joined by our brand ambassador Moira dela Torre to help celebrate the holidays in a fun and meaningful way with Home Credit," shared HCPH's Chief Marketing Officer Sheila Paul.
Home Credit's The Great 0% Interest Festival
Filipinos love to go shopping, most especially during the holiday season. I mean, there's nothing wrong with rewarding yourself after a year-long hard work and putting most of your earnings into your savings. But if you're a true Filipino, you know that even we spend up our money shopping during the holiday, we still want the best deals for all our purchases!
With Home Credit's The Great 0% Interest Festival, customers may choose from a wide selection of over 50,000 products – from smartphones and laptops, home appliances and furniture to bicycles and hardware, sports and gym equipment, and many more – offered at 0% interest rates at almost 10,000 partner stores across the country.
Customers may get their dream smartphones and laptops from OPPO, realme, vivo, Samsung, Xiaomi, Acer, Apple, Huawei, Asus and Lenovo at an affordable monthly installment plan through Home Credit. Furniture and appliances from Home Credit's retail partners, such as SM appliances, Robinsons Appliances, Abenson, FC Home, Home Along, AllHome, Emcor, and Automatic Centre, can also be purchased at a flexible payment option of 0% interest.
Ready to shop? Download the My Home Credit app or visit Home Credit's partner brands and retail stores near you. Shoppers can now experience The Great 0% Interest Festival and make the most affordable purchases until January 31!
Home Credit Philippines is a financing company duly licensed and supervised by the Securities and Exchange Commission (SEC) and by the Bangko Sentral ng Pilipinas (BSP). To learn more about the latest updates from Home Credit Philippines, visit its official website www.homecredit.ph. You may also follow its official Facebook, Instagram, and TikTok accounts. Customers are encouraged to download the app on Google Play to know more about the latest promos and see what is new in the Marketplace.