Concepcion is Iloilo's most PWD-friendly LGU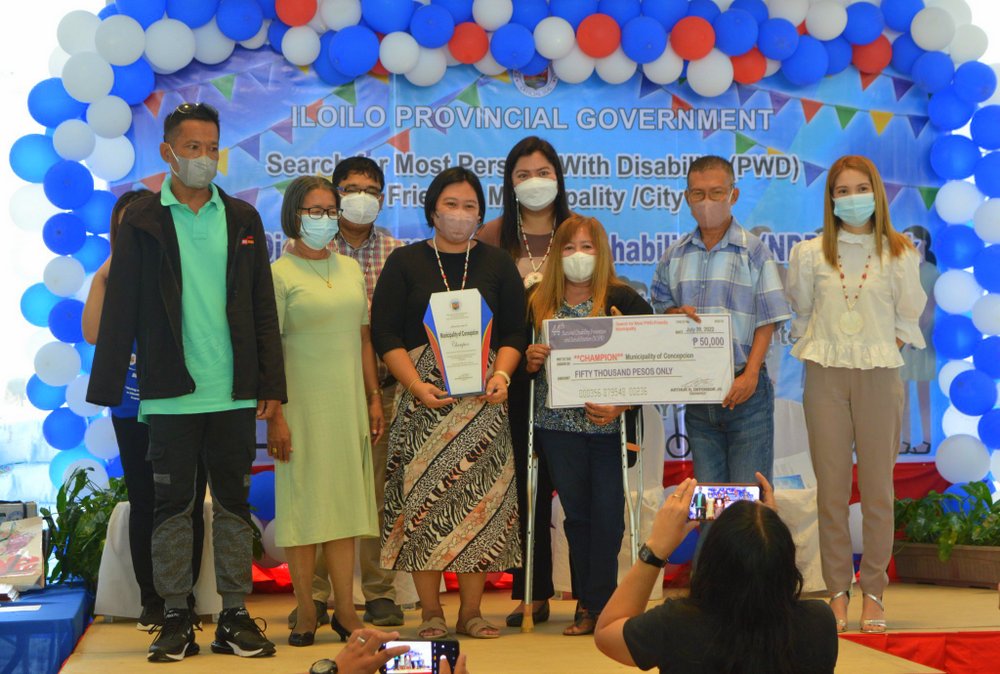 The town of Concepcion, Iloilo was awarded as the Most PWD-Friendly Municipality in the Province.

New Lucena and Badiangan were 1st and 2nd runners-up, while Leganes, Pototan, Banate, and Zarraga complete the finalists.
The Iloilo provincial government through the Provincial Social Welfare and Development Office (PSWDO) awarded three municipalities for their excellent programs for persons with disability during the 2nd Search for Most PWD-Friendly Municipality in the Province on July 29, 2022.
The municipality of Concepcion bested six other finalists and was declared the champion. The town received P50,000 cash prize.
The municipalities of New Lucena and Badiangan placed first runner-up and second runner-up respectively, bringing home P30,000 and P20,000 cash prizes.
The four other finalists were Leganes, Pototan, Banate, and Zarraga. They received plaques of recognition.
Vice Governor Christine Garin, Provincial Administrator Atty. Dennis T. Ventilacion, PSWDO PWD Focal Person Rara Ganzon, and Board Member Carol-V Espinosa Diaz who is the chairperson of the Sangguniang Panlalawigan Committee on Social Welfare, Housing, Senior Citizens and Person with Disability led the awarding of the winners.
The participating municipalities were evaluated in terms of their inclusion of and support to PWDs in the following core areas: planning and policy formulation, resource utilization, service delivery, institution building, and persons with disabilities participation.
The award was conducted in accordance with Executive Order No. 105 Series of 2017 which ordered the formulation of a provincial evaluation team for the Search for Most Person with Disability (PWD)-Friendly Municipality/City.
The winners were recognized during the culmination of the 44th National Disability Prevention and Rehabilitation Week at the Capitol lobby.
In her message, Vice Governor Garin called for people's unity in helping the PWD community.
"Let us come together; let's help each other out in helping our persons with disabilities." (By Karen Joyce Pumaren and Ma. Therese Taghap/UPV Interns)