Books4Books showed the positive side of Ilonggo bookworms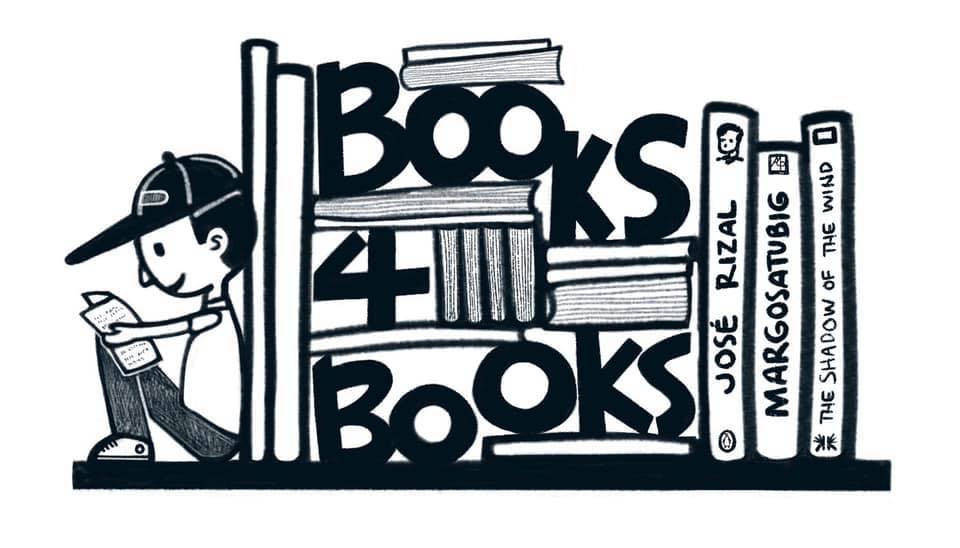 Books4Books have shown that Ilonggo book worms have embraced the pandemic a positive way.
It is a venue to trade books, exchange discussions, and get involved in community projects.
Books4Books started in May 18, 2020 and it has close to 2,000 members.
Many Ilonggos have dubbed 2020 as the 'worst year ever' because of the pandemic. However, there is a bright side to it – people went back to the basics especially when the lockdown was imposed earlier this March.
Social media was abundant with postings about planting and gardening, food and cooking, exercising and hobbies, and all sorts of productive activities. The Ilonggos were busy congregating at the popular Facebook page IBaCo or the Iloilo Barter Community. While the lockdown was easing at one hand, bartering at IBaCo intensified on the other with all sorts of household items big and small, plants from ordinary to rare, and books – plenty of books!
One of the bartering groups on Facebook that became popular in a short time is Books4Books. As the name implies, it is a community for trading books that started on May 18, 2020, and as of this writing, the group is nearing 2,000 members. "Books4Books is created for book lovers who also love to share and trade books with other book lovers. If you have titles you want exchanged for other titles you haven't read yet, you are in the right place. Let's enjoy reading and trading books!" described by the group.
Join by trading your books
If you want to let go of a title from your collection and which you may have finished reading, Books4Books is the social media place for you. You may find the books that you have been looking for a long time in the hands of its members.
The trading rules at Books4Books is simple. You can follow the simple steps below:
1. Post the cover picture of your book and write what is your preferred title for to swap.
2. Use the following hashtags to inform members of the process:
#BookSwap is for trading,
#Booked if the deal has been closed, and
#Booking for an ongoing swapping or successful meet-up.
As a self-confessed book hoarder, I am also a member of Books4Books. No book trades for me yet, but 15 books have went out from my collection during the weekly event –Thank God It's Friday or #TGIF.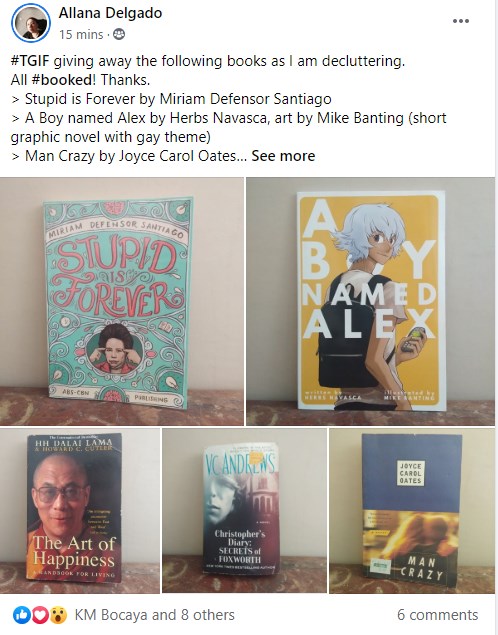 Drop Off Books
The Book Latte Cafe at the Festive Walk Parade at the Megaword Business Park in Mandurriao district serves as the official drop-off point for books, especially if you are unable able to meet up and trade books in person.
However, due to the General Community Quarantine from August 16-31, drop-offs and trading are suspended (except for people who prefer to meet up).
Converse with fellow book worms
Books4Books is also an online community with members who are passionate to discuss books, authors, and their reading experience.
You will find people reading similar books as they also share their favorite authors. The discussion ranges from trivia, book stores, libraries, rare titles, hard to find books, and the interesting lives of writers and authors.
Participate in community projects
It has also expanded with community service projects like the recently organized book donation drive for Ncelliberation Jail Libraries, an initiative to build a library on our jails and correctional facilities all over Panay. Learn more about this project here: https://www.facebook.com/ncelliberation/
Another effort is Hope in Books which aims to build a community library for children.
#PadayonKita with Books4Books
Stay active online as we continue to move forward. As the members of the Ilonggo Bloggers Society have said, let's take small, cautionary, yet positive steps forward to start the momentum for the revival of the local economy – #PadayonKita.
Books4Books have shown that the Ilonggo book worms have embraced the pandemic a positive way; transforming the crisis into an opportunity to be productive and happy. This is revealed by joyful social media posts that follow every successful book swap.
TAKE NOTE THIS AUGUST: Bookings and drop-offs under Book4Books are being suspended as a result of the recent spike of COVID-19 cases in Iloilo City and with the re-imposition of the General Community Quarantine (GCQ) from August 16-31, 2020.
Join the group by going here: https://www.facebook.com/groups/1584269935077259/
About Post Author