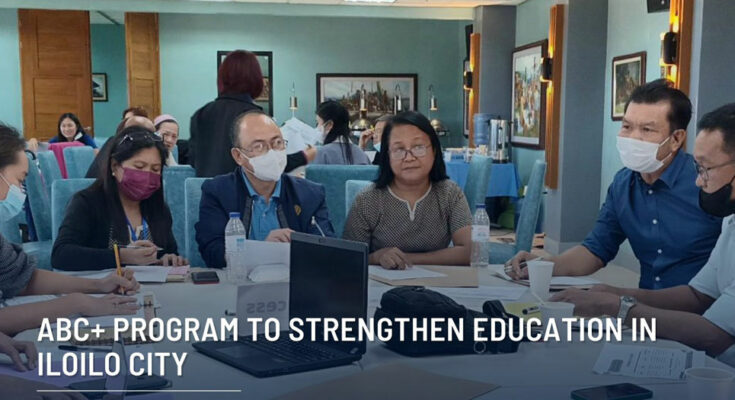 The Education Sector Mechanism (ESM) Workshop on Education Service Delivery, organized by the Iloilo City Government, United States Agency for International Development (USAID), Research Triangle Institute (RTI) International, The Asia Foundation, and League of Cities of the Philippines, is being conducted at City Hall Penthouse on January 24-26, 2023.
ABC+, which stands for Advancing Basic Education in the Philippines, operates in partnership with central and regional education officials and local organizations to ensure that evidence-based solutions for improved early literacy and numeracy instruction can be adopted and sustained by the Philippine education system.
The project also focuses on fostering a more equitable, inclusive, and nurturing climate for learning in the early grades as part of its Social and Emotional Learning (SEL) focus.
"We chose Iloilo City to be part of the six cities we are working with across the Philippines. In region 6, we are planning for Iloilo to lead the education sector mechanism. We believe that investments in kindergarten to Grade 3 will have long-term benefits for the city, and specifically in Iloilo where the thrust of Mayor Jerry Treñas is on children and youth," said Veronica Hitosis, Executive Director of League of Cities of the Philippines.
"It is a five-year project of the United States Agency for International Development in partnership with the Department of Education, implemented by Research Triangle Institute International in collaboration with The Asia Foundation and League of the Cities of the Philippines. It focuses on improving the learning outcomes in early education or kindergarten through Grade 3 levels," said Kimberly Mae Garcia, Education Governance Manager of The Asia Foundation.
"We support the Department of Education and its education stakeholders in developing the capacity of teachers in teaching and mother-tongue materials, and strengthening the education system to be able to sustain these early-grade interventions," Garcia stressed.
"We are in partnership with the League of Cities of the Philippines to ensure that all stakeholders would be aligning its education plans to achieve one educational outcome for the whole city," she added.
The initiative aims to harmonize education programs through local mechanisms geared towards early-grade learners in the metropolis. (via Iloilo City PIO)