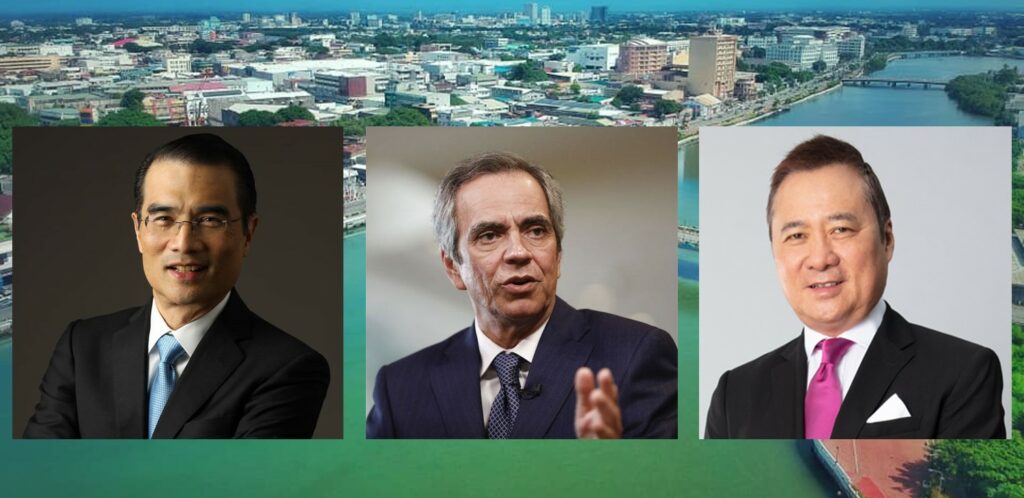 3 tycoons are now sons of Iloilo City for their invaluable contribution, act of humanitarianism and charity.

Conferred as honorary sons are Federico R. Lopez, Enrique K. Razon, Jr., and Henry Sy, Jr.

The resolutions were sponsored by Iloilo City Councilor Rudolph Jeffrey O. Ganzon.
The Iloilo City Government through a resolution passed by the Iloilo City Council has adopted three of the country's top tycoons as sons, namely: Federico R. Lopez, Enrique K. Razon, Jr., and Henry Sy, Jr.
The expression of tribute to the 3 tycoons who generously assisted the Ilonggos in various ways was released on the eve of the 84th Iloilo Charter Day celebration.
"The City Council enacted "Resolutions of Conferment of Honorary Recognition to Federico R. Lopez, Enrique K. Razon Jr., and Henry Sy Jr. in View of His Benevolent Intention to Contribute to the General Welfare of His Fellow Countrymen, His Generosity, Altruism And Goodness and Declaring them as 'Adopted Sons' of Iloilo City," declared by the City Government as posted on its Facebook page, August 24, 2021.
Federico R. Lopez and the Lopezes
The Iloilo City Government received from Lopez family and Lopez Group of Companies "P5.5- million worth of medical donations for Uswag Molecular Laboratory in Molo district." It helped boost its efforts against Covid-19.
In addition, "Lopez also donated 5,000 doses AstraZeneca vaccines which definitely augmented the most desired supply aiming to protect 2,500 Ilonggos, greatly helping to achieve herd immunity."
Related read: Iloilo The Most Noble City
Federico R. Lopez is Chairman and CEO of publicly-listed companies First Gen and First Philippine Holdings Corp. (FPH). He is also Chairman and CEO of Energy Development Corporation (EDC). He is a director of ABS-CBN Corporation, Vice Chairman of Rockwell Land Corporation, and Chairman and CEO of Lopez Holdings Corporation.
The Lopezes are rooted in Iloilo and the family "continuously render help and generous effort to help combat Covid-19 through their undying support to the needs of Ilonggo people."
Enrique K. Razon, Jr. and MORE Power and ICTSI
The city likewise received assistance from Enrique K. Razon Jr. who donated "5,000 doses AstraZeneca to help the city ramp-up its vaccination program."
Since last year, Razon's More Electric and Power Corp. (MORE Power) are among consistent contributor to the Iloilo City Government for its various efforts ranging from Covid-19 response, Iloilo River revitalization, and #IloiloBikeCapitalPH campaign.
Read: MORE Power bolstered #IloiloBikeCapitalPH
Iloilo City Mayor Jerry Treñas has expressed "sincerest gratitude to Rick Razon, MORE Power, and ICTSI for always supporting our aim to protect the Ilonggos' health and welfare," reported Iloilo Today in August 9, 2021.
"Trenas added that Razon and MORE Power "had been a great partner of the city to provide for the Ilonggos' needs since the start of the pandemic."
During the nationwide lockdown last year, MORE Power donated almost P1 million worth of facemasks, alcohol, hand sanitizers and acetate as aid for frontliners. The distribution utility followed it up with 500 rapid test kits on COVID-19 to the Iloilo City Government," added Iloilo Today report.
Moreover, "MORE Power donated generator sets for vaccination centers and energized checkpoints for border control. The company also facilitated the procurement of Moderna vaccines for the Philippine Chamber of Commerce (PCCI) – Iloilo Chapter," it reported.
See Iloilo Today full report here: Ilonggos thank Razon, MORE Power for Covid-19 vaccines
Essentially, Razon is instrumental in modernizing Iloilo City's power distribution utility services through More Electric and Power Corp. (MORE Power).
MORE Power holds a 25 year franchise and "took over the distribution of electricity in the metro sometime in February 2021 and embarked on major investments critical to modernization of its system, expanding capacity of all its sub-stations and significantly increased working opportunities for the people."
On Iloilo City electricity: MORE Power awed Iloilo City with P3.55/kWh rate reduction
Enrique K. Razon Jr. is the Chairman and CEO of International Container Terminal Services, Inc. (ICTSI), the Philippine port-handling giant offering container-port terminal services, which has operations in over 25 countries.

Henry Sy, Jr. and SM
The Iloilo City Government also recognized Henry Sy, Jr. for his contribution to Iloilo City.
The owner of SM will build the "Uswag Low-Rise Residential Buildings located at Uswag Subdivision, Brgy. San Isidro in Jaro district, a two four-storey 120-unit at 30 square meters per unit with total project cost of P217-million which will benefit qualified regular employees of City Hall," the Facebook post announced.
"The City appreciates the project as it will greatly help its constituents considering that the cost of housing continues to rise making it difficult for some Ilonggos to become homeowners more so today due to the ongoing COVID-19 pandemic," the announcement added.
The donation of Sy will assist the city accomplish its mission to solve the housing problem for its constituents and it recognized the Sy family business for its contribution in creating jobs to Ilonggos and for the booming of the local economy.
SM City Iloilo supports #IloiloBikeCapitalPH: SM Biker's Manual now in Iloilo
"Sy extended his help to the Ilonggo community showing a true sign of bayanihan spirit, for which the Ilonggos are known for," undersocred by the recognition.
Henry Sy, Jr. has been a director of SM Prime Holdings since 1994 and appointed as Chairman of the Board in 2014.
Iloilo City Mayor Jerry P. Treñas led in the recognition which cited their "invaluable and remarkable contributions through genuine act of humanitarianism and charity."
The resolutions were sponsored by Councilor Rudolph Jeffrey O. Ganzon and seconded by Lyndon V. Acap, Lady Julie Grace L. Baronda, Ely A. Estante, Jr. and Alan A. Zaldivar.
=====
Sources:
– Iloilo City PIO with photos
– Iloilo City Government Facebook Page
– Iloilo Today with photos
– DClicks Photography photo in background of featured post