Treñas lauds Iloilo City Police, vows more support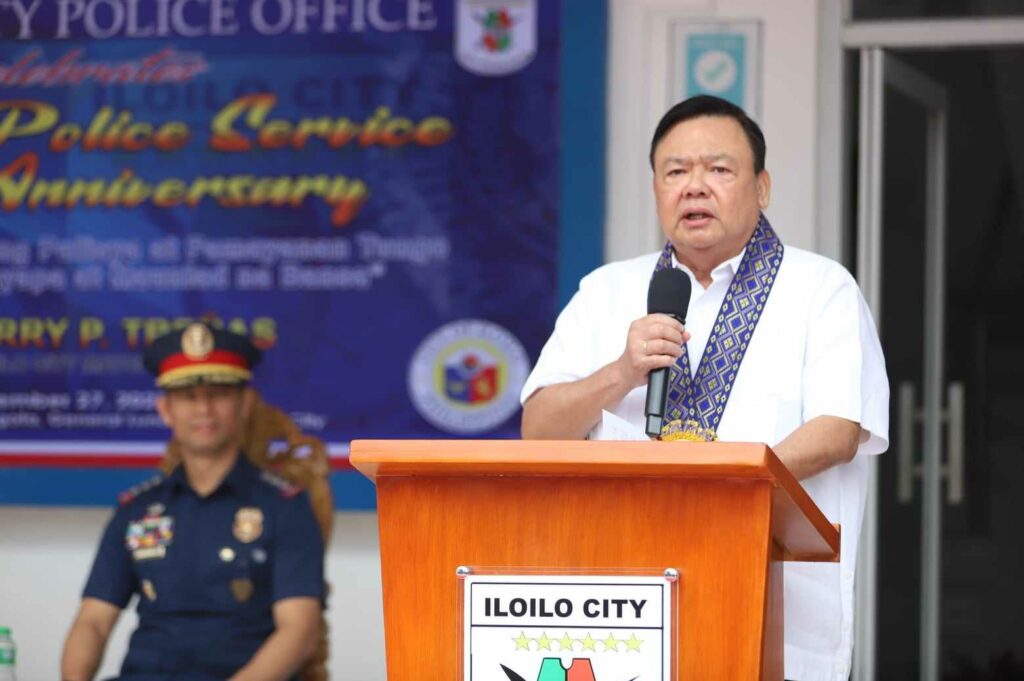 Mayor Jerry P. Treñas reiterated his appreciation and commendation to the performance of the Iloilo City Police Office (ICPO) and vowed more support from the City Government.
Treñas served as guest speaker during the PNP 122nd Police Service Anniversary celebration of ICPO Sept. 27.
"I really find time today because I want to show you that I am very happy with the performance of the Iloilo City Police Office… Masaku ako pero ari ako subong kay gusto ko magpasalamat sa inyo. Salamat, salamat, salamat gid," stressed Treñas.
The mayor specifically cited the recent joint accomplishments of police particularly the confiscation of more than P6-million worth of suspected shabu in just 24-hour anti-illegal drug operations.
Treñas underscored that the dedication and commitment of the police in their duties and responsibilities, which has not only upheld the law, but also strengthened the trust and confidence of the community, is really worth to be celebrated and commended.
He also led the giving of awards to PNP and Non-Uniformed Personnel (NUP) with significant accomplishments.
"Let me tell you, I am very very proud of you – your dedication to duty is a source of inspiration even for me," he further expressed.
Citing the PNP as partner in making the metro a peaceful and liveable place for everyone, Treñas vowed to continue pouring support to ICPO.
Treñas said this year's theme, "Nagkakaisang Pulisya at Pamayanan Tungo sa Mapayapa at Maunlad na Bansa" speaks volumes about the essential partnership between the police force and community they serve and highlights shared commitment to building a safer, more prosperous, and harmonious society.
"This is the reason why I always allocate a big portion of the city's budget for ICPO and your personnel," said Treñas.
These included around 28 police patrol cars, motorcycles, firearms and ammunition, very modern firing range, rehabilitation or construction of police stations, and fuel allowance.
The Iloilo City Action and Response (ICARE) Centers in strategic locations house frontline services including the police, City Disaster Risk Reduction and Management Office, Public Safety and Transportation Management Office, and fire personnel, bringing emergency and disaster management closer to the people.
"We want to ensure that the presence of the police is in the midst of the community," Treñas said.
He noted the Iloilo City Police Station 1 will be housed in the new multi-level parking building beside City Hall.
Repairs of ICPO grounds and facilities will also be implemented.
"We will try to reconfigure and find ways to improve your area," added Treñas.
ICPO director Police Col. Joeresty Coronica expressed his appreciation for the all-out support.
"We are happy. No less than the mayor has issued the statement. We are looking forward to the realization of his proposals. That is also my dream, nga kon pwede matapatan ang Nutrition Building sa atubangan so amo man na ang ginhambal sang aton Mayor," said Coronica. (Iloilo City PIO)