South Korea extends $56.6-M loan for engineering services of Panay-Guimaras-Negros Bridge Project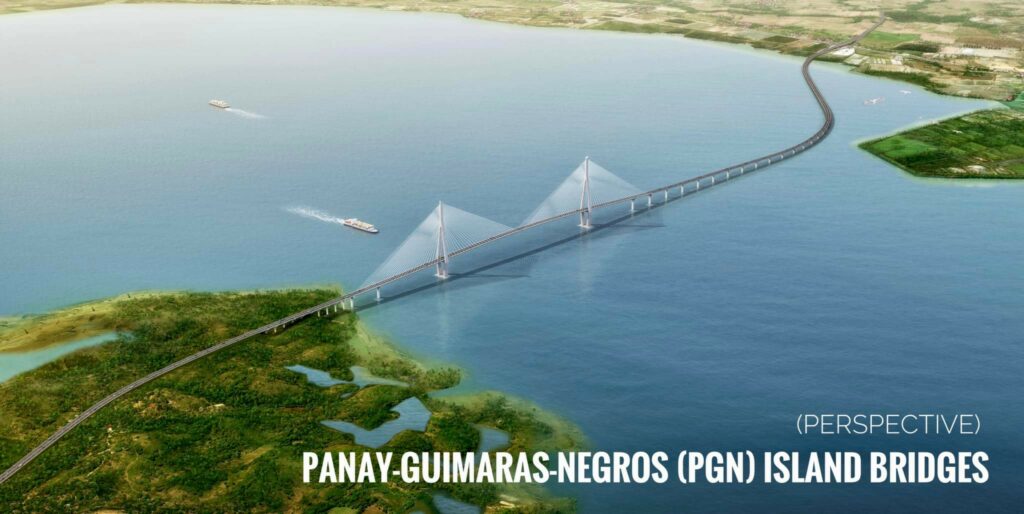 The Government of the Republic of Korea has extended $56.6 Million in loans to the Government of the Philippines for engineering services needed for the Panay-Guimaras-Negros (PGN) Island Bridges Project.
A ceremonial exchange of signed loan agreement for engineering services of PGN Island Bridges which will be implemented by the Department of Public Works and Highways (DPWH) was held on Wednesday, May 4, 2022 between Department of Finance (DOF) Secretary Carlos Dominguez III and Export Import Bank of Korea (KEXIM) Executive Director and Economic Development Cooperation Fund (EDCF) Vice President Taesoo Kim.
Ambassador of the Republic of Korea to the Philippines Inchul Kim; DPWH Secretary Roger G. Mercado; Undersecretary and Build Build Build Chief Implementer Emil K. Sadain; KEXIM Manila Representative Office Country Director Jaejeong Moon; DOF Undersecretary Mark Dennis Y.C. Joven and Assistant Secretary Edita Z. Tan; and Project Director Benjamin A. Bautista witnessed the ceremonial exchange of the signed loan agreement held at Podium Floor, DOF Building, Roxas Boulevard, Manila.
This loan will support swift implementation of the much-anticipated mega bridge project to link the provinces of Iloilo, Guimaras and Negros Occidental that will spur many development opportunities for the Filipinos, said Secretary Mercado.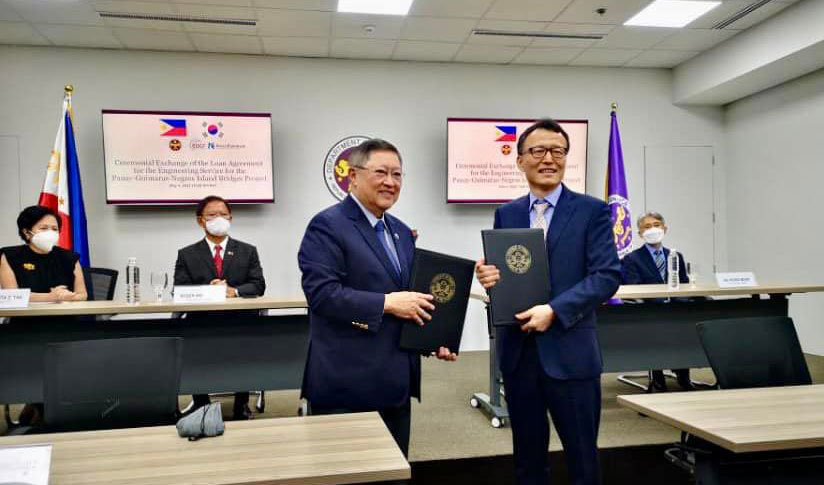 According to Undersecretary Sadain, in-charge of DPWH Unified Project Management Office (UPMO) Operations, the loan will be utilized for engineering services including preliminary design, detailed engineering design and procurement assistance that are required prior to the construction of the bridges.
The start of engineering services for the 32-kilometer Panay-Guimaras-Negros Island Bridge, a long-time dream for the people of Western Visayas, manifest the Philippine government's commitment for the goal of "Build, Build, Build" to modernize the country's infrastructure backbone by continuously supporting the rolling out of flagship projects towards the next administration, said Undersecretary Sadain.
Scope of engineering services are preliminary design covering review of the feasibility study and preliminary and basic design; detailed engineering design including estimation of detailed construction cost; and procurement assistance.
Meanwhile, Secretary Mercado during a meeting with KEXIM-EDCF officials conveyed his deepest appreciation to the Government of the Republic of Korea for the unwavering support and help to the Philippines.
The meeting at the DPWH Central Office was attended by KEXIM-EDCF Executive Director Kim; KEXIM Country Director Moon; Executive Director Tae-Soo Kim; KEXIM Senior Loan Officer Hyunah Kim; KEXIM Deputy Director Yunhak Lee; DPWH Undersecretary Sadain; Project Director Bautista of DPWH UPMO Roads Management Cluster 1; Project Director Sharif Madsmo H. Hasim of DPWH UPMO Roads Management Cluster 2; Project Director Rodrigo I. Delos Reyes of DPWH UPMO Bridges Management Cluster; and Project Manager Teresita Bauzon.
The DPWH Chief also recognized the instrumental role played by Finance Secretary Dominguez as team captain of the Cabinet Economic Development Cluster in obtaining the Official Development Assistance (ODA) from the Government of the Republic of Korea.
Mere words is not enough to express deepest gratitude to Secretary Dominguez for unrelenting assistance to the team of Undersecretary Sadain, who spearheaded large-scale infrastructure development of all DPWH ODA-funded projects under the Build, Build, Build Program by carrying out feasibility studies and preparation of master plans, and project proposal/packaging of potential projects up to implementation stage, added Secretary Mercado.
Other than the Panay-Guimaras-Negros Island Bridges, South Korea through its Economic Development Cooperation Fund provided assistance to support the government's infrastructure- building push from pre-investment activities including project preparation and feasibility studies and plans formulation, to implementation.
On-going flagship infrastructure projects with Korean financing includes the Integrated Disaster Risk Reduction and Climate Change Adaption Measures (IDRR-CCA) in the low-lying areas of Pampanga; Samar Pacific Coastal Road Project connecting the Pacific towns in Northern and Eastern Samar; and Panguil Bay Bridge in Northern Mindanao.
DPWH has also requested possible assistance for following candidate infrastructure projects: Central Luzon – Pampanga River Floodway Project; construction of New Liloan Bridge; construction of Maasin City Bypass Coastal Road; Bohol – Leyte Link Bridge (BLLB) across Canigao Channel and Basiao Channel; Consolacion-Liloan Bypass Road and Lapu-Lapu Coastal Road Project; Network Development of Panaon Island Circumferential Road or the Liloan-Pintuyan-San Ricardo Road in Leyte; Liloan – San Ricardo (Saddle Area) By-Pass Road Construction Project; and Silago-Abuyog Coastal Road Project.
The National Economic and Development Authority (NEDA) has already endorsed these projects to the Department of Foreign Affairs (DFA) while DFA in a letter dated April 4, 2022 endorsed to the Government of the Republic of Korea through KEXIM-EDCF.