Workspace solutions Regus opens business center in Iloilo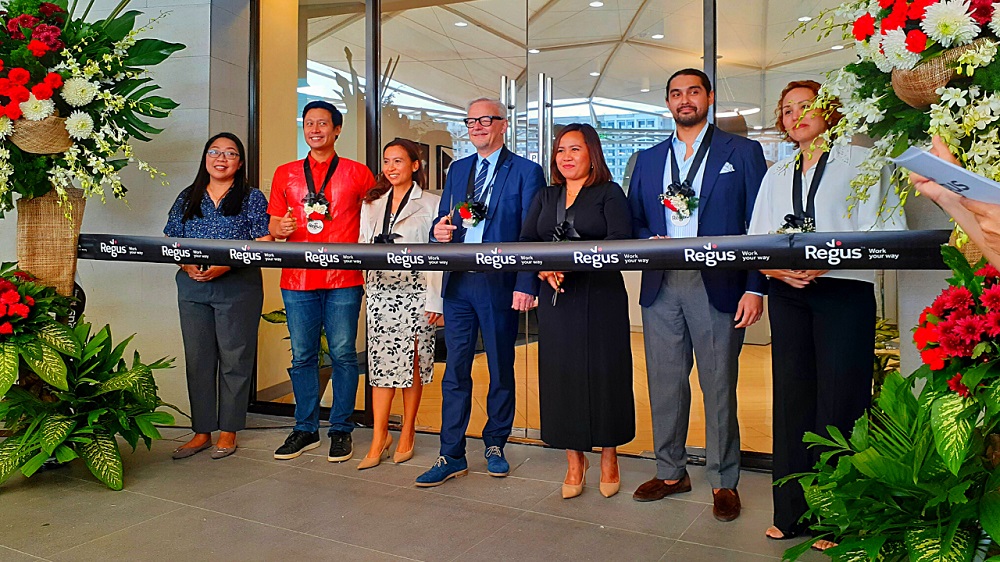 'We help businesses find the right way to work,' is the tagline of Regus, a workspace solution that recently opened in Iloilo, specifically on the 3F of Festive Walk Mall inside the Megaworld Iloilo Business Park. The development was made possible through the collaborated efforts of AppleOne Properties, Inc. and the International Workspace Group (IWG).
The business center was inaugurated with a blessing and ribbon cutting ceremony attended by AppleOne VP for Marketing Javier Marcalain, AppleOne VP for Corporate Shared Service and Administration Ria Ledesma, AppleOne AVP for Commercial Leasing Valeiry Flores, IWG Country Manager and SVP for ASEAN, South Korea, and Taiwan Lars Wittig, and IWG Head of Partnership Growth Rowena Natividad.
The newly opened business center is eyed to be one of the most sought-after business centers for start-ups, business process outsourcing companies, and remote workers. It provides 53 (1,024 square meters in total) plug-and-play private offices that can accommodate up to 191 workstations in varying capacities.
Regus also offers business-grade wireless internet, reception services, office cleaning, maintenance, a business lounge, and a pantry, as well as two meeting rooms available for hourly or daily rent.
Regus also provides semi-private workstations, and dedicated coworking desks for hybrid work, including an option to register the facility as an official business address.
Monthly membership starts at P4,000. Weekly and daily rates are also available.
"For more than 30 years, we've helped businesses find and create the perfect workspace for their people. Our extensive network of locations enables companies of all sizes to work wherever and however they need," an excerpt from the Regus website.
Regus Iloilo is the first business center under the Regus brand in Western Visayas and the third in the country. The first two, Regus AppleOne Equicom Tower and Regus Park Centrale, is located in Cebu.
About AppleOne Properties
AppleOne Properties is a Cebu-based property developer known for its landmark of strength and iconic partnerships, along with multi-awarded project that compete on a global stage. Its vision and mission are deeply rooted in its desire to elevate the lives and living conditions of fellow Cebuanos.
AppleOne is a company that inspires through innovation, best practices, and excellence, combined with its commitment to passion and compassion in everything they do – as evidenced by a growing portfolio of mixed-use/commercial establishments, office spaces, residential developments, hotels and resorts, and healthcare.
International Workplace Group
The International Workplace Group (IWG) is one of the largest flexible workspace providers. IWG pioneered the flexible workspace industry in 1989 by Mark Dixon and has been at the forefront of the sector for more than 30 years, offering an unparalleled platform for work with the latest technology and services within a network coverage of 120 countries, empowering millions of customers worldwide.
IWG offers an unrivaled choice of workspaces through its operating companies: Regus, Spaces, HQ, and Signature by Regus – each designed to serve the unique needs of businesses of every size.
Regus
Regus is the leading brand under IWG's multiple office space portfolio. Regus believes in the ideology that every business is unique. That is why they have designed a workspace environment with flexibility in mind.
For further inquiries:
Contact (028) 651 5916.
Or visit www.regus.com