MORE Power conducts electrical safety training for construction firms

MORE Power trained around 15 representatives of construction firms on electrical safety.

This is the first time that a power distribution utility initiated this training for those in the construction industry.
More Electric and Power Corporation (MORE Power) has initiated another safety training, this time, for construction companies.
According to Mr. Priam Roy Rivera, MORE Power Safety Officer, the Electrical Safety Training recently was attended by representatives mostly safety officers and engineers of around 15 construction firms.
Rivera said the participants were oriented about the hazards in the workplace and different safe work environments and practices.
They were also lectured about the fundamental of electricity, introduced to different electrical equipment and trained on what to do in case of emergency situation.
"It's very important for our construction workers to know the hazard that may be caused by transmission line especially if it's near their working area," said Rivera.
Participants also learned the proper distancing wherein they must avoid powerline contact and maintain a minimum safe distance of three meters.
River emphasized that having proper knowledge on these things will save workers from life-threatening electrical shock.
"Dapat maintindihan gid ni sang mga tawo nila. Kon wala naton maintindihan, abi naton safe lang ang aton gina obrahan kay gali ara na kita sa line of fire nga pwede kita madisgrasya. Ang masakit pa gd dira nga mapatay kita," said Rivera.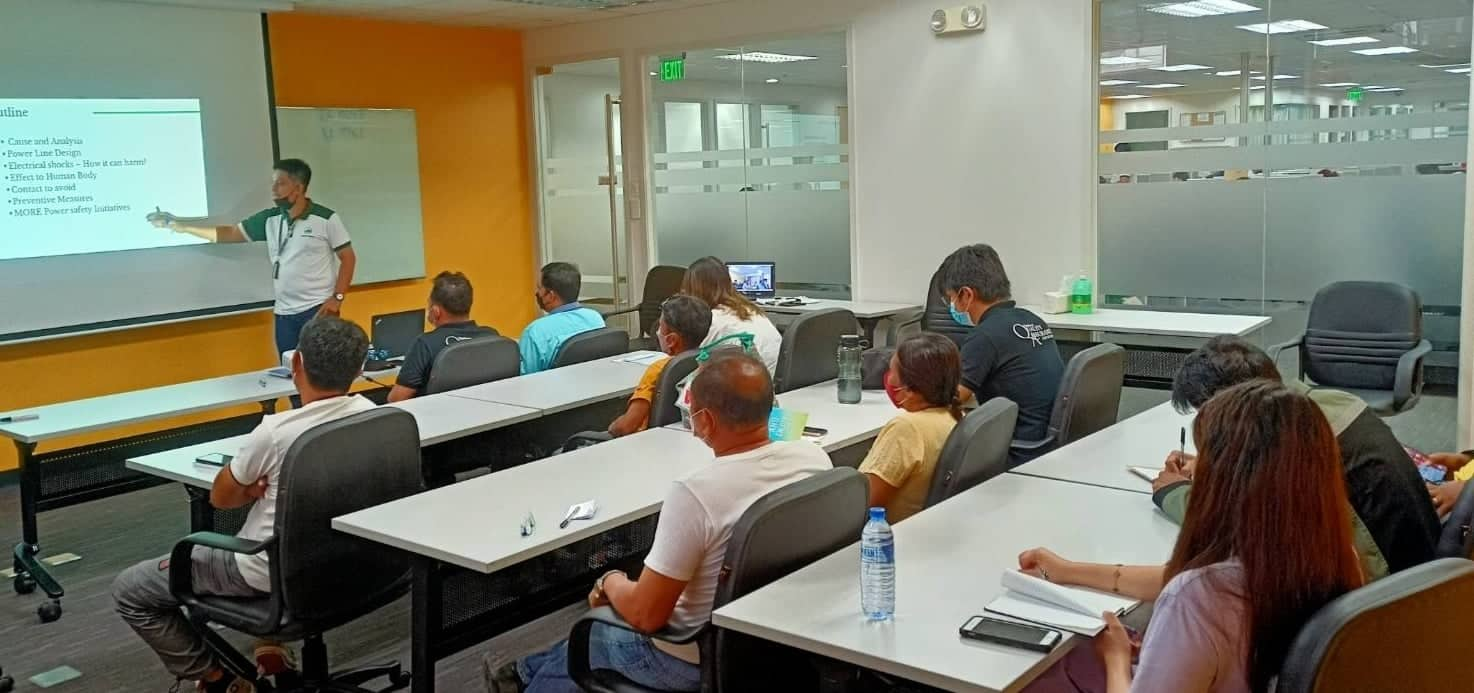 Meanwhile, Vision Properties Development Corporation safety officer Remuel Aboratique said the training is a big help for them especially that they are into high-rise building constructions.
He noted that this is also the first time that a distribution utility initiated this kind of training for them in the construction industry.
"Hindi maiiwasan na may mga property line yung mga kino-construct namin na malapit sa mga high-tension wires so nagiging aware kami doon sa standard na safe working distance. Nalaman naming yung mga computation sa distance," he said.
He said they are now aware how to avoid accidents and dangers involving electrical lines.
"Sa mga katulad namin na hindi technical pagdating sa mga electrical malaki syang tulong kasi hindi ganun ka lalim ang pagkakaintindi namin," he added.
Aboratique said that what they have learned in the training will be cascaded to their respective fellow construction employees.
Aside from Vision Properties Development Corporation, other construction firms who benefited from the initiative of MORE Power are ASEC Development Construction Corporation, KIMWA-Iloilo Construction Development Corporation, ARSD Construction Corporation, RL Royal Prime Construction Corporation, Naga Crushing Rock, Noel V. Orquila Construction, Manfreds Inn, 5S Construction,
Polygon Construction and Development Phil. Corporation, and Fiberhome Philippines Incorporation.
Earlier, More Power also trained their substation tenders on distribution substation maintenance and safety orientation.#