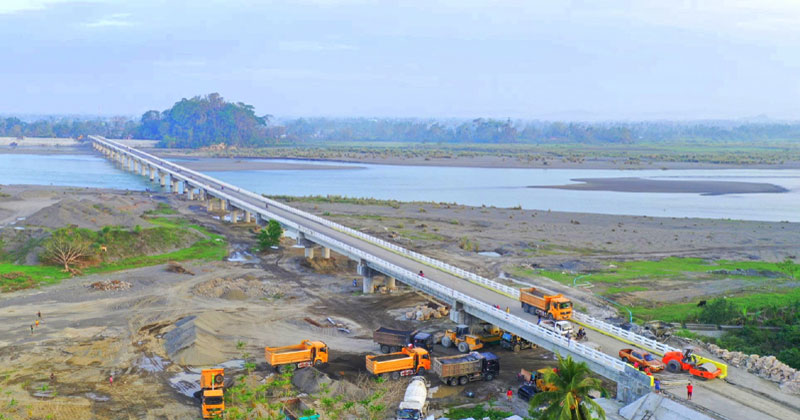 Kalibo Bridge III, the longest in whole Panay Island, opens today, January 16.

Sec. Mark Villar of DPWH is expected to grace the inauguration.
Department of Public Works and Highways (DPWH) and Aklan officials are set to inaugurate today, January 16, 2020, a new 770-lineal meter two-lane bridge linking Barangay Tigayon in Kalibo and the town of Lezo across the Aklan River.
The Kalibo Bridge III, which is considered the longest not only in Aklan but in Panay Island, is designed to cut travel time from the capital town to municipalities west of Aklan river.
Secretary Mark Villar and Regional Director Lea N. Delfinado of DPWH will grace the inauguration together with Congressmen Carlito S. Marquez of the Aklan first congressional district, Teodorico T. Haresco of the second congressional district, Governor Florencio T. Miraflores, Vice Governor Atty. Reynaldo "Boy" Quimpo, members of the 18th Sangguniang Panlalawigan and Kalibo Mayor Emerson S. Lachica.
The construction of the bridge has two phases: Phase I started on November 2016 and completed on December 2018 with total appropriations of P250 million from the 2015 General Appropriations Act with a contract amount of P243,000,000; and, Phase II started on February 2017 and completed on December 2019 with total appropriations of P250 million from the 2017 General Appropriations Act with a contract amount of P230,500,000.
The said bridge aimed to provide an alternative route to deliver fast and reliable transport system that would lessen the congestion in Kalibo area especially during festivities such as Ati-atihan festival. It will also help in making the delivery of goods and other basic commodities to and from Kalibo, easier and faster. The residents and 5,835 motorists of Aklan province, as well as travellers and visitors/tourists who loved to explore the various tourism destinations in Aklan and nearby provinces are also benefited.
Moreover, it will be a direct link from Kalibo International Airport serving as an auxiliary route to the Caticlan Airport in Malay, Aklan, where the famous Boracay Island is located. The travel time from Kalibo to Caticlan will be reduced from 75 minutes to 60 minutes.
The bridge will complete the 15.81-kilometer Kalibo Circumferential Road and primarily aimed to provide an alternate route from Aklan West Road, passing the Municipality of Lezo and by-passing the Municipality of Numancia that would decongest Kalibo proper, especially during the famous Ati-Atihan Festival.
Since the Aquino presidency and pursued by the Duterte administration and during the terms of Congressman Haresco, Congressman Marquez and Governor Miraflores, in number of by-pass roads were constructed in the towns of Ibajay, Tangalan, Makato, Banga, and Altavas aimed to solve the perennial traffic problems in the poblaciones of the said towns particularly during the celebration of their annual Ati-Atihan festivals and municipal and religious fiestas. Another by-pass road is also proposed in the town of Balete. That of Makato, Altavas and Banga have already been completed and are already operational. Nearing completion are in the towns of Ibajay and Tangalan. (By Mariz Gleah Faith Zaspa, Aklan Sangguniang Panlalawigan)