Iloilo City to host National Bike Day Awards 2023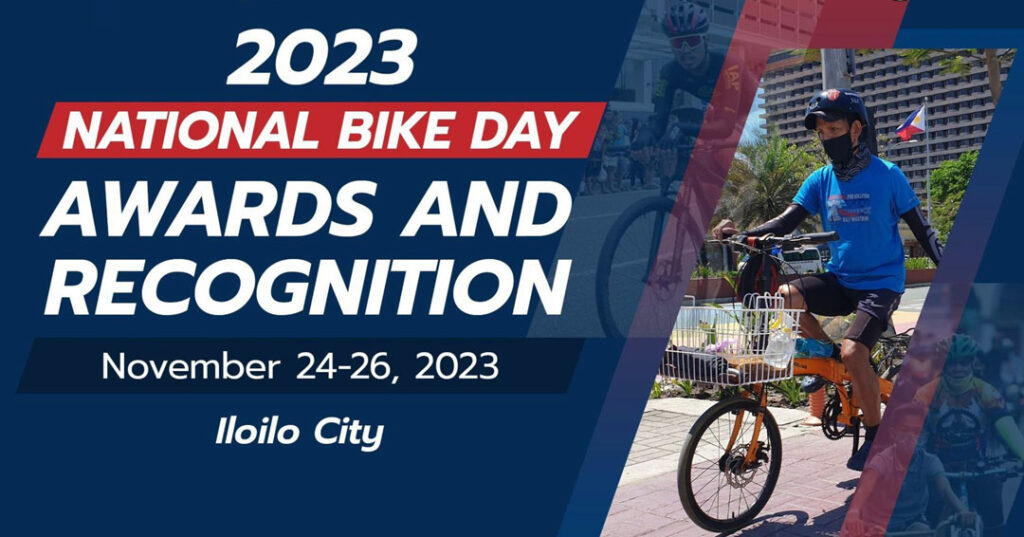 Iloilo City, the country's Bike Capital and two-time Gold Awardee for both Mobility Awards and Bike Lane Awards, has been chosen to host this year's National Bike Day Awards and Recognition on Nov. 24-26.
The awarding ceremonies will highlight the celebration of National Bike Day (NBD) to be co-hosted by Iloilo City Government, Interagency Technical Working Group for Active Transport (IATWG-AT) led by the Department of Transportation (DOTr) – Active Transport Project Office, Iloilo Festivals Foundation Inc. (IFFI) and SM City Iloilo.
Exciting activities in store include Bike Expo, Vintage Bike Exhibit, Band Performance, Criterium Races, Active Mobility Forum, Bike Fashion Show, Food Festival, Night Ride – Food Crawl, Band Performance, Kiddie Fun Race, LGU Awards, and Community Recognition Awards.
"It is our pride to host the National Bike Day Awards 2023. As Bike Capital of the Philippines and two-time Bike Lanes Gold Awardee, this is a great way to promote sustainable lifestyle and active transportation not only here in Iloilo City but in the whole country," stressed Mayor Jerry Treñas.
By hosting the NBD festivities, Iloilo City will be able to showcase the multi-awarded bike lanes and facilities, which other local government units may emulate.
Since Iloilo City is already a back-to-back winner, it is no longer qualified to join the awards. The event serves as an avenue to experience and embrace its successful bike initiatives.
"This is also a wonderful opportunity to share best practices and policies that have significantly contributed to the development of cross-sectoral engagements and partnerships," stated Executive Order No. 19-2023 creating an executive committee and its corresponding offices and sections for preparations and staging of activities.
They are tasked to ensure the success of the event and in maintaining the security and safety of participants, visitors and guests.
Treñas chairs the Executive Committee with Vice Mayor Jeffrey P. Ganzon and IFFI President Allan Tan as co-chairmen while Arch. Wilfredo Sy Jr. of City Architect's Office and DOTr Road Active Transport Team Head Eldon Joshua Dionisio as NBD Celebration Directors.
The City Government advocates and promotes a healthy lifestyle among its constituents, visitors and guests, and is geared towards the objective of becoming a bikeable, walkable, and liveable metropolis for environmental protection and conservation.
Its efforts particularly the I-BIKE "A Program Promoting the Development of the Iloilo City Bike Culture" also won the esteemed Galing Pook Awards 2022. (Iloilo City PIO)